TODAY IS THE MOTHERFUCKIN' DAY, PEEPS! The day I've been fantasizing about for months — nah, let's round that up to years. It's the official unveiling of my all-new, fancy-ass, fresh-as-fuck blog design!!! (I reckon I've earned those extra exclamation points. The laws of grammar don't apply to this level of excitement!!)
Now, you can finally see the fruits of my labor after many months of behind-the-scenes work. From the color palette to the header photo to the sidebar and the posts themselves, virtually nothing has gone untouched with this blog overhaul. I've been so immersed in this project that my brain has become a blur of CSS markup. (I wrote over 500 lines of CSS code, like a complete maniac.)
WITHOUT FURTHER ADO.
---
New features and upgrades!
Responsive design adapts to your devices
Feature-rich homepage showcases both new and old content
Restructured categories — most posts now fit into one of four primary categories (reviews, banter, guides, and features), all of which have subcategory dropdowns
New category, Greatest Hits, for my best work
Updated color palette, still devoid of any and all pink
Simplified, visually appealing menu
Slick subscription box with responsive new post emails
Bigger, more readable text with more room to breathe
Cute, meticulously-chosen fonts (including one that, I shit you not, is also used by Taco Bell. I chose it before I knew that, but HOW PERFECT?!)
Streamlined sidebar with consolidated banner ads
Cool image hover effect
Gorgeous featured images — who knew my photos were so pretty?!
Post subheadlines! For quick quips and teasers! Each post also includes an estimate of how many minutes of your life you will waste enrich by reading it!
Tons of inline content styling, including drop caps, block quotes, pull quotes, alerts, and dividers
End-of-content related posts that are actually related!1
Many older posts have been updated with modern formatting and higher-quality photos, with more to come as I continue slogging through the archives
New FAQ answer to the burning question of the century, "what's your curly hair routine?"
Just the general feeling that this is a fuckin' PROFESSIONAL BLOG
Of course I have many more plans for tweaks and upgrades in the future, starting approximately tomorrow, but I'm very happy with everything that has already been implemented. This is a much more solid foundation than I've ever had, and it will allow me to pursue my ideas with wild abandon. A person's blog is never truly done.
---
A peek behind the curtain
Designing a website is hard when you can't picture it. That's what I struggled with most in the early stages of this process. I pelted my graphic designer, Katie Swick, with words I wanted my site to evoke: trustworthy, snarky, modern, fun, queer, playful yet professional. What did all of that look like in actuality? I hadn't a damn clue.
But then one day, during a meeting with Katie to finalize my new logo, I had an idea for the header image. The logo she'd designed had this cool upward angle to it, and it reminded me of a newspaper headline. I wanted to make that literal. Snap a photo as if someone was sitting down to read the morning paper, only the news is ALL ABOUT DILDOS.
I was a journalism nerd in high school, so it felt like just the right amount of nostalgia.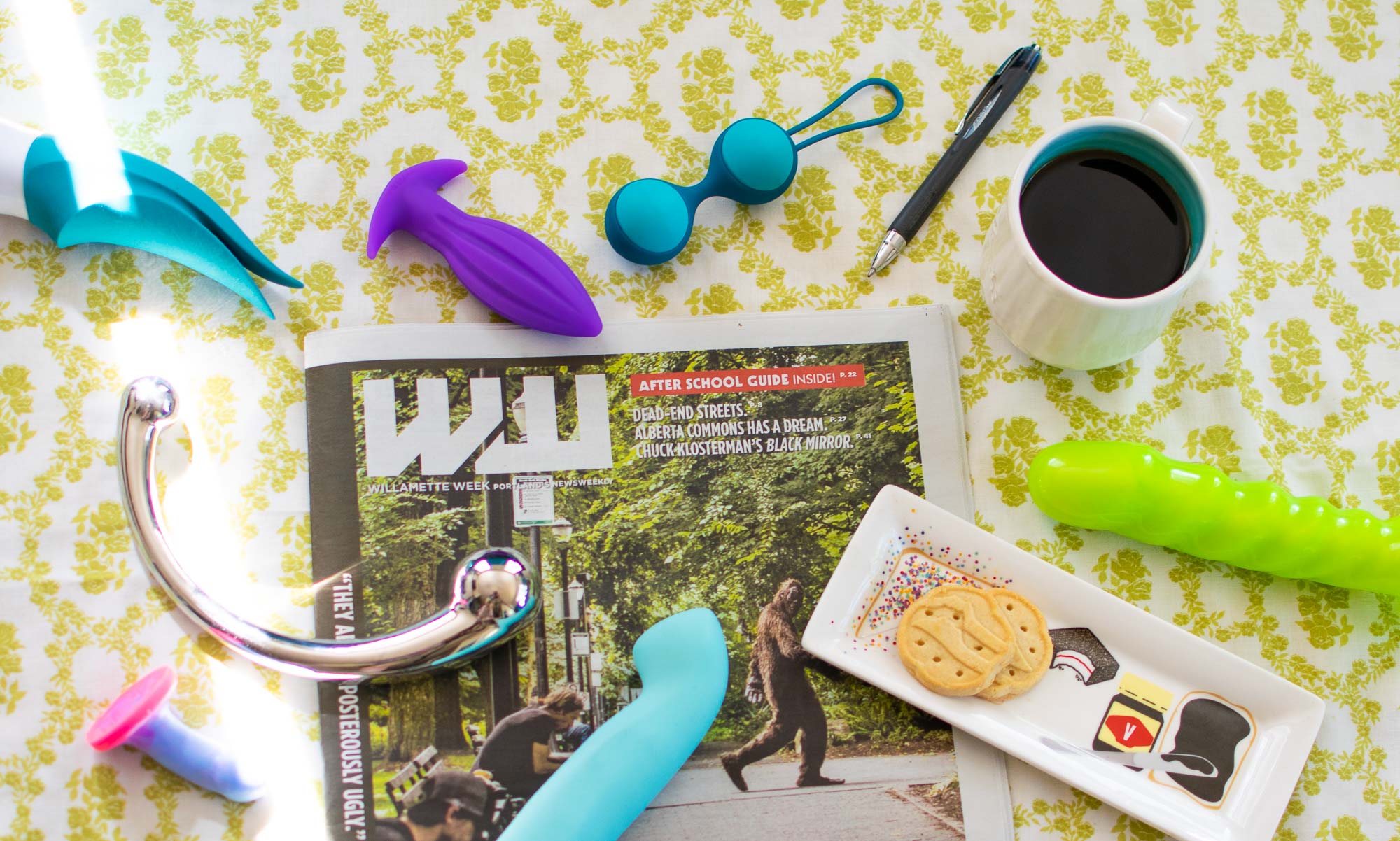 Katie hooked me up with a photographer, Sierra Selene, and we started discussing the shoot. It was obvious to me what the backdrop should be: some sort of vaguely vulva-like pattern, as an ode to a) vulvas in general, and b) all the inadvertently-vulvaesque wallpaper I've encountered in hotel rooms.
You haven't lived until you've called up a wallpaper store to cautiously ask them if they have any patterns that resemble vulvas.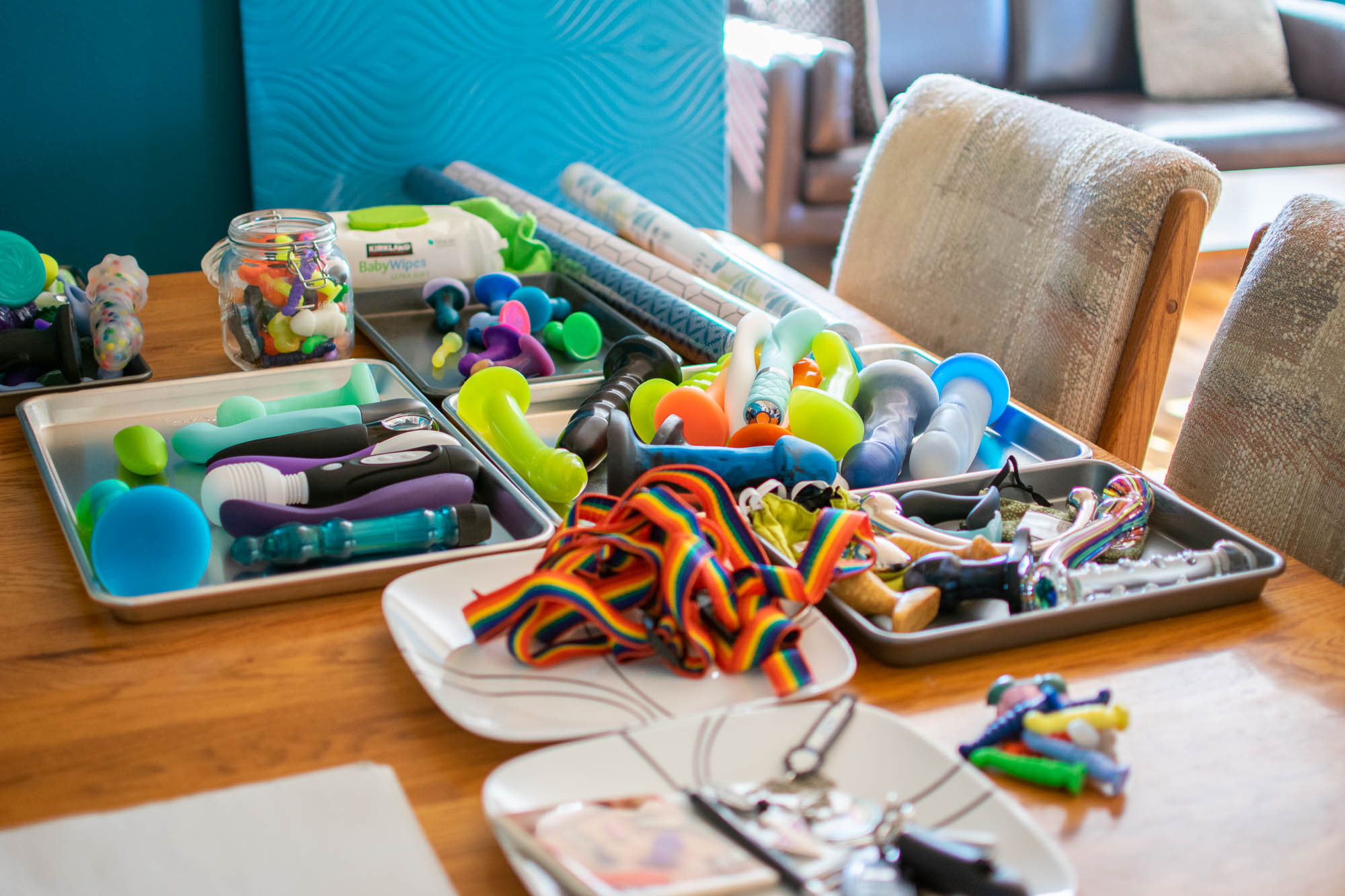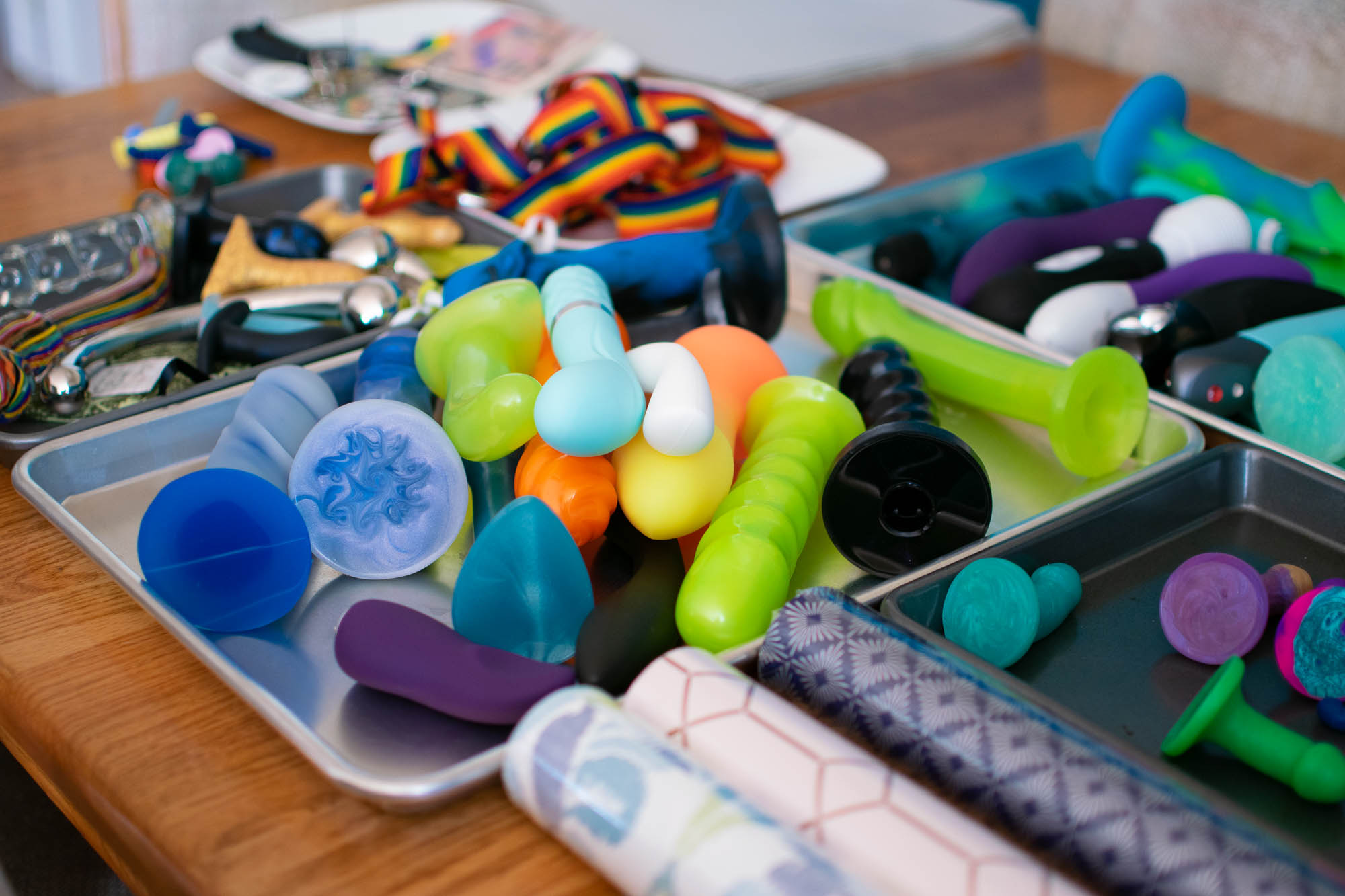 Giving readers cues to my queerness was one of my design goals, but a very amorphous one. I hired an all-queer design team hoping the gay would just seep into everything, but I also featured the gorgeous Inclusion Harness in the header. You know, just in case. There was a funny moment during the photoshoot when I asked Sierra to rearrange the harness because it looked too much like an O-ring gag. "I don't review BDSM stuff, so I don't want to confuse people…"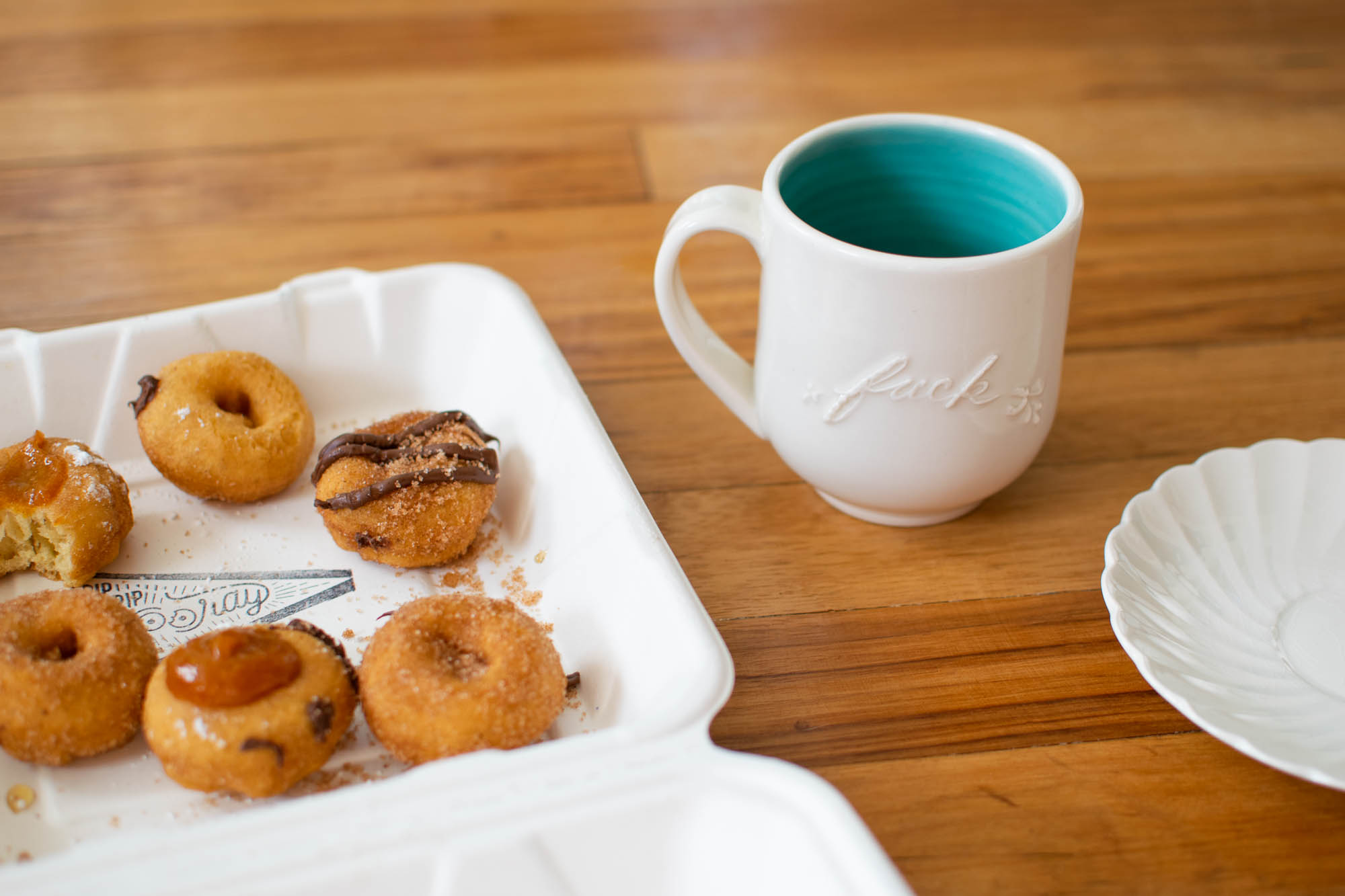 We complemented the sex toys with a pin in the shape of Sara Quin's cat and a bite-sized donut from Pip's with seasonal apricot topping. When my mom saw the header photo, she exclaimed, "nipple donut!!!" That was not my intention, but I will absolutely act like it was from here on out. (Meanwhile, the cat pin was definitely meant to be a clitoris.)
The rest of the visual design quickly followed. We ran with the typographical, newspaper-inspired theme, and my incredible web developer Alexis Watson began implementing stuff left and right. I dove into editing my posts and obsessively fixing every minuscule thing that bothered me as I browsed the staging site. A lot of toiling happened here, behind the scenes, usually late at night.
This is the result of all that work — and I can only hope it feels trustworthy, snarky, modern, fun, queer, and playful yet professional.
---
I dedicate this website to…
It takes a village to make a website, and I couldn't have done it without the following peeps. My unending thanks to:
Alexis Watson, my web developer, who has been both a magical coding wizard and a calming presence throughout the process. They made me feel like everything was possible, and it was — because they did it for me.
Katie Swick, my super talented graphic designer who knew exactly what I meant when I said "no cutesy girly shit," and Sierra Selene, the photographer who shot that gorgeous header photo. Did I mention all the people I hired are queer? I already did, but I want to say it again.
My therapist, whose nudging sent me on this journey in the first place and whose level-headed advice guided me through many a cry fest.
My partner, who listened to all my ranting and raving and never complained once about cooking me dinner while I toiled away in my office like some sort of starving artist.
My other partner Kynan, the person I trust the most to help me make decisions. He helped me make so. many. decisions.
My mom, who took all of this exactly as seriously as I did, which made me feel less alone.
Rosie, my friend and owner of Portland Toy Company, who gave me dildos and butt plugs for my header photoshoot.
All my beta testers!
Special thanks to Tegan & Sara for releasing their new album and memoir exactly when I needed a reprieve from this endeavor. Seeing them live earlier this month touched my soul on a deep level, and now that my blog is done, I can finally take the time to read their book. BEST REWARD EVER.
Shout-out to my Magic Wand Rechargeable and Magic Wand Plus for offering me consistent "relief" during these months, too. These vibrators are a godsend when there's no time for anything except quick orgasms.
---
You win too!
You, my lovely readers, also deserve much gratitude. Thank you for your patience with me as I dove into this project and disappeared for a while. I hope I have done you proud.
To thank you for your support, I talked to my BFFs at SheVibe and arranged to give away five $25 gift cards! Simply comment below, and my five favorite commenters will win that sweet sweet sex toy money.
What's your favorite thing about the new Hey Epiphora?