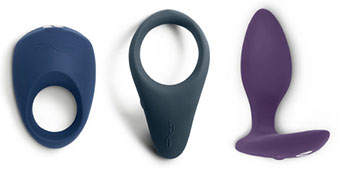 We-Vibe is making cock rings! And a butt plug! All of 'em are app-compatible, which makes a lot of sense for toys that get all up in your genitals' business. Rumbly vibrations, too, I bet. Gooood.
How truly majestic is this new uncut dildo from New York Toy Collective? And I thought Carter was beefy — this toy is 2.5″ in diameter! In keeping with their "let's name sex toys after people" theme, it is called… Leroy. Yeah. Well.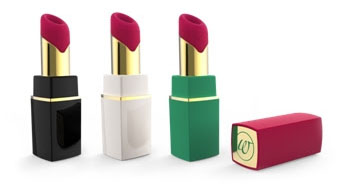 I'm having some conflicted feelings about the Womanizer 2GO. I'm not a lipstick person at all, but the idea of a smaller, less potato-shaped Womanizer does appeal to me.
Tantus' latest offerings include ball stretchers and a selection of classic dildos recast in softer silicone: Vamp, Destiny, and Adam.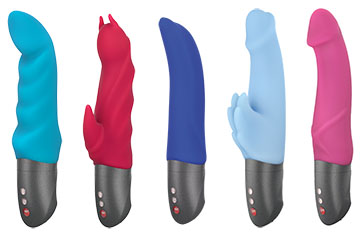 Here's Fun Factory's new idea: battery-operated toys that can be upgraded with rechargeable batteries which charge in the toy itself. OK, but I'm a little distracted by those devil horn cervix ticklers?! Take your mind off it with their Bootie Ring, a butt plug and cock ring combo that reminds me of the Rocks Off Ro-Zen.
I truly do not understand why you'd want to hoist something this monstrous onto your junk, even for an automated synced-to-porn experience, but okay: the Fleshlight Launch.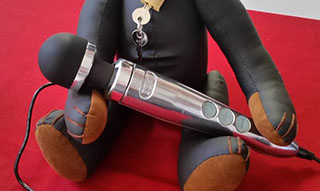 There are photographic rumors of a pint-sized Doxy on the horizon. Reviewers have colloquially named it the Doxy Smol, and I would like one please. (Photo courtesy of Horny Geek Girl.)

On the other end of the wand spectrum, there's a new one called Le Wand that is quite obviously a rip-off of both the Doxy and the Magic Wand Rechargeable. If you like your wands with a side of arrogance, have at it.
There's a new Sybian attachment called the G-Egg (because wow, I guess we are still putting G- in front of things?). This is maybe a good time for me to remind you that the Sybian remains a disappointment.