These glass dildos from Joyful Pleasure presented me with a few obstacles. See, I have this thing with insertable objects where I feel frustrated if I can't conquer them. Whether it's sheer size, extreme heft, repetitive bloops, every imaginable electrostim setting, or simply a bulge just out of reach, I feel the uncontrollable urge to experience all that a toy has to offer.
Combine this with the fact that I'm a texture slut, and you have a recipe for vaginal disaster. When presented with the opportunity to review dildos from Joyful Pleasure, I of course ignored anything smooth and went straight for dildos with bumps, swirls, bloops, and, unbeknownst to me, challenging lengths.
A large part of my reason for trying these dildos was price: they're all under $45. If your pockets aren't deep enough to buy something handmade from Crystal Delights or Fucking Sculptures, a cheaper glass toy is a good option. The low cost means they're mass-produced, so inexpensive glass toys in general can be imperfect and less durable, and none of them come with any type of storage. But they should be body-safe, with the exception of any toy with paint or a decal on it.
Many manufacturers make inexpensive glass dildos, but I liked the creativity in the shapes from Joyful Pleasure.
Midnight Joy ($38)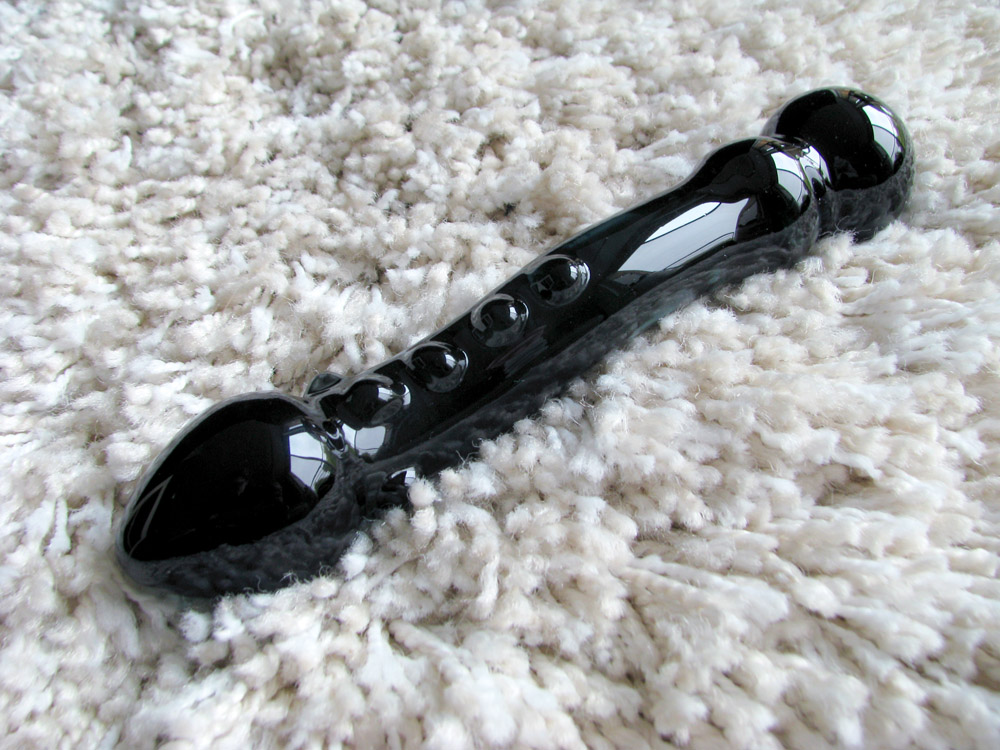 Although it's not the prettiest, the Midnight Joy (or Twistful Pleasure) is the best all-around toy in the batch. It's a solid dildo with a lot to offer. If these dildos were applying for a job in my vagina, the Midnight Joy would be hired.
The end with the little bumps on the shaft is rad — it has enough texture to satisfy my vaginal walls, plus it's equipped with a pronounced head. All the things I like! Yet even that sensation was rivaled when I turned the toy upside down, because the slight downward curve of the shaft became an upward one, and my G-spot was like "HELL YES. YES. YES." It was absurdly good. I definitely squirted.
This would be a good introductory glass dildo for a texture-curious person. Plus, if you happen to hate the bumps, you can flip the Midnight Joy around and get a similar experience minus texture. So there are three unique experiences to be had with this one. It's a dildo for all seasons!
(Don't like the color? Extremely similar dildos include the Twistful Pleasure and Fifty Shades of Grey Drive Me Crazy.)
Joyful Princess ($44)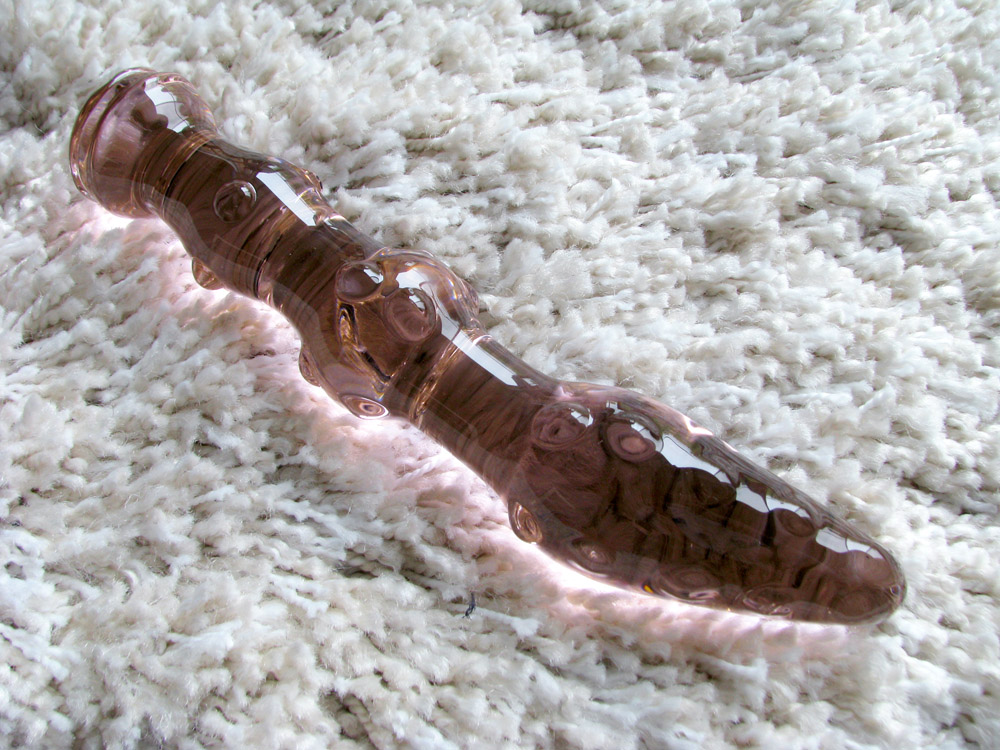 I feel like someone without a cervix designed this.1 Why is the tip so pointy? Why are the bulbs spaced out just enough so as to present difficulty experiencing them? Why is the overall toy so large and long (1.75″ in diameter, 9.25″ long)? These are the questions that preoccupy me.
I close around the pointy tip of the shaft easily, and it feels alright, but after that I feel like theme music plays and my vagina is in a competition. Time is running out. I must conquer the bulbs. More bulbs. Always bulbs. I can think of nothing else. The popping sensation, the thrill when I succeed is great. But it's not easy — in fact, it's distracting and leads to me completely tuning out the porn I'm watching. Rude.
Flipping it around isn't any better. The spacing of the bulbs means texture or girth always sits awkwardly at my vaginal opening.
My notes on the Joyful Princess indicate that at some point, inserting it pointy side first, I was able to ingest the second to last bulb. I was using the toy as my closer, twirling it like a mofo, exerting my pent-up frustration over the masturbation session as a whole. But really? That bulb? I almost don't believe. Maybe I meant the one before it. Maybe I was incorrect. Or maybe my vagina was particularly hungry that night.
Joyful Blue Swirl ($38)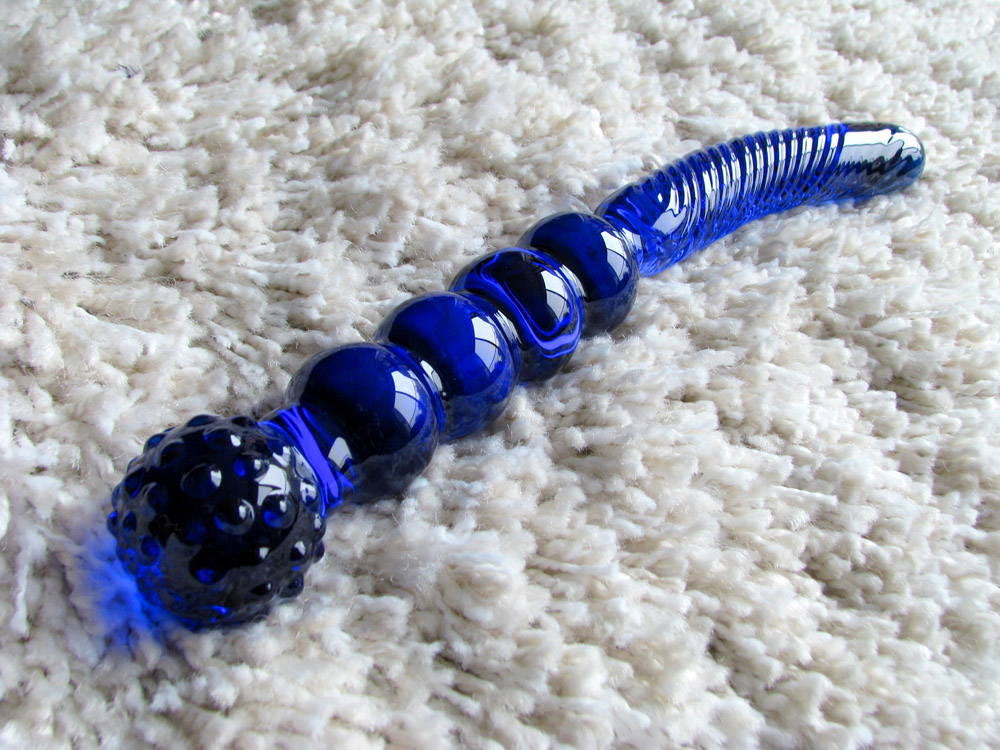 Each side of the Joyful Blue Swirl feels pleasant. The swirled end feels sort of mesmerizing and calming, reminiscent of the tactile pleasure I get from running my feet over the tiles in a swimming pool. But it's too narrow and lacks adequate G-spot stimulation. I prefer the swirls and accompanying G-spotting head of the Icicles No. 53.
The other end feels nice, too. My G-spot is a fan of the super bumpy head, and my vagina was relieved to find that the subsequent bloops feel effortless rather than challenging. This is the kind of spacing that makes sense — by which I mean, minimal.
But this dildo is SO LONG. Fucking 11.25 inches! It's like a scepter, like something I should be using to cast spells. It's my second favorite when it comes to sensation, but the length and relative straight form make it difficult to maneuver and manipulate.
Orgasmic Key Pleasure ($37)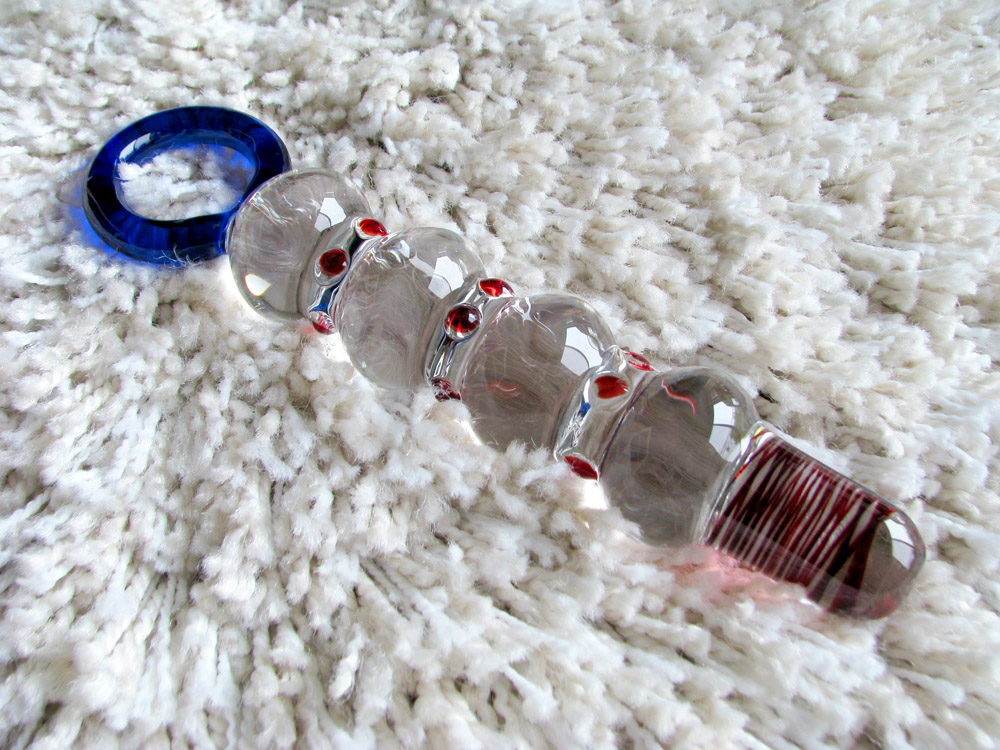 With all the texture and bulbs on this toy, I expected the Orgasmic Key Pleasure to be a kaleidoscope of sensations. It is not. It's just too straight and uniform. Spinning it doesn't alter the sensation much, and thrusting is difficult, so I end up just clenching around it. The little red embedded bumps are so buried that my vagina doesn't even register them.
And again with the unfortunate spacing of the bulbs. If not properly warmed up, as with the Joyful Princess, this toy can feel like an arduous process of conquering each one. Also, what even is that nub at the tip? It's weird and looks like it's trying to take my temperature or something.
The looped handle is the most successful part of this toy, but it can feel like shoving a pacifier in my vagina.
---
Final verdict? I loved the Midnight Joy, but found the Joyful Princess distracting, the Joyful Blue Swirl pleasant but logistically difficult to use, and the Orgasmic Key Pleasure bland.
I'm getting a better sense of my tastes with glass dildos: I like unpredictable textures like those on the Ash Girl, peculiar shapes like the Crystal Twist, and repetitive bumps, like those found on the Star Delight and Rainbow Mega Nubby. I would not have been able to predict how much I enjoyed the Midnight Joy, though, so I'm glad I gave it a shot.
Things I don't like with glass toys, or any toys, include: uninspired sensations, cumbersome lengths, and feeling like my vagina has unwittingly entered a '90s Nickelodeon game show. (I don't know why I always gravitate toward that comparison, but I do.) Vaginal challenges are fine when entered into consensually, but they lose their appeal when foisted upon me by my own neurotic brain.
Find inexpensive glass dildos at SheVibe, Lovehoney (international), and Stockroom.