Genre: Lesbian
Director: Anton Slayer
Length: 2 hours, 13 minutes
Cast: Gina Lynn, Marie Luv, Daisy Marie, Jada Fire, Tori Black, Eva Angelina, Erika Vution, Lana Croft, Ruby Knox, Megan Monroe, Sammie Rhodes, Priva, Sindee Jennings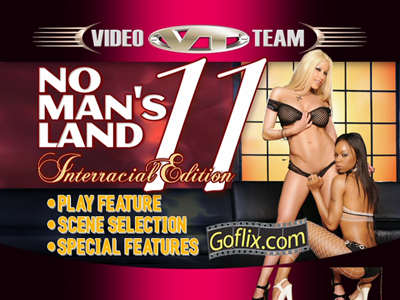 Special Features: Photo Gallery, Cast Bios, Behind the Scenes, a bunch of ads in various forms. The Behind the Scenes is nearly 30 minutes long, featuring interviews with Jada Fire/Tori Black, Erika Vution/Priva/Megan Monroe, Sammie Rhodes/Daisy Marie, and individual interviews with Marie Luv, Eva Angelina, Ruby Knox, Gina Lynn, Sindee Jennings, and Lana Croft. All the individual interviews are done by a very loud woman who touches all their boobs. I found her obnoxious, although most of the women had some interesting stuff to say. The highlight of the Behind the Scenes was the interview with Sammie Rhodes and Daisy Marie.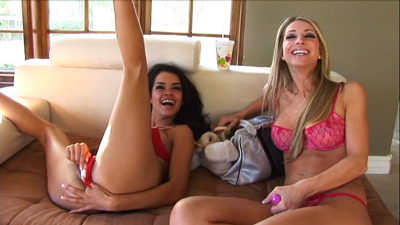 First of all, Sammie is drinking Jamba Juice, but second of all, Daisy plays with herself the entire time and they laugh a lot. Both women seem into each other as well, and this actually boosted my opinion of their scene together.
No Man's Land: Interracial Edition 11 also comes with a bonus disc, which is a collection of eight scenes (nearly 3 hours long in total). This disc is what makes this a "2 Disc Collector's Set," as the cover states somewhat misleadingly. The cast on this disc is as follows: Katie Morgan, Brittney Skye, Angel Eyes (seriously?), Melissa Lauren, Kimmy Kahn, Loni, Nyomi Marcela, Adriana Sage, Charlene Aspen, Silvia Saint, Tanya Danielle, Audrey Bitoni, Mikayla, Victoria Sin, Lacey Duvalle, Nyomi Banxxx, Poppy Morgan, Sandra Romain, Jassie, Kirsten Price.
The production value on these scenes is nowhere near that of No Man's Land; several of the scenes are cursed with horrible, horrible music, bad lighting, quiet audio, and fake boobs. However, there were a couple scenes that surprised me and that elevated this disc from "a waste" to "alright," notably scene 2 and scene 4.
Audio/Video Quality: The video was shot in high-definition widescreen, and the lighting is consistently good in all scenes, looking natural and not under- or overdone. The audio is crisp and clear, without distortion even when the girls get loud. I wasn't too happy with the couple of appeased groans from the cameraman throughout the DVD, but I'll live.
Scene 1: Gina Lynn + Marie Luv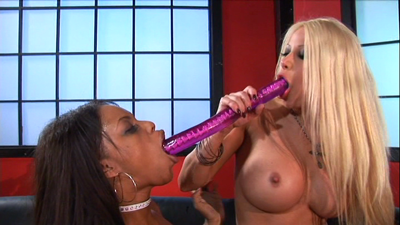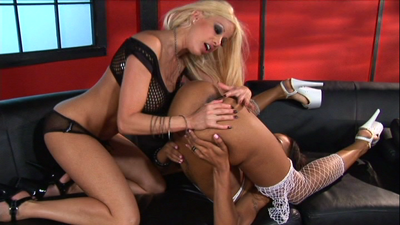 Gina rips a hole in Marie's white fishnets and gives her a killer pussy licking. She spits on her vulva, slaps it, rubs it furiously, then bends Marie over and plays with her pussy and ass at the same time. In return, Marie bends Gina over the couch and buries her face in her vulva. Soon they're on the floor, Marie sitting on Gina's face. There's an amazing shot of Marie's labia spread on both sides of Gina's mouth.
Unfortunately, the action moves very quickly in this scene, and Marie promptly shoves a glass dildo in Gina's pussy from behind. Then they play with a very long, purple double-ended dildo. Gina fucks Marie's mouth with it, they share it, etc. Then Gina, laying back on the couch with a pink strap-on, fucks Marie. Or should I say Marie fucks her, because she goes crazy riding that dildo.
I didn't care for the dildo-choking in this scene, but otherwise, both women bring a ton of heat to the table and do not relent. It's awesome.
Scene 2: Daisy Marie + Sammie Rhodes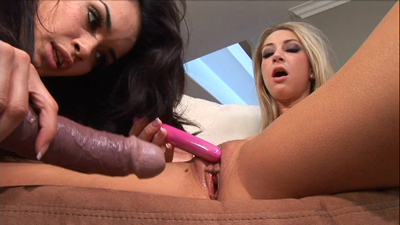 Daisy and Sammie begin at the top of a staircase, catering to the male gaze. Finally it cuts to them on a couch, and the horrible music ceases as well. Sammie fingers Daisy wetly, then Daisy returns the favor in a 69 position. Daisy's good, but Sammie's moaning is a little boring to me (e.g., no real dirty talk). Daisy brings out a large weirdly-colored realistic dildo and fucks Sammie with it while Sammie holds a vibe against her clit. Next, Daisy's vagina is filled with the realistic cock. The pink vibe is repurposed as an anal toy, and Daisy holds a pocket rocket to her clit until she comes. Daisy puts on a realistic, fair-skinned strap-on and Sammie mounts her until she comes.
While this scene wasn't amazing, it turned me on and the women seemed dedicated to putting on a nice show.
Scene 3: Erika Vution, Megan Monroe, Priva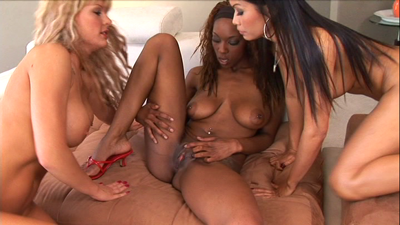 While this trio of hair colors is visually appealing, this scene had the least amount of passion on the whole disc. First: pussy-licking ahoy. Priva isn't spectacular at giving, and Megan isn't spectacular at receiving. Erika, however, isn't afraid to lick and suck the hell out of a vulva. Ericka fucks Priva with a purple dildo and Priva turns into an animal. Our friend the purple double-ended dildo from scene one makes another appearance, this time up Megan's vagina. Megan does absolutely nothing for me, so this sequence was boring. Then Priva fucks Ericka with a glass dildo. Megan hops on top of Ericka's head and has a most-likely-fake orgasm. All three girls turn and acknowledge the camera. Yawn.
Scene 4: Tori Black + Jada Fire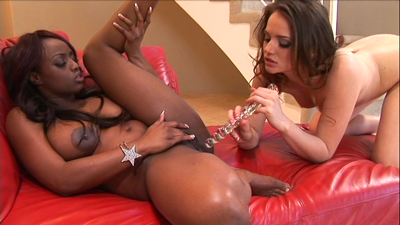 I'm normally not into foreplay, but it's hot when Jada bites Tori's nipples and teases her asshole. Tori ravages Jada's nipples, then they get right into the good stuff — Tori licking Jada's pussy, tonguing her clit and sucking at her big labia. They quickly switch, and Jada licks Tori's pussy and fucks her with a silver vibrator. Then Tori fucks Jada with a glass dildo, and this is where things get good. Jada starts squirting, getting her pussy and the dildo all wet with her come. Cut to Jada wearing a red strap-on and fucking Tori hard.
Unfortunately, the scene ends there. I wish each "activity" had lasted longer; it would've made for a more fulfilling scene. But I loved this scene nontheless.
Scene 5: Eva Angelina, Sindee Jennings, Ruby Knox, Lana Croft, Sammie Rhodes, Marie Luv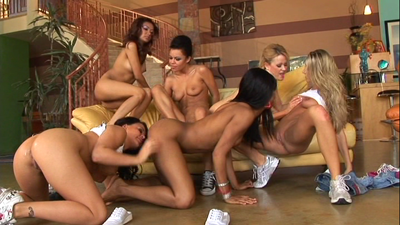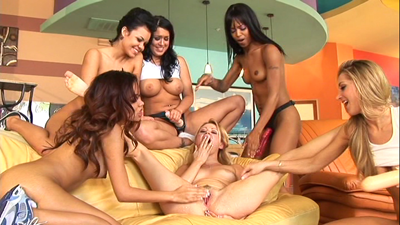 After a long musical intro in which all the girls convene in the living room area, we're presented with three pairs of girls in various stages of pleasing each other. It's not long before Sindee's squirting, then the camera spends some time with Sammie and Eva. Eva fingers Sammie while the other girls continue their play in the background. Then everyone moves to one area of the room — the yellow couch and the floor in front of it — and go at it some more.
Then there's a cut, and two of the girls are wearing strap-ons. Marie fucks Lana with hers, and Eva fucks Sindee with hers. A fake hand also comes into the picture, which is used to shove in mouths. Then they switch, and Eva fucks Lana up the ass with her cock, while Marie fucks Sindee until she squirts multiple times. Marie then finds a drill with a dildo attached to it and uses it on Sindee. Eva starts fucking Sammie's ass, and Sammie starts begging her to do it harder. An inflatable dildo appears and gets shoved up Sindee's pussy. She squirts, everyone leans back, and that's that.
Six girls is a bit too much for me, and there was a lot of jumbled moaning here, but everyone was having fun and giving it their all.
Summary: No Man's Land: Interracial Edition 11 was fun to watch. Although none of the scenes quite lived up to the fire of the first scene, and the threesome scene was a total dud, the rest of the scenes were pretty sexy. I didn't care for the music-laden scene intros — kissing, touching, glancing sexily at the camera — but those are easily skipped. The high production values and the enthusiasm of the girls earned this one a firm recommendation from me.
Stream No Man's Land: Interracial Edition 11 here.