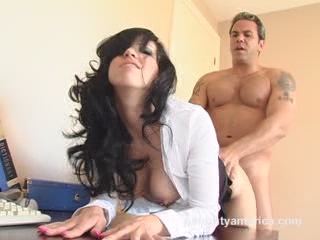 Who needs lube when you have a video of Steven St. Croix fucking the unbelievably hot Roxy Deville? Not me!
This scene from Naughty Office Vol. 3 made it worth my while to slog through 35 minutes of weak vibrations from the Durex Play Vibrations Focus (a disposable finger vibrator). I credit the porn with making me cum, not the vibrator.
Roxy has called Steven St. Croix her "favorite porno guy of all time," and it shows. Both of them are moaning up a storm! That could be annoying to some people, but not to me. It actually seems genuine. I've heard Roxy moan in other videos and the moaning she does in this scene seems more raw and uninhibited.
There's nothing crazy in this scene — just blowjobs (for both parties) and fucking — but Roxy and Steven make it more interesting (and hot!) than the average scene.