Genre: Bisexual
Director: Chi Chi LaRue
Length: 1 hour, 25 minutes
Cast: Cameron Marshall, Ryan Alexander, Lola, Lee Stephens, Shy Love, Britney Amber, Blake Riley, Johnny Hazzard, Wolf Hudson, Cody Springs, Krystal Kali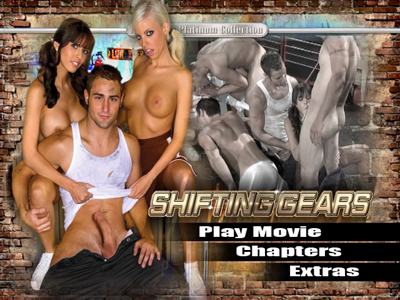 Special Features: PopShot-on-Demand, Behind the Scenes (6 minutes, not bad), Wrap it Up (a PSA for condom use asking "is it really that much hotter without a condom?")
Audio/Video Quality: The video is presented in letterboxed widescreen format. The video is clear, as is the audio. The lighting isn't wonderful; some shots are a bit dark or shadowed due to the indoor setting; other shots are overly lit. There is music layered under the scenes; it's fairly unobtrusive and not especially ridiculous, but I still wish it didn't exist.
Shifting Gears, unlike many bisexual movies, follows a plot. The movie begins with the male mechanics getting railed on (verbally!) by their boss, Wolf Hudson. They've been working on a car for too long and can't seem to fix it. Enter Krystal Kali, adorably dressed in a baseball cap and boyish clothes. The dudes feel their masculinity being threatened, so they treat her like shit. Luckily, this semi-bad acting doesn't last long.
Out of nowhere, a scene between Wolf Hudson and Lola begins. Lola is Wolf's girlfriend, I think, though the movie doesn't explain that at all. Lola sucks Wolf's cock nicely — with camera angles from above and below. Then Cameron Marshall appears, lurking and watching them secretly from above. As Lola sucks Wolf's cock, suddenly the camera cuts to Cameron (imagining he is) sucking Wolf's cock, then back. Lola jacks Wolf off with her boots, then he licks her pussy. Krystal Kali shows up, snooping from a side room, and promptly imagines herself licking Lola's pussy. I loved the quick fantasy cuts, here — unfortunately this is the only scene that utilizes them.
So what makes this scene bisexual, apart from the homosexual fantasies of the onlookers? Nothing, technically, but Lola does give Wolf a kickass rimjob. It's not everyday you come across a woman giving a deep and passionate rimjob to a guy. Lola really goes to town, not just licking his asshole, but fucking it with her tongue. And Wolf loves it, growling and jacking off the whole time. If you can't tell, I loved this part.
After Wolf's pop shot on Lola's face, the camera cuts to Cameron Marshall sleeping in his truck in the parking lot and dreaming about Wolf. Cameron is approached by Johnny Hazzard, a dude too cute to be a creeper, who asks to see the auto shop. Cameron is straight, so Johnny proceeds to fondle some chains and come on to Cameron. As forced as this sounds, I was amazed by how well Cameron plays the part of an apprehensive straight guy. Johnny is even better; he takes his time teasing Cameron through his pants and boxer briefs, stroking and sucking to get Cameron good and hard.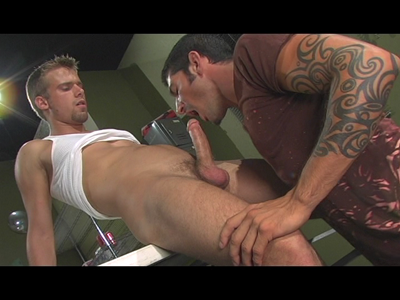 When he succeeds, Johnny gives Cameron the blowjob of his life, using every technique known to man, including new techniques like this one: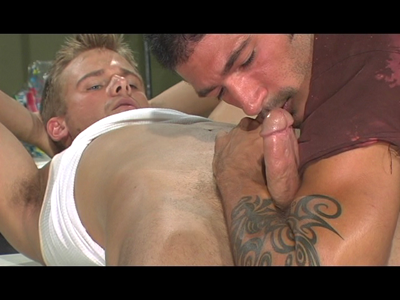 Besides Johnny's obvious blowjob skills, this blowjob is incredibly hot because Johnny never removes his clothes. He is entirely focused on pleasing Cameron, intent on getting him to writhe with pleasure, which he does. Johnny gives Cameron a rimjob, then Cameron fucks Johnny. The sex is nothing special, but that blowjob was so fucking hot it doesn't matter.
After Cameron comes on Johnny's back, the camera cuts to some of the employees hanging out in the office. Shy Love and Britney Amber, dressed as ditzy cheerleaders, find their way into the auto shop and loudly complain about their broken car. They don't have any money, obviously, so they launch into a lesbian frenzy for the guys.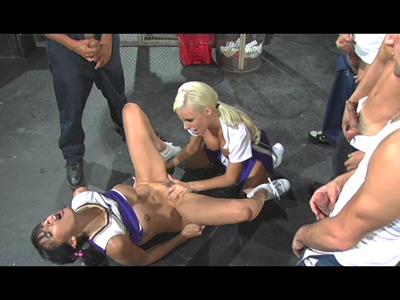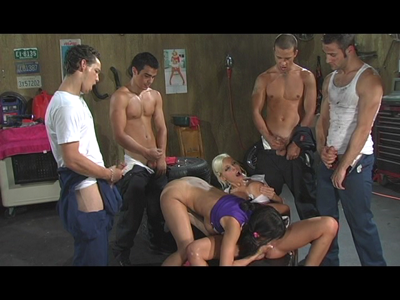 These chicks aren't my style, but I found myself turned on by the circle of dudes jacking off around them. The guys kept moaning and talking dirty to them, which I found incredibly hot. I don't have a thing for mechanics, but with their cocks pulled out of their gray work pants, the guys looked sexy. There isn't much palpable chemistry between Shy and Britney, but they make a valiant effort to impress the guys with some furious fingering and licking.
This eventually turns into an orgy.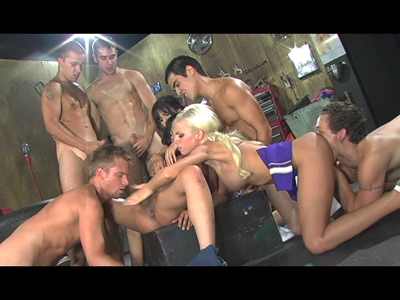 Practically everyone else trickles in, including Blake Riley, who proceeds to have his first straight experience (ever!) with Britney, and doesn't seem to hate it. This scene goes on for quite a long while, which led me to determine that I'm not a fan of orgy scenes. I just don't know where to look. There's definitely some excellent action happening here, though (both straight and gay) — it just doesn't have the more intimate atmosphere that made the first two scenes so great. I'm sure anyone looking for a good bisexual group sex scene would appreciate this one.
Summary: Shifting Gears is a surprisingly sexy bisexual film. At times, such as during Cameron and Johnny's fucking and at certain points in the orgy, the sex lapses into mediocrity. But all the amazingly hot moments — Lola tongue-fucking Wolf's ass, Johnny sucking Cameron's cock, the guys jacking off over Shy and Britney — definitely make up for it. The plot is spotty, but I didn't want much more from it. In terms of bisexual movies, Shifting Gears forges new territory by including a (fairly) straight scene and having decent production values. It's an enjoyable film; I recommend it.