Genre: Lesbian, Feature
Length: 98 minutes
Cast: Harmony Rose, Monica Mayhem, Audrey Hollander, Gwen Summers, Holly Wellin, Jennifer Dark, Cameron Love, Danika Sandberg, Summer Bailey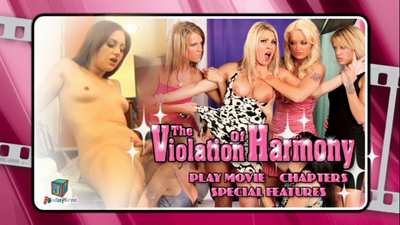 Overview: Harmony is the host of "America's Next Hot Model," so she is the faux Tyra Banks persona of the modeling world, except all of Tyra's weirdness is replaced with severe bitchiness. Come to think of it, nothing about this is really anything like America's Next Top Model, so if you're looking for a parody, you're out of luck.
Special Features: Backstage ("Monica, very nice work with the foot in the vagina…"), "Bio's" (ugh), Slideshow, Sneak Peeks (a.k.a. previews for other films), JM Order Info
Audio/Video Quality: The Violation of Harmony was shot in high-definition, and is presented in widescreen format. The scenes have a bit of a yellow tint to them, but otherwise they are decent. All are indoor scenes, so the lighting is not exactly natural. The audio is fine in the first scene, but the second scene is fairly horrendous audio-wise. With all the yelling and screaming, the audio distorts… often.
Scene 1: Summer Bailey + Cameron Love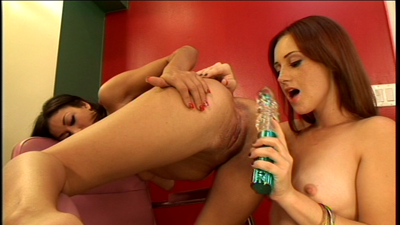 Summer (dark hair) and Cameron (red hair) begin this scene by whining about how they despise Harmony. Summer is upset because she ate a hot dog, and apparently this means she is instantly fat. A couple of really tasteless comments, such as Cameron saying "I throw up everything," really made me angry. Considering the acting in this movie is so horrible, I won't let "jokes" like that fly. Maybe if this were a real parody that actually tried to have some depth…
Anyway. Summer starts worshipping Cameron's body, taking off her clothes and noting insightfully, "I just need to throw up more." This leads to Summer eating Cameron out. Cameron's labia are nice, so it's fairly hot. Cameron then bends Summer over a chair and fingers her for a second. Magically, a rabbit vibrator appears, which Cameron slides into Summer's pussy. Cameron often forgets how to use a rabbit, generally neglecting getting the clit stimulator to hit Summer's clit. Instead Cameron lightly tongues Summer's asshole.
Then another rabbit vibrator materializes, and this time it's shoved in Cameron. The beads in the shaft of the vibrator stop moving the moment they're in her vagina, so that's awesome. I am personally bothered by malfunctioning sex toys, but that may just be me. Summer keeps holding the clit stimulator back, too, and I have no idea why. Mostly Summer just fucks Cameron with the vibrator, and Cameron claims to come several times. I doubt it. Summer has some nice dirty talk here, but Cameron totally slips into porno girl mode and moans obnoxiously.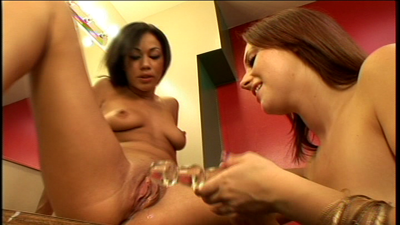 For the finale, Summer sits on a table and Cameron fucks her with a glass dildo. I'm a sucker for glass dildos, so this was one of the hottest moments, coupled with the fact that Summer's pussy gets creamy and wet. Summer supposedly has an orgasm; again, I'm not sure, but this one's a little more believable. Then Summer gets on her hands and knees and Cameron fucks her with the first rabbit vibe again.
In general, this scene is decent. There is nothing especially exciting about it, yet nothing obnoxious about it either. Both girls are fairly cute and seem into pleasuring each other.
At the end of this scene, Harmony "catches" the girls and slaps and yells at them for fucking around. I like a bit of punishment, and this moment could've been hot, but it was ruined by the fact that Summer and Cameron began crying (very unconvincingly) afterward.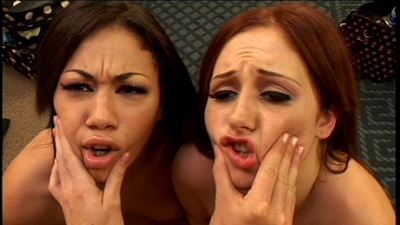 What follows is a barrage of "Harmony being a bitch" moments, like her angrily critiquing girls during photoshoots and berating them for eating (seriously, they never quit with that stupid "joke"). Obviously, these scenes exist to paint Harmony as a super bitchy chick. The final straw is when Harmony freaks out on one of the girls for having dirty feet and starts choking her.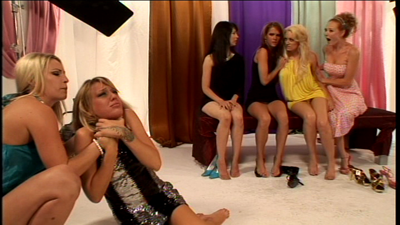 Then the models attack.
Scene 2: Harmony Rose, Audrey Hollander, Monica Mayhem, Holly Wellin, Jennifer Dark, Gwen Summers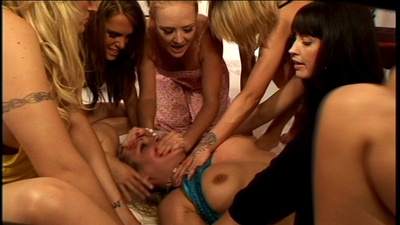 I want to be absolutely clear here. I'm fine with a little punishment, even a little BDSM, but it's not something I enjoy or get off on. I was hoping that, five minutes into the "violation," Harmony would start to seem excited about the whole thing. It never happens. She protests, screams "no," fights back, the whole time. It's faux rape, and I'm really not into that. It pained me to continue to watch this scene, which seemed to last forever (it's about 55 minutes long).
The girls fish-hook Harmony's mouth, slap her, spit on her, and force her to eat pussy and ass. They berate her, calling her names, and one of them says, "I think she has a yeast infection" (what a turn-on!). They fuck Harmony with flesh-colored dildos, glass dildos, strap-ons, a huge black dong, their feet, and a frightening metal instrument. All of these items are also used to choke her. From all the choking, Harmony keeps spitting on herself. Double penetration is a big thing, of course, too.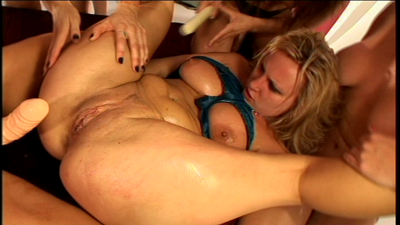 As a grand finale, the girls shove pizza in Harmony's face, and the final image is of Harmony kneeling alone on the floor.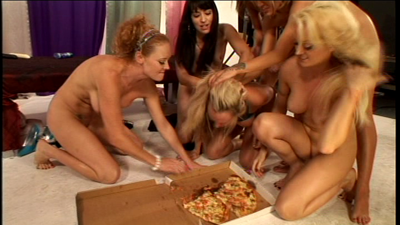 The acting is atrocious, the plotline is pointless, and one scene completely turned me off. Please take my analysis of the violation scene with a grain of salt, as I really have no idea whether the scene is particularly "good" or "bad" in its own right. I only know what I feel, and that stuff isn't for me.