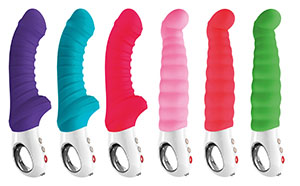 REJOICE, because Fun Factory is retiring their G4 line of vibrators in favor of G5. The G5s, which come in classic designs like Tiger, Big Boss, and Patchy Paul, have satisfying clicky buttons. Writing this, I am now realizing how much of a nerd I am that I'm excited about different buttons. They also have more settings, OK?

The latest in sex toy crowdfunding campaigns includes a smart cock ring called Lovely and a 6-motor bendable vibe named Crescendo.
Astroglide released a sperm-friendly lube called Astroglide TTC. Nice try, guys, but Yes already does it with much better ingredients.

Tantus' new Vibrating Progressive Beads are a great contribution to society. Silicone anal beads are already important, but vibrating ones even more so. Now the question is, can I put my Tango in that base?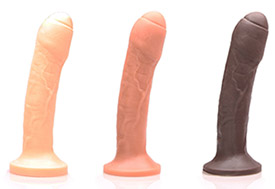 I know I already mentioned these back in February, but so what: the Tantus Uncut dildos are finally here! Dual density perfection!
There's a Better Than Chocolate 2. It's rechargeable now. Only took them 6 years.