Genre: Lesbian
Director: Andre Madness
Length: 2 hours, 5 minutes
Cast: Bree Olson, Sasha Grey, Ava Rose, Lisa Neils, Angie Savage, Lexxi Tyler, Sophia Santi, Samantha Ryan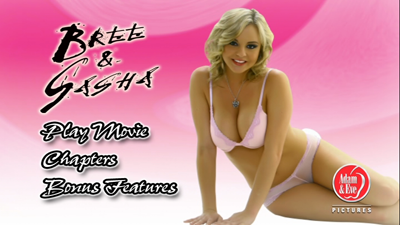 Special Features: Behind the Scenes (unfortunately very boring, reveals nothing new), Bonus Scene (Ava Rose and Charlie Laine from Shades of Romona), More Adult Fun (a.k.a. ads), Bloopers (I enjoyed Bree Olson burping, but everything else was boring), Photo Gallery, Trailers, Interviews (all of which felt pretty formulaic, except Sasha's), Web Info
Audio/Video Quality: Bree & Sasha was shot in high-definition widescreen, and the lighting is wonderful in all the scenes. It looks natural, for the most part. Sasha and Bree's scene has some interesting shadows going on that I thought added to the sexiness of the scene rather than detracting from it. Sasha and Lisa's outdoor scene isn't overly lit, so it feels just voyeuristic enough to be hot.
The audio is at its best when the performers are loud. Even very loud moaning doesn't distort, which is very nice. The audio quality isn't as perfect with the quieter moments. Individual scenes have their own audio quirks; Samantha and Sophia's scene has more echo due to their location; the leather couch in Sasha and Bree's scene is a little noisy; Sasha and Lisa's scene sounds slightly muffled, due to wind.
Scene 1: Bree Olson + Ava Rose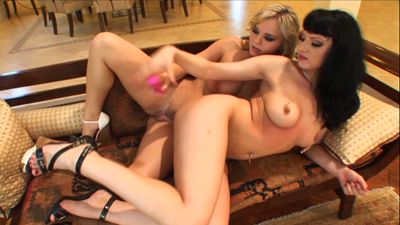 Ava walks down some stairs, and they get into the action quickly, with Bree going down on Ava. Ava mostly just breathes. Then Ava licks Bree's pussy, and the difference in noise-making is astronomic. Bree moans up a storm, whimpering and even screaming. I like Bree the best when she's murmuring dirty things rather than freaking out; unfortunately those moments aren't as plentiful as the yelling.
They 69, and Bree continues her very loud moaning. Then Bree whips out a bumpy glass dildo and Ava fucks her with it. I have to give Ava props for twisting the dildo around, as I know exactly what Bree means when she says "that feels fucking amazing." Bree then fucks Ava from behind with a pink vibrator, which isn't so hot with the sound of the batteries rattling around in it.
After Ava "comes" (with no clit touching and no G-spot curve to the toy at all), she returns to using the glass dildo on Bree for the rest of the scene. The glass dildo looks fucking hot twisting in Bree's pussy. That sight, in addition to Bree's dirty talk, make this scene decent, but Bree's loudness detracts from the overall experience of watching it.
Scene 2: Samantha Ryan + Sophia Santi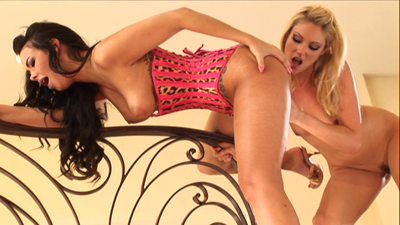 At the top of the staircase, Samantha bends over the railing and spreads her legs so Sophia can spit on and lick her pussy. Then she fills her vagina with two fingers and fucks her until she "comes." Sophia leans back against the railing so Samantha can stick her face in her vulva. I like Samantha's techniques, especially when she adds fingers and continues to take care of Sophia's clit.
Unfortunately, it's all shitty toys from here. Samantha leans back against the staircase, putting her high-heeled foot up on it, so Sophia can shove a neon pink dildo in her vagina. Next is a purple dildo with balls for Sophia's vagina. The neon pink dildo reappears, and Samantha takes it doggie style on the floor. And finally, the purple dildo returns for Sophia's pussy.
This scene didn't really do it for me. I wanted Sophia to take off that uncomfortable-looking corset, and I didn't care for the excessive dildo worship. Samantha and Sophia's moans also got repetitive and were too abundant.
Scene 3: Sasha Grey + Bree Olson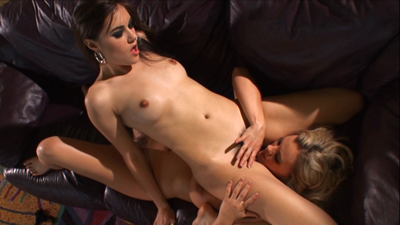 So. Fucking. Hot. Look, I love Sasha Grey, but I love her even more in girl-girl scenes. Right off the bat, she makes Bree come by sticking one finger in her vagina and rubbing her clit with another. Then Sasha sits on Bree's face. I'm a sucker for this position, and it's hot as hell here — Sasha rides her and bucks her hips a little, and seems lost in the moment rather than trying to perform.
Bree then fucks Sasha with a silver vibrator, most of the time sucking at her clit as well. Sasha comes, sexily as usual, then bends Bree over the arm of the couch and fingers her from behind. Some of Sasha's signature dirty talk comes out, and Bree cries out in pleasure into the arm of the couch. This scene rocks. Why didn't they do four more and make that the DVD?
Scene 4: Angie Savage + Lexxi Tyler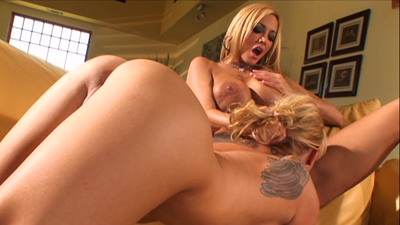 Oh wow, I really hate Angie Savage's moaning. It's so fake. Not a fan of Lexxi Tyler's looks, either, but she seems to have some sass and personality at least. They both finger and lick each others' pussies, then use toys such as a small pink vibrator, a black dildo with feathers on the end, and a strap-on. Of course, they make sure to lick all their sex toys.
Angie's voice and demeanor ruined this scene for me. I'm also adverse to seeing two blondes go at it, so that didn't help.
Scene 5: Sasha Grey + Lisa Neils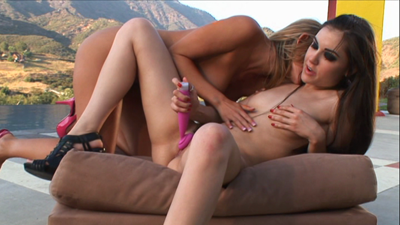 Apparently this DVD was shot in Malibu, yet it is only apparent in this scene, the only outdoor scene on the disc. The girls are on an ottoman of some sort, with water and mountains in the background. They have wind in their hair and for a while, both are wearing sunglasses. It's different and refreshing, and I wish more scenes had been shot outside.
First, Sasha sucks and licks Lisa's pussy, then she grabs a red liquid-filled dildo and twists it just inside Lisa's vagina while rubbing her clit (Sasha knows how to please a woman; I love it). For an unfortunately very brief moment, Sasha straddles Lisa's head and rides her mouth. For most of the rest of the scene, they use a vibe on Sasha's clit until she has a hot orgasm.
I couldn't help but be taken by the scenery in this one, but I thought the use of sex toys in this scene was very tasteful as well and didn't feel forced like it usually does. And, of course, Sasha is amazing.
Summary: Bree & Sasha is a misleading title, as there is only one scene between Bree Olson and Sasha Grey on this DVD. Luckily, however, Sasha appears in another scene with Lisa Neils that is nearly as hot as her scene with Bree. The rest of the scenes did not stand up to these two; they weren't horrible, but they weren't much more than typical girl-girl fare.
I recommend this DVD, especially for Sasha Grey fans, but I think others might enjoy the other scenes more than I did as well. It helps that the lighting is spectacular and the cameraperson knows what he/she is doing.
Stream Bree & Sasha here.