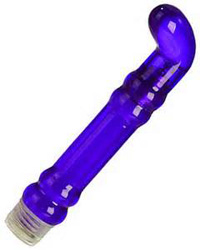 The Crystal Candy G-Licious came in a transparent plastic box that looked like it belonged in the little girls' aisle at the store: stars all over it and a crazy font. Although I am not five years old, I much prefer this kind of design over photographs of lame heterosexual couples pretending to have moments of sexual bliss.
The G-Licious is an attractive vibrator, with its translucent plastic shaft and little ripples. But, although this could be an apt beginner's toy, the G-Licious is not a frivolous or amateur vibrator. It has a serious G-spot curve. It means business. Okay, it's purple, but it's a deep, mysterious purple. It can still mean business!
The dial base twists open to reveal the battery slot. I have never encountered this problem before, but I found the battery compartment very tight. I had to push my Sony rechargeable batteries in, and to get them out, I had to hit the vibrator profusely against my palm. Another brand of rechargeables that I have (La Crosse Technology) are a bit wider than the Sony batteries and I couldn't fit them in at all.
But I got my two AAs in, and I twisted the base back into place. When I turned the vibrator on, I had a slightly more difficult time than usual because the dial part of the base is unusually thin — less than six millimeters across. It sounds like an insignificant thing to gripe about, but it becomes an issue when you are one-handed and trying to twist it in the heat of the moment.
Performance-wise, this vibe is average. I was hoping for some mammoth-like power out of the two AAs, the way the Turbo Glider just rocks its AAs. But instead, the vibrations are only standard in intensity, and the range of vibration levels is not very extensive. Consequently, the buzz sound is neither especially quiet nor especially loud.
But the shape is still good. One real advantage to this shape of vibrator is that I can slip the curved tip inside me and press the shaft against my clit. This is a good warm up. When the whole shaft is inserted, the plastic is very noticeable. I can't feel the little ripples, but I can definitely feel the thickness and rigidity of the vibrator. It fills me up nicely.
Perhaps I'm paranoid, but I'm not sure about using this vibrator in water. It has a good, thick O-ring, but the vibrations start the moment the base is screwed on. So, if you are willing to keep the vibrator on the whole time it is in water, you would probably be okay, but I would be otherwise worried about water getting in through the small gap between the O-ring and the base.
I should probably address my G-spot yet again. No, I still haven't found it. And I'm not entirely sure this vibe would be able to find it for me, because the vibration just isn't enough. I wanted to be able to say that the Crystal Candy G-Licious was a worthy G-spot relative to the Turbo Glider, but alas, it does not have the power.
However, if this vibe were to break or otherwise become useless, I bet it would make a good puppet. Just pull a sock over it, add some googly eyes, and put on a show!