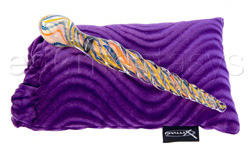 Take just a moment to ogle the photographs of the Phallix Twisted Lattachino Love Wand, and you will quickly see why I lusted after it. It is made of glass, of course, with swirled ridges all down the shaft, and vibrant ribbons of color throughout the dildo. Having already experienced the orgasmic bliss that is bumpy glass, I wanted to try swirled glass.
As with all dreams and high expectations, the wand isn't, in reality, a perfect object. Aesthetically, it isn't as flawless and vibrant as the high-contrast photographs make it seem. Instead of swirls of bright blue, orange, and yellow, the ribbons of color are muted orange, teal, and white with teal border. There is also some cloudiness and tiny swarms of air bubbles in the handle.
Also, by some trick of the eye, the wand looks unusually long in the photographs. In actuality, it is very petite. The tip is a mere 1/3 inch in diameter, and the widest swirled point only a little over one inch. The whole dildo is about 8 1/2 inches long, 6 1/2 insertable. Although it is made of glass, it is not especially heavy, and its unique pointy shape makes me worry that it could be more fragile than most other glass dildos. Luckily, it came with an enormously padded storage bag.
But enough of the mumbo-jumbo. How does it feel? Well, I am pleased to report that it feels great. At first, because of the tiny tip, it feels a bit like inserting some sort of medical object, but that feeling quickly fades as the swirled ridges work their magic. The ridges are very pronounced, so spinning the dildo creates a lovely sensation that can perhaps only be described as "swirly." Clever, I know.
The best part of this dildo is the widest portion of the shaft. With that portion just outside or just inside my vagina, I twist the dildo in circles and bask in the sensation. That is all I do; I just let my nerve endings have a party. Thrusting is nice, too, but it's the feeling of the swirls spinning that really gets me off. This isn't a dildo to fuck yourself silly with (especially because of that point — you don't really want that thing accidentally poking you).
Now, as much as I want to shout from rooftops while this dildo is busy stimulating me, there is one thing that is not very shout-worthy: the price. I assume it's the colorful design that adds dollar signs to this one, but I don't think such a small dildo should cost $132. My bumpy dildo is in the $80 price range, and it's an average-sized dildo.
So the market for this dildo is a very specific one: people who appreciate thin toys, enjoy texture, and have $132 lying around to spend on a small dildo. I am only two of those things, so I feel fortunate to have this great glass dildo to add to my collection.