Content note
: this post contains mentions of James Deen. I no longer support 
him or his work
.
Genre: Mostly straight, vignette
Director: Gregg Alan
Length: 2 hours, 23 minutes
Cast: Nicole Ray, Brittany Angel, Mickey Graham, Cameron Love, Chayse Evans, Roxy Deville, Mimi Allen, Tommy Gunn, Talon, Jenner, John Strong, Mick Blue, Alex Gonz, James Deen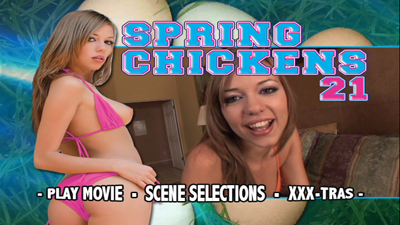 Special Features: Photo Gallery, Behind the Scenes (interesting to watch, especially for Roxy, but mostly just confirms that the camera dude is a perv), Cumshot Recap, Website Info
Audio/Video Quality: Spring Chickens #21 is in widescreen format, shot indoors but with agreeable lighting. It's a tad bit yellowish at times, but I don't mind that. The audio's fine but nothing special. It distorts when the girls get loud, which is annoying, but not atypical.
Scene 1: Nicole Ray + Talon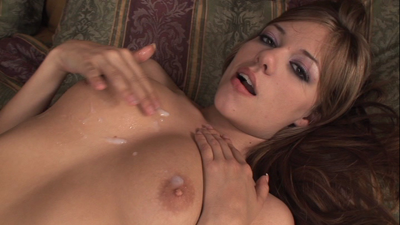 And so begins one of my biggest annoyances in porn: the pre-scene sleazeball chat. Each of these scenes has it. Why am I surprised? Obviously only men watch porn, and they want to put themselves in the cameraman's place and pretend they are saying gross things to the girls. I mean, why not?
Anyway, the obnoxious camera dude (I don't know if this is the director, Gregg Alan, or not) asks Nicole to touch herself, which of course she does. Then Talon enters and she promptly sucks his already-hard cock.
The problem with this scene is that Nicole seems like she's totally on auto-pilot. Sure, she sucks his cock and lets him fuck her in a variety of average positions, but she doesn't seem like she truly enjoys it (then again, I wouldn't enjoy fucking Talon either…). Maybe it was the purple eyeshadow, but I just got the faking-it vibe from her. Whenever the camera would zoom in on her and she noticed it, she'd break into a smile and suddenly act far more excited. Also, her moaning got repetitive very quickly. It's a shame, because she's a cute girl and seems to have a personality in the Behind the Scenes featurette, but not here.
Scene 2: Mickey Graham + John Strong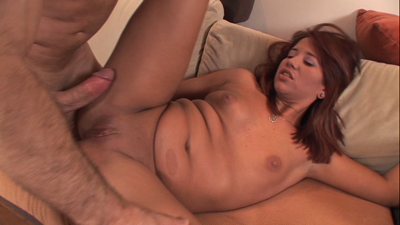 Again, the scene begins with the cameraman instructing Mickey to do "hot" things like hump the couch. Then John Strong walks in and Mickey gives him a pretty fierce blowjob. First she sucks him off while humping the couch, then they switch positions and she deepthroats him vigorously (I don't care for deepthroating, but she's good). John gives Mickey a quick pussy licking, and her fake porno moaning arises, as well as her apparently signature quivering bottom lip.
Her moaning isn't quite as annoying when she's being fucked, but the over-the-topness doesn't cease. Her favorite/only words are "yeah," "fuck," "oh god," and "baby," often repeated in sets of three. Don't get me wrong; she definitely handles John's cock like a champ and seems like she's having fun, but I'm not sure if I believe that she actually is. The hottest moments were when I, however briefly, believed her.
Scene 3: Chayse Evans, Roxy Deville, Mick Blue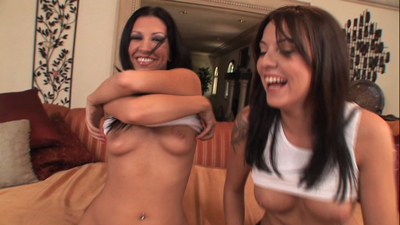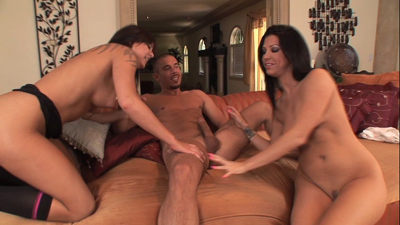 And then… everything changes. We come upon two women who aren't fake and aren't willing to become different people in front of the camera. Roxy shows off her self-proclaimed "Florida stripper pink" toenails, and Roxy and Chayse joke around with silly voices. Then Chayse goes down on Roxy and gets her whimpering. Mick walks in and Roxy starts sucking him off, then raving about how he's uncut and smells nice. Both girls go to town on Mick's cock, then Roxy says, "I wanna hop on," and straddles Mick.
I thought I may have been too harsh on Nicole Ray and Mickey Graham, but then Roxy came along and reminded me of how fucking hot and fun to watch a pornstar can be. There is plenty of each chick licking pussy while being fucked, which I always love, and even Mick licks a little pussy.
I don't recall ever seeing Chayse in a scene before, but I like her dominating ways (demanding that Mick fuck her harder, calling him "motherfucker," etc). I'm turned on by women who know what they want and ask for it. The women are more powerful in this scene than Mick, which probably turns me on too. A very good scene among not-so-great scenes.
Scene 4: Cameron Love + Tommy Gunn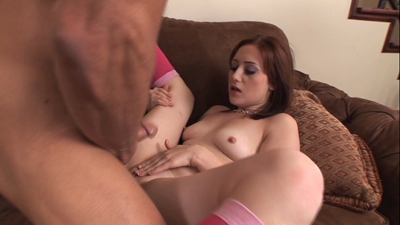 As if the cameraman hadn't been annoying enough already, he actually says in this intro, "I like white chicks; they're my favorite." Umm, wow. He also sounds excited when she says she's 18.
Anyway, this scene is just as medicore as the first two. The blowjob is too wet for me, and some spit ends up next to Cameron's mouth — and stays there for the entire scene. There's no pussy-licking, of course, and Tommy just dives right in. The fact that Tommy Gunn is more than twice Cameron's age doesn't exactly get me in the mood, either. When he spoons her and wraps his arm around her stomach, his hand looks gnarly and gross, and was very distracting.
Cameron's performance was average, nothing special; her voice reminds me of Penny Flame's, but without the creative dirty talk. Tommy comes on her ass.
Scene 5: Brittany Angel, Jenner, Alex Gonz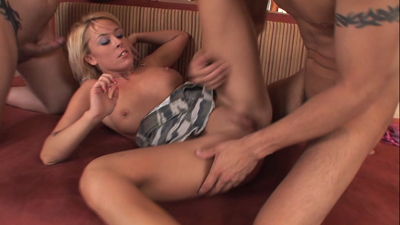 Of all the scenes, this one felt the most like the female star was being, well, degraded. Which is not to say that Brittany didn't want to be treated like that, but it's not my thing at all. Two male torsos appear out of nowhere (who needs to see their faces, anyway? It's not like straight or bi women would ever watch this!) and so she sucks their cocks. The dude who I finally identified as Jenner has some really gross chest hair the looks like it's growing back after being shaven. One of the guys makes Brittany choke on his cock twice. Then they get to the fucking, which inherently means she has to suck cock while getting fucked. Later they DP her, then come on her face. This whole scene felt far too impersonal for me.
Scene 6: Mimi Allen + James Deen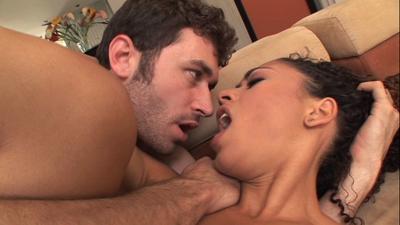 I thought this one was going to suck, because Mimi started off way dramatic about seducing the camera. But then James Deen came in to save the day. Thank god for a guy who actually cares about making a scene good, rather than just coming in to fuck.
Mimi sucks James's cock, then strokes it while he rubs her pussy. He makes her beg him to fuck her, which is super hot. While he fucks her, he rubs her pussy and slaps her boobs (in a hot way, not a demeaning way). He also looks into her eyes. Basically, he is sexy as hell and knows how to make a scene kick ass. I don't even care about Mimi.
Summary: Spring Chickens #21 isn't very unique, and doesn't offer much more than the average straight porn flick. I was unimpressed by many of the scenes, as nothing interesting seemed to happen — just the usual blowjob, couple of positions, and pop shot. Much of the moaning in those scenes was repetitive and too frequent, and the male stars didn't do it for me, either. However, the Roxy/Chayse/Mick and Mimi/James scenes were great, as they offered performers who really seemed to be enjoying themselves and trying to do something new. Rent it for those two scenes alone.
Stream Spring Chickens #21 here.