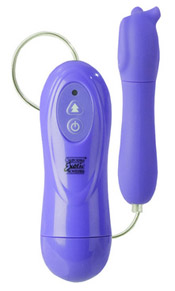 As many of you know, I am practically married to my Xtreme Pack G-spot Bullet. Although it is a quite blissful marriage, I often wonder if there is more out there. If there are other toys that could satisfy my clit in other ways. So I requested the Elle clitoral dancer; it's a bullet, takes two AAs, and has an interesting shape. It comes in both pink and purple, so naturally, I chose the lesser of two evils (purple).
The bullet itself is made of velvety rubbercote, with an unfortunate seam where the head connects to the shaft. The wiring is permanent, but there are plastic rings around the wire on both the battery pack and the end of the bullet. One side of the bullet has an indent for the clit, and the other side has an odd pokey-outy fin (I don't even know what to call it!).
Right off the bat, the controls don't compare to the Xtreme Pack. The batteries load into the bottom of the battery pack, which has two squishy buttons — an on/off button and an arrow button that cycles through the vibration patterns. Above those buttons is a little light, which changes from green to yellow to red, to signify the different levels of vibration. The first three vibration settings are steady vibration; after that, there are seven vibration patterns, and the lights actually blink in rhythm with the patterns, changing colors to match the intensity of the vibrations. This is nice and all, but there's no way to navigate the levels except that one button.
I'll give props to whoever designed the vibration patterns, though. They're pretty cool. The first pattern is medium pulsation; second is short-then-long pulsation, third is short-short-long pulsation, fourth is a rollercoaster pattern that cycles through five vibration levels; and the last three are crazily complicated and difficult to describe. I enjoy the last three the best because they're impossible to memorize, so I never know what's coming next.
I wasn't very impressed by the indented, cup side. Mostly because I didn't find the vibration intensity to be strong enough for me. It definitely cupped my clit nicely, but I wanted more strength from it. So I hesitantly turned it over, drowned my clit in lube, and tried the pokey-outy fin. Pressing it against my clit didn't do anything because the fin is tiny, but then I started swirling it in circles… and it was really good. That abrasive-looking, tiny little thing actually felt good, and the lack of stronger vibrations wasn't as noticeable.
I wish California Exotic had taken this one a bit further. I wish it had a better battery pack, more vibration intensities, and a jack for plugging the bullet into. Nonetheless, it's an interesting toy to play around with.