Genre: Bisexual
Director: Ed "Twinkle-Toes" Hunter (hey, that's what it says on the cover…)
Length: 2 hours, 33 minutes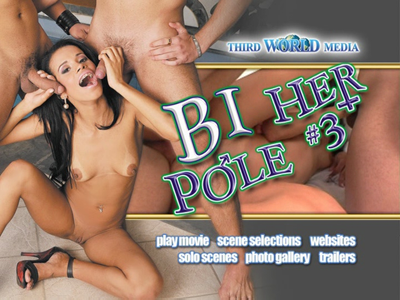 Cast: Nicole, Rick, Sandro, Anna Bella, Arcanjo, Alexandre, Ana Portilha, Erick, Bianca Lopes, Bruno, Rafael
Overview: I have yet to see any bisexual porn that is truly hot. I thought Bi Pole Her #3 might be because the guys are fairly attractive. I was wrong.
Special Features: Solo Scenes (very short, with music over them and no orgasms), Websites, Photo Gallery, Trailers (about a billion of them)
Audio/Video Quality: The video is shot in 4:3 format, and is not high-definition by any means. The scenes are indoors, with several of them lit in a mediocre way. Scene 4 has the worst lighting, by far. The audio is not good. There's a lot of white noise, and the performers' voices are too quiet when they're just talking. In at least one scene, there's background noise from cars outside.
Scene 1: Nicole, Rick, Sandro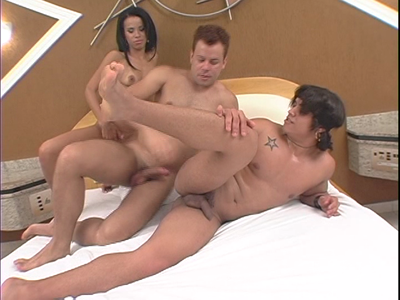 The first thing I noticed when I started watching this DVD was that there was a lot of talking between the stars… in a different language. I think it might be Portuguese, but I don't know for sure. If you've ever watched porn in a different language, you'll know how not fun it is. There are no subtitles, so I'm left to decide for myself what they're saying. I'm not very imaginative, so instead of doing that, I just got bored.
The Rick (the headband-wearing guy) mounts Sandro and right off the bat seems to be in pain. His moans are very mountain-man like, and he's not at all hard. There's a little time for blowjobs, then Sandro fucks Rick again while eating out Nicole. Rick keeps covering his dick, and seems to not be enjoying getting fucked. Eventually they arrive at fucking Nicole, but the action is still very, very weak.
They both come on Nicole's face/mouth, then there's a cut to the three of them in the shower. Nicole sucks dick for 5 seconds and they chat. I don't understand the point of the shower footage.
Scene 2: Anna Bella, Arcanjo, Alexandre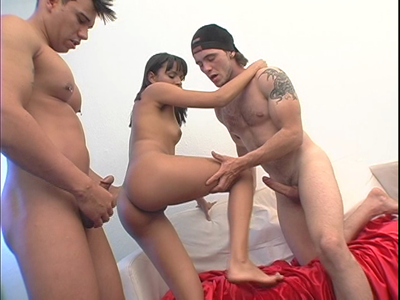 Well, at least the guys actually get hard in this scene. I think Anna Bella has to "convince" Alexandre (the bigger guy) to go down on Arcanjo. Both guys deepthroat each other, then Anna Bells climbs on top of Arcanjo so he can lick her pussy while Alexandre sucks Arcanjo's cock and slaps his thigh. Then Alexandre rides Arcanjo and Anna Bella sucks Alexandre's cock while he does it. They talk and perhaps are saying dirty things to each other, but who knows. Alexandre fucks Arcanjo, and yet again we have a guy who doesn't seem like he enjoys being fucked.
Anna Bella climbs on top for a short while, making a sandwich of people and two dicks fucking two holes at once, which is hot mostly in principle. Alexandre fucks Anna Bella in the ass and then comes on her ass. Arcanjo comes on her chest. Yet again, they take a pointless shower.
Scene 3: Ana Portilha, Erick, Arcanjo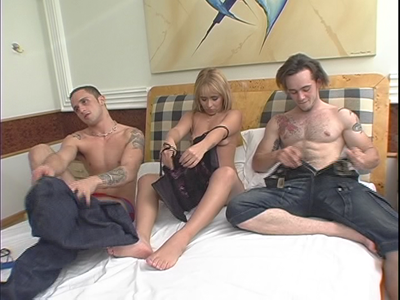 You know a scene's going to be good when everyone takes off their own clothes.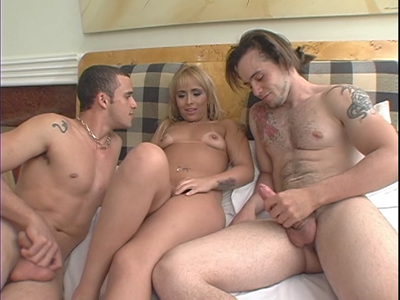 Both guys go to town on Ana's body, but she couldn't care less. She sucks them off boringly and keeps making a clicking sound with her tongue and glancing at the camera/camera people as if to ask "am I done yet?" Obviously I can't tell what they're saying, but I think she's supposed to be playing hard to get. Anyway, Arcanjo (the long-haired dude in this scene) starts fucking Erick, and it's not a pretty picture. Erick looks like he's in pain the entire time. I mean it — the entire time. Then Arcanjo fucks Ana doggie style but she is still boring and bored. Back to Arcanjo fucking Erick, and Erick seems to be having a bit more fun, but not too much.
When it came time for the guys to jack off on Ana, I watched in disbelief as she held this face for many, many seconds: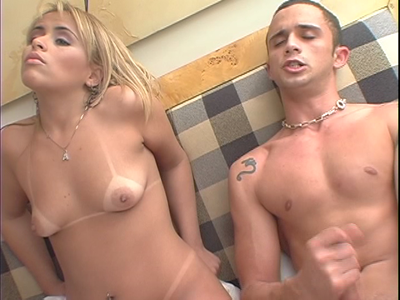 It was just… sad.
Scene 4: Bianca Lopes, Bruno, Rafael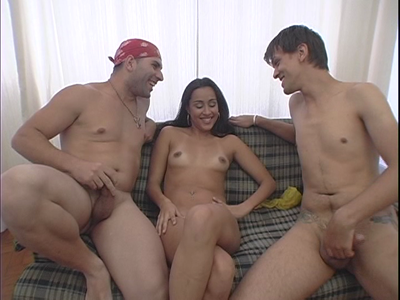 As you can see, this is the worst-lit scene of the bunch. It feels like a home movie or something. Bianca starts off by, I think, insisting that the guys put on some lacy underwear she brought. That doesn't last long. Soon Bruno (non-bandana) is giving Rafael a blowjob, which doesn't seem to impress Rafael in the slightest. Nor is he impressed when Bruno starts fucking his ass.
Eventually the situation is reversed, and Bruno takes Rafael's cock better than any other guy on this disc has taken cock. Still, Bruno doesn't get hard. Rafael fucks Bianca in the ass for a little while, then Bruno fucks her pussy. They both come on Bianca's chest, and the disc closes out with yet more unnecessary shower footage.
Summary: Bi Pole Her #3 was some of the most boring porn I've ever seen. There was a gratuitous amount of talking between performers during the scenes (not just at the beginnings of the scenes, but throughout), made worse by the fact that it wasn't in English. While being fucked, most of the guys seemed more in pain than in pleasure. The girls didn't wow me either; Ana Portilha especially bugged me with her bored attitude. The camerawork was weak, with no close-ups or interesting angles to be seen, and the audio was quiet and overshadowed by white noise. Skip it, and if you find good bisexual porn, please let me know.
Stream Bi Pole Her #3 here.