Let's start with the stuff I'm actually psyched about, eh? Fun Factory has edited their Share double-ended dildo so that it includes a rechargeable vibrating bullet. GIVE TO ME, YES. They also released the Boss dildo, and several battery-operated vibes: Joupie, Jazzie, and Jam.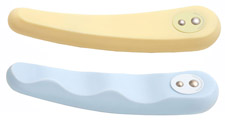 Tenga has also been hard at work, as they released Mikazuki and Minamo, insertable versions of their notoriously squishy Iroha vibes. I wish one was a more intense shape… as is, they're too wimpy for me.

Should I group the sad Indiegogo-funded sex toys together? It's a parade of things we didn't know we "needed." The Glov is a hand device that you can attach sex toys to rather than holding them. JoyBoxx is a plastic box with a tiny drying rack in it (innovation!). And Eva is worn externally, hugging the labia, because god forbid we have to actually hold sex toys during sex.
Finally, the most astronomical failure with absolutely no funding at all: Lovable Undies. Maybe leave the app-controlled remote control vibe thing to the pros, guys?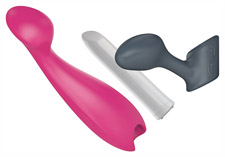 Which brings me to the We-Vibe 4 Plus. So far I've only tried it by myself, not with a partner, but I like it and the app is neat. We-Vibe also released the Tango Pleasure Mate Collection, utilizing the epic power of their Tango vibe. Smart.
LELO came out with the Luna Smart Bead, which as it turns out is pretty dumb, and the Ora 2, a marginally-improved version of their attempt at an "oral sex" toy. I have some choice thoughts—just you wait.
Finally, if you need a vibrator which also shows you the inside of your vagina, there's the Svakom Gaga. Although it can be good for filming your orgasms, it's fairly useless otherwise.