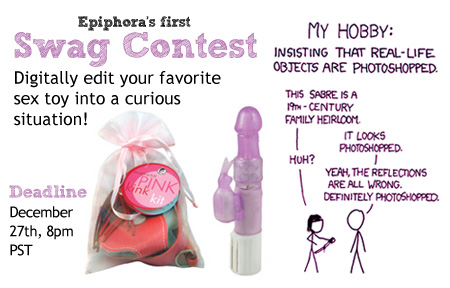 Very exciting news! My pal Mae at Babeland is allowing me to give away two great items to my readers. Having only started this blog in October, I am ecstatic to be holding a contest this early in my sex blogger life. Up for grabs: the Rabbit Habit and the Pink Kink Kit (includes blindfold, whip, and collar, all in pink leather).
After much deliberation, I have decided on a task for you: Digitally edit your favorite sex toy into a curious situation.
If you don't have "the" Photoshop, try an online Photoshop clone such as SUMO Paint. I know not everyone has sweet photoshopping skillz, so I will try my best to judge based on the hilarity of your piece (although, admittedly, I am a sucker for seamlessly photoshopped images such as this and this). I will post the winning entries here, along with links to the winners' blogs, if applicable.
The only stipulation is that you must live in the continental U.S., and you must be willing to provide me with your mailing address should you win.
Email your entries to me at hey.epiphora at gmail dot com, along with which item you would like if you won. Deadline is Saturday, December 27th at 8pm PST. I will choose the winners in a timely manner, so they will get their prizes at the beginning of the new year. Now go on, make me laugh!