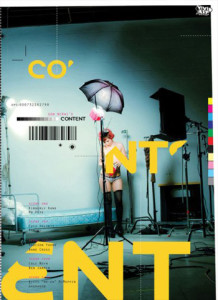 Writing this review feels like a bit of a sham. Eon McKai's Content is meant to speak for itself — and for the most part, it does, in its desaturated and minimalistic way.
Yet, whether intentionally or not, Content feels very empty at times, and very tired. This is disappointing but also strange, since Eon McKai has made a name for himself by not producing assembly line dribble à  la Her First Lesbian Sex. With Content he seems resigned to simply fulfilling the ho-hum prophecy he mumbles at one point: "we just need some stuff people can jerk off to."
There is no plot to Content. Each scene begins with a short description, then some footage of the performers and crew setting up in some dingy landscape. When the action begins, a list pops up on the screen openly admitting that the scene is devoid of most things that would give it a place within mainstream porn. I can't decide if these lists are self-deprecating, or if they are meant to fly in the face of mainstream porn.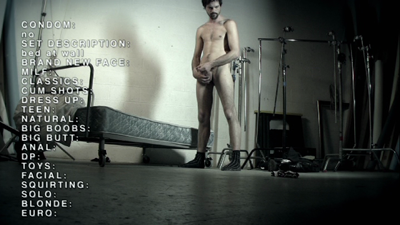 The editing of the scenes is expectedly choppy, with any semblance of flow completely disregarded. A shot of Daniel's cock going into Coco's mouth is interrupted by footage of him fucking her from behind. Who needs the fluff between the blowjob and the fucking anyway? Ultimately, this editing job makes the sequence of events seem insignificant — which, of course, they are, in the world of porn. Occasionally the audio from one shot will bleed into the next, sometimes lining up with the action in a creepy way, sometimes not at all.
Oh, and Eon makes no effort to conceal the camera wielders — himself and Octavio Winkytiki (director of Pussy a Go Go) — throughout the scenes.
The first scene features Kimberly Kane and Mr. Pete. Without a doubt, this is the best scene in Content.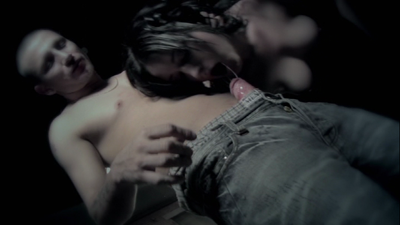 Kimberly and Mr. Pete's chemistry can perhaps only be described as "freakish"; they ravage each other from beginning to end, Kimberly often getting completely lost in it. Apparently Kimberly hadn't had sex for a month prior to this scene, and her animalistic moans and rolled-back eyes convince me. At one point, as Mr. Pete starts sucking on her toes, she moans, "are you fucking kidding me right now?"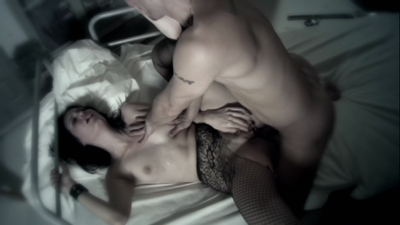 When the scene is over, and they high-five and ask for towels, Kimberly informs Mr. Pete that he's at the top of her list now. "Tippity tip top," she says. And this scene is at the top of my list of best porn scenes ever, for that very reason. The pairing is spot-on, and the dirty, slightly rough action is incredibly hot, from start to finish.
But then there's Coco Velvet and Daniel Wylde.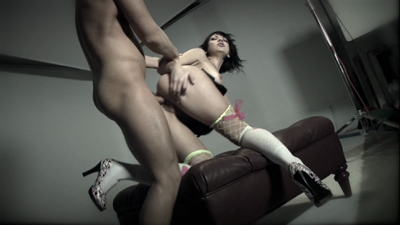 Unfortunately, Coco's insane cuteness can't erase her repetitive squeal-moans. And the fact that I love Daniel won't make any chemistry appear between them. Coco randomly giggles, but these moments feel like reprieves from the seriousness (a.k.a. boringness) of the fucking rather than in response to the fucking. Disappointing.
The next scene features Madison Young and Dane Cross. This one's a mixed bag. Things that Dane Cross does well: wears glasses; looks cute. Things that Madison Young does well: sucks cock; responds to Dane putting both his hands in her pussy; licks Dane's come off the black leather couch after they fuck on it.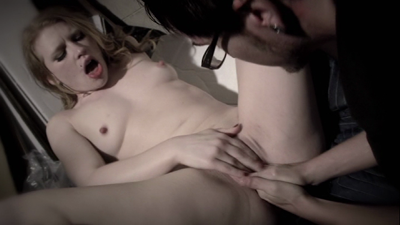 Things that Madison Young and Dane Cross don't do well: make sex interesting. Even anal sex. Even on a discarded old dryer.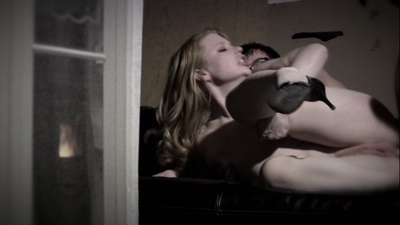 Scene four features Cali Nova and Ben Jammin (um, yeah). I had hope for these two adorable and clueless-looking youths. They're a couple in real life, so chemistry is a given, right? No, apparently not. Ben is basically silent, and the blowjob is painful to watch. Cali keeps choking on Ben's cock and coughing. A lot. The silence is broken only for sudden coughing. It's as if she's only choking to be cool, not because she likes it.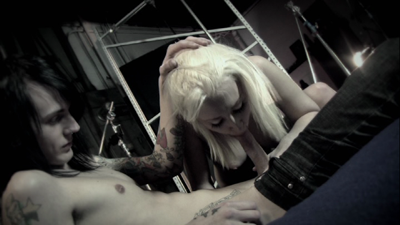 And it doesn't get any better from there. The fucking is the epitome of mediocre, and Cali looks opposed to taking Ben's load on her face at the end. Jeez, nobody's making you do porn. At least try to look like you made the choice to be in this film willingly.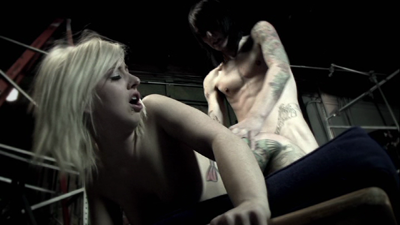 Thankfully, things get better in the final scene, though the porno names don't — this one features Kitty McMuffin (uh, McDonald's-esque porn names are sexy now?) and Sherwood.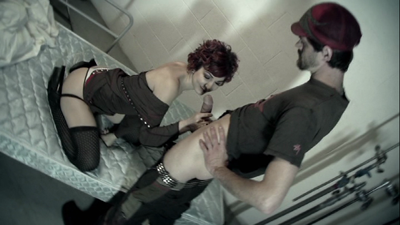 This scene is fucking dirty. I knew these humans were serious about their scene when it began with Sherwood's finger up Kitty's ass. Sherwood verbally degrades her throughout the scene, saying things that would be really upsetting and creepy if these two weren't dating. As is, it's hot and grimy, grimy and hot.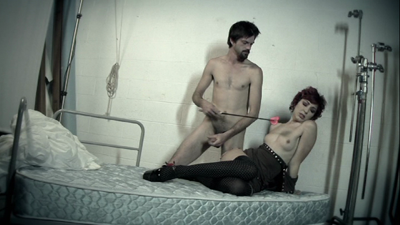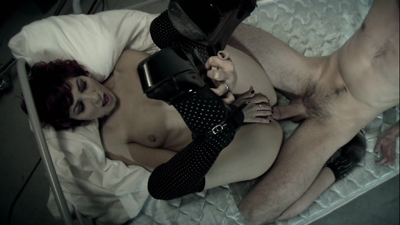 Can I fault Content for doing what it sets out to do? For being not innovative or terribly interesting? Perhaps not, but that doesn't ease my mind any.
I'll definitely be jacking off to the first and last scenes again — those performers actually exhibited some creativity and true chemistry. Kimberly Kane and Mr. Pete's scene is truly a masterpiece of porn. But the rest of the scenes? As much as it pains me to say it, they're just content to fill the space. Eon, I'm serious: don't become too disenchanted. This teeters on the edge of boring a little too often, even if that is the "point."
Stream Content here.