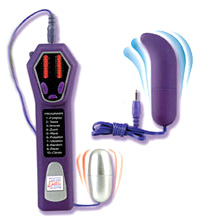 The Impulse Fantasy Kit was supposed to be the answer to my need for more power than the Xtreme Pack G-spot bullet provides. Same company, same bullet shape, only the Impulse Fantasy Kit takes a whopping 4 AAs instead of 2. I got the idea into my head that I was going to get my mitts on the Kit, despite its discontinued status and unavailability at reputable online retailers.
First I bought it from a site called Do U Want 2 Play, but they refunded me upon realizing they didn't even have any in stock. Instead of taking that as a sign, I went and bought it from yet another sketchy online shop, Hearts Desire (by the way, I recommend neither website for purchasing sex toys. I was desperate.). When the Impulse Fantasy Kit finally came, I was excited for about .5 seconds… until I loaded the batteries in and turned it on. As the bullet pulsed loudly in my palm, I read the front of the controller:
PROGRAMS
1 — Foreplay. 2 — Tease. 3 — Arouse. 4 — Zoom. 5 — Wave. 6 — Pulsation. 7 — Vibration. 8 — Random. 9 — Racer. 10 — Climax.

7?! I have to cycle through 6 fucking vibration patterns to get to constant vibration? My god, who comes up with this shit? Amateur radio operators?
It was clear: the Impulse Fantasy Kit is the opposite of what I wanted. Without constant vibration in slot numero uno, this toy is entirely useless to me. And it's my fault. This is the first (and last) time I've bought something that nobody has ever reviewed. I've learned my lesson, that's for sure. If something is discontinued and has no reviews… there's a reason.