Tomorrow marks the one-year anniversary of this here blog, so of course, I wanted to give out some presents! I was inspired by other blogiversary contests which feature a bunch of prizes and thus many winners. I have seven great prizes here to give away to seven lucky winners! I will choose most of the winners by random draw, and let each winner pick from the available toys.
Since there are about a hundred really great toys I'd love to give away, I had to narrow the scope a little bit. I decided to play with the theme of realizations. So all of these prizes are toys/porn I have tried/seen and absolutely loved, for one reason or another. Check out the quotes from my reviews to find out why, then scroll down to find out how to enter!
The toy that made me realize…
…vibrations aren't necessary at all: the Tantus Alumina Motion! Courtesy of Tantus.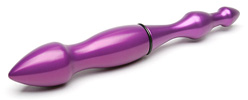 The arrow-shaped bulbs create a unique feeling that I haven't experienced before. The bulbs are small, but they're mighty.
…I can squirt: the LELO Ella! Courtesy of Tabu Toys, in your choice of black or white.

I know the story of my first ejaculation is a heart-warming tale, but the point is, the Lelo Ella is an incredible dildo . . . It practically oozes luxury, as do all Lelo toys, and it truly works in harmony with my body in a way that no other toy ever has.
…how awesome butt plugs can feel: the Fun Factory Bootie! Courtesy of Early to Bed.

Bootie is a perfect example of why I created the Hi, I love you sub-category of reviews. It was love at first insertion.
…my boyfriend actually does like masturbation sleeves, as long as they rule: the Fleshlight! Courtesy of PinkCherry, in any style you desire.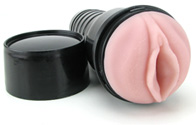 My boyfriend was grinning after he used the Fleshlight. Grinning, people. His reactions to other masturbation sleeves have been indifferent shrugs and swift shakes of the head . . . But the Fleshlight has blown every other masturbation sleeve out of the water . . .




…how much I love girth: the Papaya Toys Candy Stick! In lime green, people! Courtesy of Papaya Toys.

It's easy to drown this review in praise for all the little things that make the Candy Stick awesome, but the way it feels in my vagina seals the deal. It is thick and fairly stiff — perfect for the tail end of my masturbation sessions . . . Fill my vag up with the Candy Stick, and I am happy as a clam.
…vaginal balls are fun, no matter if my kegels need them or not: the LELO Luna Beads! Courtesy of Vibrator.com.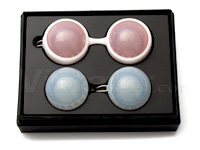 The sensation of the balls vibrating inside their plastic housings was so exciting and interesting. It made my vagina say, "hello, I exist!" I began dancing, rocking in my desk chair, and walking around the apartment aimlessly. I couldn't get enough of the feeling. How did I ever think I didn't need vaginal balls? Yes, my vagina is as tight as a Chinese finger trap, but these beads feel supremely awesome just hanging out in there.
The porn that made me realize…
…how hot and fun porn can be: Tristan Taormino's Chemistry series! Courtesy of the glorious Tristan herself, all 4 DVDs from the series, autographed!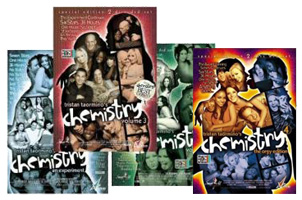 Um, can Tristan Taormino make one of these per year until I die? I dare say she's found the gold mine with the Chemistry series. Each one of them has been exciting, interesting, and hot . . . I think the reason I love these films so much is because they have the perfect balance between sex and integrity.
Ways to Enter
There are five ways you can enter, and an endless number of times you can enter, if you feel like being relentless! Pick and choose whichever way(s) you prefer.
Comment on other posts and reviews on this blog. I will be choosing my 2 favorite comments of all time — yes, going all the way back to last October, all 80+ pages of them — and giving prizes to those commenters.
Subscribe to my RSS feed and comment here to let me know. If you're already subscribed, comment here as well.
Comment here and give me a suggestion for Hey Epiphora. Something I should review, write about, etc. Or even something I should change about the current state of affairs at this blog.
Blog about this contest and let me know. (Please don't hotlink to the images, yo.)
Tweet! I will count up to 10 tweets. You must include @Epiphora in your tweet and be following me. Use this text or concoct your own: Oodles of sex toys are up for grabs! To enter to win, follow @Epiphora and RT. More ways to enter: http://bit.ly/1t20RZ
Deadline: October 27, 2009 at 11:59 p.m. PST.
The fine print
If you are selected as a winner, you will have 24 hours to reply to my email with your address and choice of toy. If you do not respond, I will choose the next winner.
The Lelo Ella and Papaya Toys Candy Stick are only available to winners in the continental U.S. The Fun Factory Bootie and Chemistry series are available to winners in the entire U.S. The Fleshlight is available to winners in the continental U.S. and Canada.
Obviously (I hope), you must be 18+ or 21+ as required by your local laws to acquire sex toys/porn.