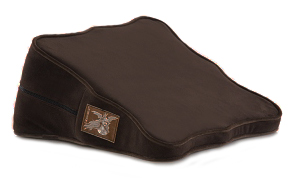 It's hard to describe Liberator shapes to people. The word "shape" doesn't exactly evoke much, so sometimes you have to resort to, "um, it's like a really awesome pillow." Which results in the side eye, because who's going to pay a bunch of money for a pillow?
But I've owned my original Liberator Wedge for years now, and it has yet to be usurped as my favorite Liberator shape. It just works, unlike some other weird and wobbly devices Liberator has invented. Could a stylish re-imagining of the Wedge — the Décor Wedge — give the original a run for its money?
Like the Décor Fascinator Throw I recently acquired, the Décor Wedge is a product of Liberator's "Home Collection." As such, it has scalloped edges, decorative piping, and comes in special colors that are meant to "seamlessly blend into your bedroom décor" (because you know I am all about interior design). The Décor Wedge costs $69 (insert unnecessary joke here), weighs 2 pounds and comes with a 1-year warranty.
Like all Liberator shapes, this Wedge's core is made of furniture-grade polyurethane foam. Its cover is lined on the inside with a polyester, water-resistant liner, and the cover zips off for machine washing. Unlike most other shapes, though, the outside of the Décor Wedge is covered in velvish, a suede-like material which does not feel as cushy as the original Wedge's microfiber.
The Décor Wedge is 15″ wide, 13.5″ in diameter, and 7.5″ high. With these dimensions, it is one of the tallest Wedge-like shapes, but one of the least wide — it's 4″ shorter than the small size of the original Wedge.
I know. So many terrible, terrible numbers. But it's important to examine them, because those numbers determine how much you will feel like a pretzel when using the thing, and whether your ass is comfortable or whether it bulges off the sides. I'm about 35″ around at the widest part of my ass, and I just fit on the Décor Wedge… but anyone bigger than that would begin to spill over the sides.
Since I fit on it, the Décor Wedge is wonderful because it is so compact, and it has a pretty intense angle to it. It makes missionary easier for both me and my boyfriend, and the angle results in excellent G-spot stimulation. It's also perfect for getting a boost during oral.
The foam core is fairly rigid, but that's why it works so well. An angle like this would take at least five regular pillows to achieve; yes, seriously, I did a test while my boyfriend watched. Just imagine me telling him "remember the position of my vulva" while shuffling out the Wedge for a pile of pillows. The pillows pancaked like crazy.
Since the Décor Wedge is not very wide, it is not good for spooning position. My original Wedge is the 24″ wide one, and those extra inches offer much more support for my boyfriend's side. With the extra elevation, he's able to thrust more easily. Since spooning is one of our favorite positions, I'm inclined to say I prefer the original Wedge. But the Décor Wedge is slightly better for missionary, and its smallness is appealing for trips and ~romantic getaways~.
Because they are devious and/or genius, Liberator has gone hog wild with their shapes, creating tons that function similarly to the Wedge. So if the Décor Wedge's scalloped shape does not appeal to you (what do you have against giant clams?!) or its size/color/material is off, you have many other options…
The options are staggering, but let your instincts guide you. Start with width — maybe lay a measuring tape on the floor to simulate the width of a shape, and go from there. Choose the height depending on how stiff your bed is and how elevated you want to be. Then you can peruse the various color, material, and shape options. And if that mustache is calling to you, by all means, GO FOR IT. Any of these shapes will be better than a pile of pillows. Besides, do you really want to be squirting on the guest room pillows? No, I would hope not.
Browse all Liberator shapes at SheVibe or Liberator, or get the original Wedge (my fave) at SheVibe, Lovehoney (intl), Come As You Are (Canada), Good Vibes, or Pleasure Chest.