Genre: Edited-down threesomes
Director: Varies by scene
Length: 3 hours and 43 minutes on each disc, 7 hours and 26 minutes altogether
Cast: See below. Ctrl + F might be useful, here.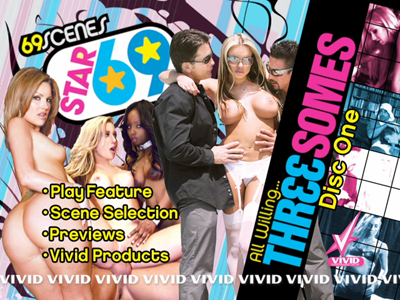 Overview: I thought they were kidding about the 69 scenes thing. They weren't. Each scene is an extremely abbreviated version of a scene from some other Vivid production. On average, the scenes last 6.4 minutes each. As you might imagine, foreplay is minimal and pop shots are religiously included.
Special Features: Previews and a commercial for Vivid products. The inside of the case mentions "Bonus Scenes," but I can't find any. Thankfully.
Audio/Video Quality: Obviously, video quality varies greatly, from very '90s-looking scenes to well-lit, modern-looking scenes. Both 4:3 and 16:9 resolutions are represented here, which means the 16:9 scenes are annoyingly letterboxed. Audio quality varies too much to be pinned down, but you can be sure to find some glaringly bad audio editing in some of these scenes. And in case that wasn't enough, the audio on the last 25 scenes is several seconds off. I'm not kidding.
For the sake of being thorough in this review, I started out determined to describe each scene. However, after about 15 scenes and many of them obnoxious, I gave up on that quest. Scenes with asterisks (*) next to them are, in my opinion, the good scenes — scenes that made me want to see more. The rest of the scenes are mediocre, boring, weird, and/or slathered in horrible music, so they really don't need to be described anyway.
Scene 1: Tory Lane, Jay Huntington, Harley
Tory sucks on the two cocks she's given like a pro, then they quickly move on to fucking her. There's some anal, some DP, and some fingering. Then both guys shoot glue — I mean come — onto her face.
Scene 2: Mae Victoria, Justin Magnum, Steven St. Croix
Steven St. Croix is dressed in baby attire, which is then transferred to Mae. Justin fucks Mae while Mae sucks Steven's cock. Then one of the guys fucks Mae in the ass while she sucks the other guy's cock (seriously, I can't tell). Mae's overly-make-upped face and forced "gah"s are annoying. Steven comes on her ass. This scene has the feel of a homemade sex tape. Not good, and I like Steven St. Croix.
Scene 3: Daphne Rosen, Flower Tucci, Jay Huntington
In a bathroom, Flower pees/squirts in a urinal. Meanwhile, Daphne's tits freak me out. Then Daphne and Flower joyfully share Jay's cock. Then Jay fucks Daphne while Flower squats on the toilet, rubbing her pussy until she squirts. Jay fucks Flower in the ass. He comes on their faces.
Scene 4: Lacie Heart, Ben English, Jerry
Outside on a white sheet, Lacie's vagina and mouth are simultaneously filled with cock. The guys come on her face and she foams it back up. This is a decent scene, but only because of the setting and Lacie's cuteness. Still, I didn't want to see the rest of it.
Scene 5: TJ Hart, Eric Masterson, Tommy Gunn
The guys are dressed like gangsters and there is dumb music playing the whole time. How can I take this seriously? It's too lame. Anyway, most of it is DP and moaning drowned out by the music.
Scene 6: Heidi Mayne, Nick Manning, Nautica Thorn *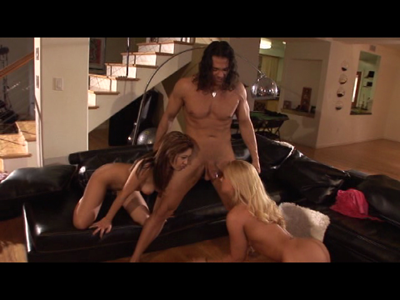 Heidi finds a "sex tape" (a.k.a. porn scene) of Nautica and Nick fucking and starts masturbating to it. Obviously, Nautica and Nick walk in on her, and a threesome ensues. Nick's growls are a little intense, but the fucking is hard and passionate, and I wanted to see more.
Scene 7: Lanny Barby, Jay Huntington, Jay Lassiter
The music in this scene sounds like it should be in a detective movie; it's really distracting. The guys tend to take turns with Lanny in this scene, putting her in that horribly uncomfortable looking position where her head is on the bed/floor and her ass is in the air. I hate that damn position. This is an average scene, for sure.
Scene 8: Amber Peach, Monique Alexander, Mr. Marcus *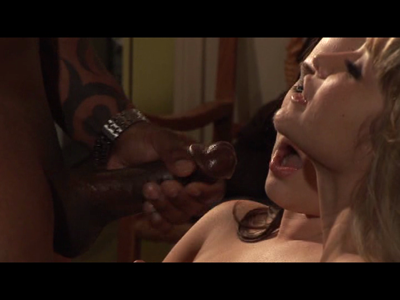 Amber and Monique take turns sucking Mr. Marcus's cock. There is a blip of pussy licking, but unfortunately the editing moves us straight to the fucking. Mostly, Mr. Marcus is on a chair and Amber rides him. She's a bit off the wall with her moaning, but I can deal with it. Maybe it's because I just love Mr. Marcus, but I enjoyed this scene.
Scene 9: Flower Tucci, Hillary Scott, Jay Huntington *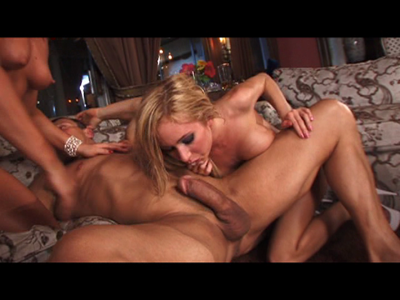 Flower commands Hillary to suck on Jay's cock. Then Flower rides Jay, squirting several times, while Hillary watches, talks dirty, and rubs her pussy. Then we cut to Jay going back and forth between the two girls. I'm not a big Flower fan, but the squirting was hot and abundant and the scene was interesting.
Scene 10: Ashley Blue, Hollie Stevens, Mason Storm
Is this from the '90s? Something about the hairstyles and bedroom look very '90s to me. But I have a feeling it's just supposed to look "innocent" or something. They stick to fucking each other with toys, of course. As the first all-girl scene so far, I'm not impressed. Why this scene? The forced lesbianism vibe is obvious, here.
Scene 11: Havana Ginger, Kimberly Franklin, Sascha
Okay, the lighting in this scene rocks. Since I am a nerd, that's the first thing I noticed. Havana is sucking Sascha's cock and Kimberly is over in another area rubbing her sexy pussy. But they reunite after not long, so Sascha can fuck the girls on the bed. Fake boobs galore. Sadly average.
Scene 12: Naomi, Marcos Leon, Tommy Gunn
Wow, these guys look like sleazeballs. Naomi takes their cocks like a total champ. The cumshot is pretty hot — they really paint it over her face. But I didn't want more.
Scene 13: Ashley Long, Briana Banks, Stephanie Swift
Overpowering music, bad quality of video, fake-ass moaning, and WIGS. No, this is not good.
Scene 14: Michelle Lay, Shyla Stylez, Stormy
A lesbian pool scene. Two total creepster guys are sitting beside a pool watching the girls. Cut to Shyla using two toys on the other girls, fucking them quickly with them, looking completely bored. Then Michelle and Shyla share a double-ended dildo while Stormy fucks herself with a vibrator in the background. Really not very exciting.
Scene 15: Vanessa Lane, Trent Tesoro, Van Damage
I don't know what on earth this scene is from, but they are in a bedroom with a bunch of dolls hanging from the ceiling. Talk about creepy? Lighting in this scene ranges from weak to overpowering, and the sound is really fucked up. I hear things that aren't happening on screen.
Scene 16: Naomi, Daisy Marie, Sunny Leone
Decent lesbian scene I suppose, but the music is really annoying.
Scene 17: Nikki Nievez, Jack Venice, Tony T.
THE MUSIC. IT BURNS.
Scene 18: Kimberly Kane, Peter Shaft, Seth Dickens *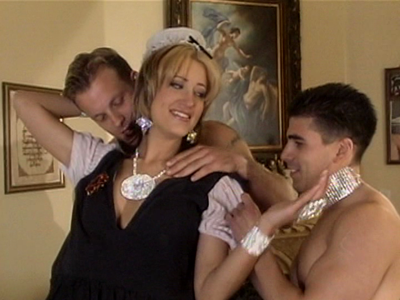 God, Kimberly Kane is so hot. I'm probably really biased since I love her, but this scene was very sexy. Admittedly, I do really like that one guy's jeweled collar, but Kimberly totally stole the show with her intense blowjobs and excitement while getting fucked.
Scene 19: Janine, Daisy Chain, Keri Windsor
Yet another lesbian scene that sucks, backed by piano music that actually sounds sad.
Scene 20: Kaylani Lei, Mimi Miyagi, Minka
Who taught Minka how to eat pussy? They should be shot. Who decided that vaguely-Asian music needed to be in the background? They should be shot.
Scene 21: Angela Stone, Aurora Snow, Jack Lawrence *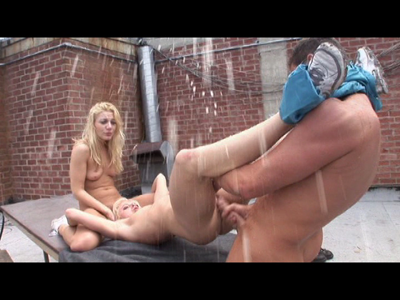 I think I'm developing a squirting fetish…
Scene 22: Lola, Dasha, Taylor Hayes
Scene 23: April, Raylene, Ava Vincent
Scene 24: Angela Stone, Poppy Morgan, Nick Manning
Scene 25: Joey, Stefani Morgan, Kurt Lockwood *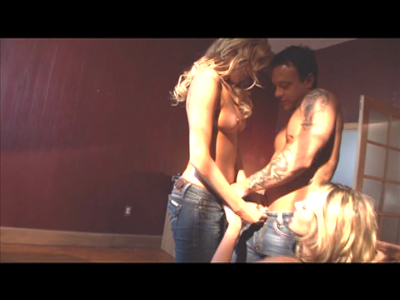 I really, really don't like blondes, but I do like Kurt Lockwood, and for the most part, everyone seems genuinely into the scene.
Scene 26: Carmella Bing, Cassie Young, Nick Manning
Scene 27: Devon, Ryan Connor, Tanya Danielle
Scene 28: Dee, Jenna Jameson, Nicole Sheridan
Scene 29: Julie Night, Evan Stone, Marco Banderas
Scene 30: Dasha, Jean Val Jean, Scott Nails
Scene 31: Lexie Marie, Jean Val Jean, Tommy Gunn
Scene 32: Jada Fire, Kayden Kross, Tommy Gunn *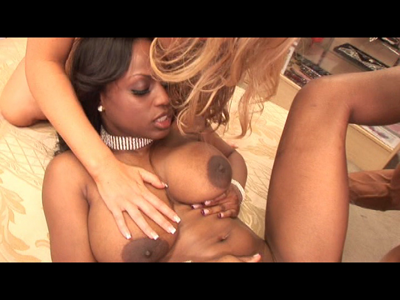 In a lingerie/adult shop, Kayden is "talked into" performing in the scene. That doesn't really matter, though, because Jada's the real star here. And man, she looks amazing riding Tommy's cock. Annoyingly, there are some audio issues in this scene, like a moment of loud static. Oh well, I guess…
Scene 33: Chloe Dior, Marcus London, Nick Manning
Scene 34: Lezley Zen, Natalie Woods, Tanya James
Scene 35: Maria Bellucci, Brian Surewood, Evan Stone
Scene 36: Brea Lynn, Vanilla Skye, Sascha
Scene 37: Denice K., Misty Magenta, Derrick Pierce *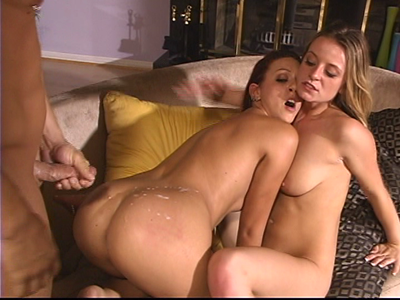 God, I love how Derrick Pierce licks pussy. And how he looks when he's licking pussy. I don't even care that the sex is a bit boring in this scene; I want to see the full version to watch Derrick eat pussy.
Scene 38: Trina Michaels, Marcos Leon, Jerry
Scene 39: Kimberly Kane, Veronica Jett, Barry Scott *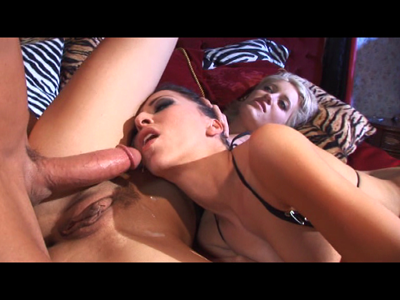 As I've mentioned, I love Kimberly Kane. Maybe that is why I buy her "this is my boyfriend and we are in Reno and we just bought a whore" spiel. In any case, this scene is hot as hell. Both girls are really willing to go the distance.
Scene 40: April, Faith Adams, Sunrise Adams
Scene 41: Audrey Bitoni, Carolyn Reese, Monique Alexander
Scene 42: Tia Tanaka, Roxy Deville, Pascal St. James
Scene 43: Celeste Star, Lacie Heart, Lisa Daniels *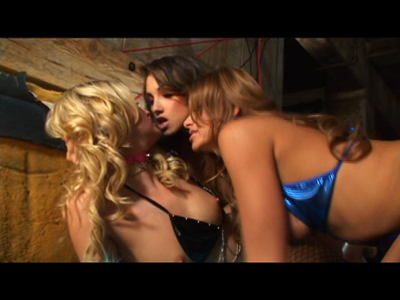 This is a tentative asterisk, because this scene really isn't anything awesome, but it's better than most of the other lesbian scenes in this collection. Yet again, there are audio issues. I'm hearing extra moaning when the girls aren't moaning.
Scene 44: Sammie Rhodes, Kimberly Kane, Savanna Samson
Scene 45: Lanny Barby, Austin Kincaid, Charles Dera
The audio is completely out of sync here. And don't think it's ever going to sync up again — the rest of the scenes are all out of sync too.
Scene 46: Stefani Morgan, Franko Del Torro, Rod Fontana
Scene 47: Penny Flame, Sunrise Adams, Mike Striker *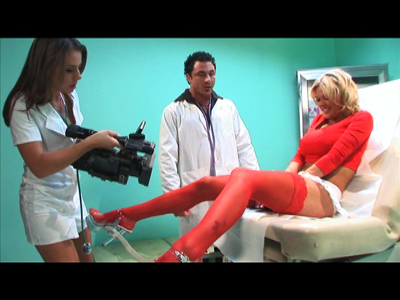 I'm about to throw this DVD against a wall with anger at the blatant out-of-syncness, but I must persevere. I'm not a fan of the whole "I'm a doctor and now I'm going to check you out whether you like it or not" thing, but this scene is hot thanks to Penny Flame's amazing dirty talk.
Scene 48: Karina, Tawny Roberts, Victoria Swinger
Scene 49: Kimberly Kane, Britney Stevens, Evan Stone *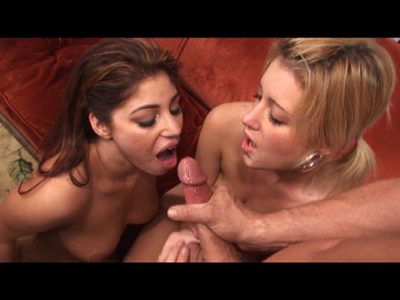 Britney Stevens gives Evan a killer blowjob, then he fucks each of them. The music is obnoxious, but I can stand it for this group of performers.
Scene 50: Barbara Summer, Trent Tesoro, Jerry
Scene 51: Lacey Love, Lyndsey Love, Tommy Gunn
Scene 52: Briana Banks, Tommy Gunn, Talon
Scene 53: Nadia Styles, Barry Scott, Jerry
Scene 54: Sunny Leone, Monique Alexander, Matt Erickson
Scene 55: Riley Shy, Roxy Deville, Christian *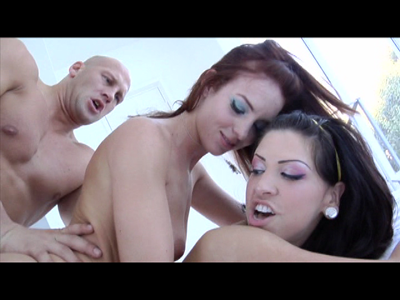 The girls playfully share Christian's cock, then there's some pussy licking, and the girls are piled on each other for Christian to fuck. I'm not very impressed with Riley, but Roxy is my favorite pornstar of all time, so hell yes.
Scene 56: Nicole Sheridan, Kris Slater, Voodoo
Scene 57: Sasha Knox, Marco Banderas, Jerry
Scene 58: Mary Jane, Melissa Lauren, Trina Michaels
Scene 59: Lacey Love, Lyndsey Love, Jack Lawrence
Scene 60: Tawny Roberts, Chris Cannon, Rick Patrick
Scene 61: Felicia Fox, Lana Moore, Taya
Scene 62: Ariana Jollee, Holly Hollywood, Kelle Marie
Scene 63: Dasha, Kira Kener, Mercedez
Scene 64: April Blossom, Savanna Samson, James Deen *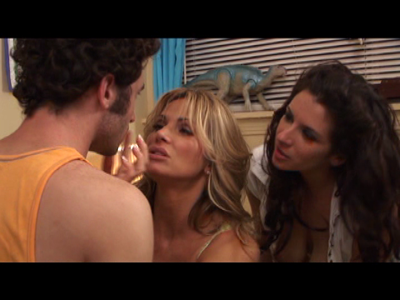 These people aren't very exciting to me, but they do fuck on a kid's bed.
Scene 65: Kayden Kross, Savanah Stern, Steven St. Croix
Scene 66: Monica Sweetheart, Chris Charming, Ben English
Scene 67: Hillary Scott, Sammie Rhodes, Savanna Samson
Scene 68: Briana Banks, Cheyenne Silver, Taylor Hayes
Scene 69: Tory Lane, Brooke Banner, Derrick Pierce
Summary: Star 69: Threesomes plays like an endless infomercial. The fact that the scenes are heavily edited is both a blessing and a curse. Ultimately, I only liked 14 of the scenes enough to want to see them in their entirety, and that is not a very impressive number. However, why would you want something in which the audio is horribly out of sync for TWENTY FIVE scenes? (Can you tell I'm irritated by this?) Whenever I wanted to be depressed, I counted the span of time between a particular sound and its on-screen occurrence. I counted, at various instances, between 3 and 5 seconds of lag. This is not a minor mistake; it's a huge one.
I was also greatly irritated by the sheer number of scenes that were overpowered by music. I honestly wonder if they added music to some of the scenes, because it seemed like all of them had it. And it was always bad. And sometimes it was far too loud.
Star 69: Threesomes is nowhere near good enough to warrant multiple viewings. It's not even good enough for one viewing. Please skip it, and perhaps seek out one of these scenes on its original DVD instead.
Stream Star 69: Threesomes here.