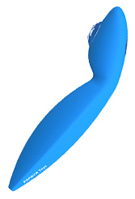 It looks like Papaya Toys is finally releasing the Ice, a silicone dildo with an acrylic jewel embedded in one end. Apparently the jewel can be pulled out and replaced with a flatter one, which kind of freaks me out, but we'll see.
The LELO Mia 2 is here! Agh! I already love the Mia, so this can only be good. But unfortunately LELO is not responding to my ravenous emails asking for a review sample.
Adriana tipped me off to a new "product" that you will undoubtedly find horrid: Beaniebang Babes. Literally: a pillow with a pornstar's picture on it that you shove your Fleshlight into and then screw. As the inventor says, the name "is a combination of two words: beanbag and banging (f*cking)." Guy's too smart for his own good.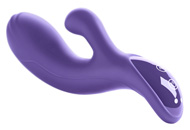 To be honest I don't pay much attention to the new stuff Evolved comes out with because they are always releasing shit, but this thing called Renew is interesting. Now who Kendra is, I have no fucking clue.
Jopen's new Ego line (what the hell is with that name, though, seriously?) could be competition for other rechargeable cock rings. I am especially drawn to this cock ring, which looks like a shell. I can show you the wooooorld…
Always wanted to fuck your Fleshlight in the shower but found holding it unappealing? This new shower mount can help.
There's not much more to report. Boring companies are adding boring things to their boring lines and submitting press releases about how their lube bottles are now a different size, so it's clearly a slow month.