Content note
: this post contains mentions of James Deen. I no longer support
him or his work
.
July 27th, 2012
Creeped myself out watching a Belladonna movie from 9 years ago called StrapOn Chicks: Bella's Bitches. There was this super young looking chick and I had to check her date of birth to make sure I wasn't breaking the damn law. It didn't help that her hair was in pigtails and the dude looked like somebody's long lost redneck relative. Who knew he was into anal?!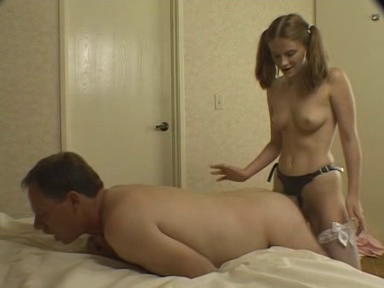 Plus she kept doing everything in her power not to touch him. I couldn't decide whether it was sad or hilarious.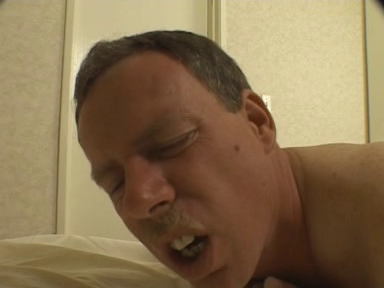 But it made me feel better to discover that the girl — now a 28-year-old woman — is still doing porn. She must not have hated it too much. Mind at ease.
Just Wahl tonight because I was on my period and couldn't be fucked to use anything else.
August 1st, 2012
Sometimes stuff just looks a lot hotter than it actually is. Like this…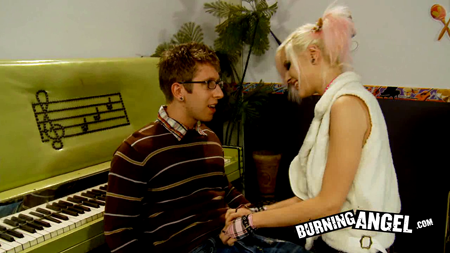 I wanted it for Danny Wylde wearing emo glasses. But then 6 minutes in, he took them off and the joy was gone. Not even a puke green piano could save it.
August 14th — August 28th, 2012
Behold, the desolate wasteland of Zoloft. It was a bleary two weeks of restless masturbation sessions in which I tried to ignore the truth of my numb genitals. I tried the Ola and it was nothingness. I tried Star Delight and it was nothingness. I tried watching porn upon porn, even switching to James Deen's scene in The Babysitter because I knew it was hot because I'd seen it before… and yet, it wasn't any more arousing than anything else. I was getting desperate… and scared.
Little known fact: one of the reasons I quit Zoloft as soon as I did was because SheVibe emailed me saying that the James Deen dildos were arriving. My civic duty to try them was weighing on me heavily (as was the fact that I had begun hating life). I stopped taking the pills that very day.
September 17th, 2012
A moment of silence for the gorgeous use of Tantus toys in Occupy My Ass.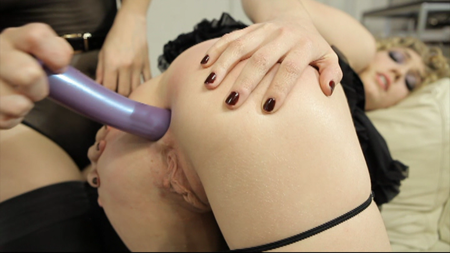 And the gorgeous use of Lily LaBeau. Unf.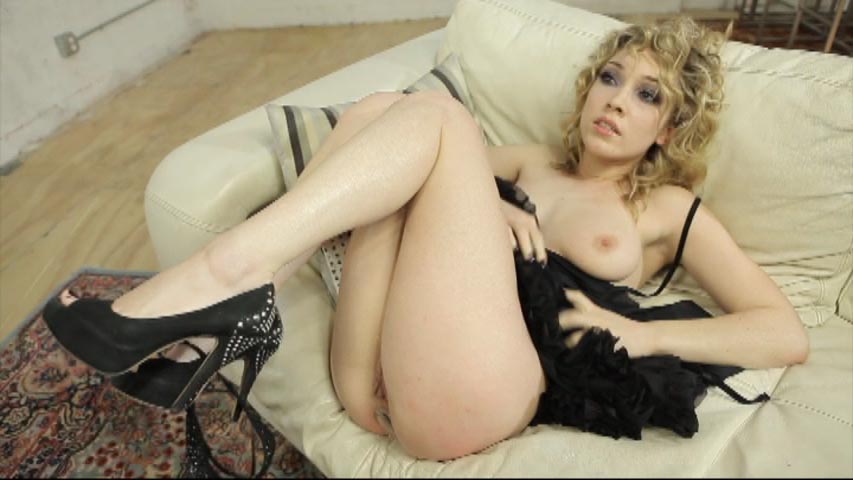 September 22nd, 2012
In between orgasms and watching The Masseuse 2, I sent hot James Deen screenshots to my friend Sundae, who was patiently waiting for me to finish so that we could watch Kid Nation. This conversation is a lot funnier/creepier when you remember that I was typing while naked from the waist down with a dildo hanging out of my vagina.
Epiphora: o damnnnn
Epiphora: he is sweaty!!!
Sundae: stop being distracted
Sundae: we need some KID NATION
Sundae: I need it to settle me down
Epiphora: what, kids don't turn you on?
Sundae: nah but Jonathan and his gold stars do
Epiphora: THAT WAS A JOKE, BIG BROTHER
Epiphora: IF YOU ARE OUT THERE
Sundae: CHILD PORNOGRAPHY
Sundae: DRUG DEALS
Sundae: OTHER KEYWORDS
Epiphora: aol keyword: kid porn nation
This is the only good GIF I could find from Kid Nation, which is just a travesty if you've ever seen Kid Nation, because it got much, MUCH weirder than this.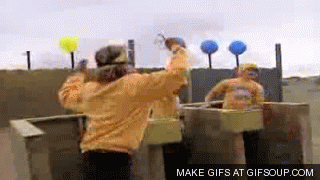 September 27th, 2012
It was time. Time for the blind vagina test. I had two James Deen dildos, the exact same size and shape, made of two different materials, so it seemed an important thing to do. I propped myself up and put a sleeping mask on because I knew I'd instinctively cheat if I didn't. I also had to remind myself not to touch anything or grab the toy out of my boyfriend's hands.
Although I'd warmed up, the toys felt large, uncomfortable, and kept hitting my cervix. My ego was bruising, too, as my boyfriend kept saying, "wow, it's not even halfway in!" SHUT UP, YOU. My guess was that the first one he used on me was, as I called it, "the porous one." When I felt sure of it, I removed my blindfold and he informed me that I was wrong. I had it backward.
I hung my labia in great shame.
October 4th, 2012
Amidst my James Deen-watching binge, I happened upon a scene between him and Katie St. Ives from POV Punx 5. I hate POV porn usually, and how the dudes never moan, but this scene was set in a coffee shop and the build-up was hilarious. Katie and James had supposedly just met and were discussing the usual topics:
James: What kinds of sex do you like?
Katie: All different kinds of sex…
James: What kind of food do you like?
Katie: Mexican.
James: I LOVE MEXICAN FOOD!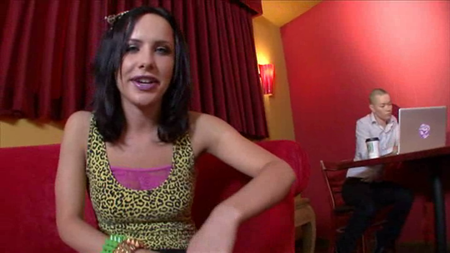 Even funnier, though… there was a cameo by Jiz Lee! Jiz was sitting at a table in the background fiddling on a laptop. Eventually Jiz gets up and walks out, paving the way for the humping to begin. It was exactly like that scene in Seven Minutes in Heaven 2 where Jiz shows up to deliver gloves and then just fucking leaves. By which I mean, A LET DOWN.
October 6th, 2012
For today's trick, I lugged the James Deen suction cup dildo into the bathroom, stuck it on the side of the tub, and proceeded to ride it. For about three thrusts. Then I realized I was basically doing squats, and if I wanna do squats I will do them as exercise, not pleasure, so I gave up on that endeavor and went back to my desk to finish myself off like a normal human being.
October 7th, 2012
Maybe I should pay attention to storylines more often; maybe then I'd know why these dudes were fucking in a candy shop.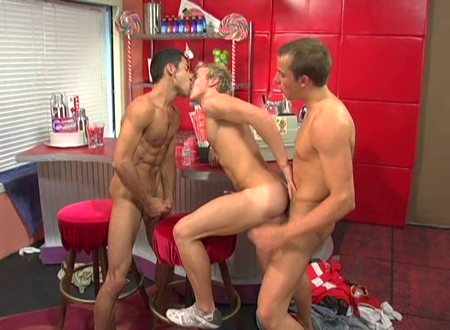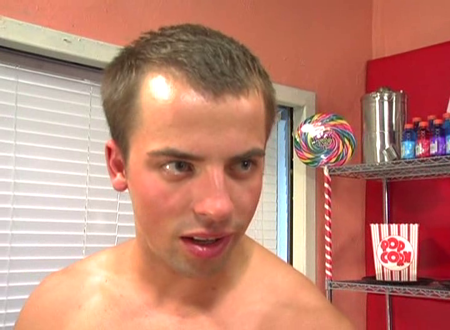 Although I'd venture to guess that nothing can adequately explain this guy's face. Are you there, bro?
October 22nd, 2012
Note to self: I cannot stand Katie Summers. All she does is say "fuck," only she doesn't add the k so it sounds like "fuh fuh fuh." You know how once you start noticing something annoying, you cannot stop noticing it? Yeah, that.
November 29th, 2012
I will say nothing more than this: I let my friend indulge in a sex toy flight, hand-picked from my collection, and it was one of the proudest moments of my life.