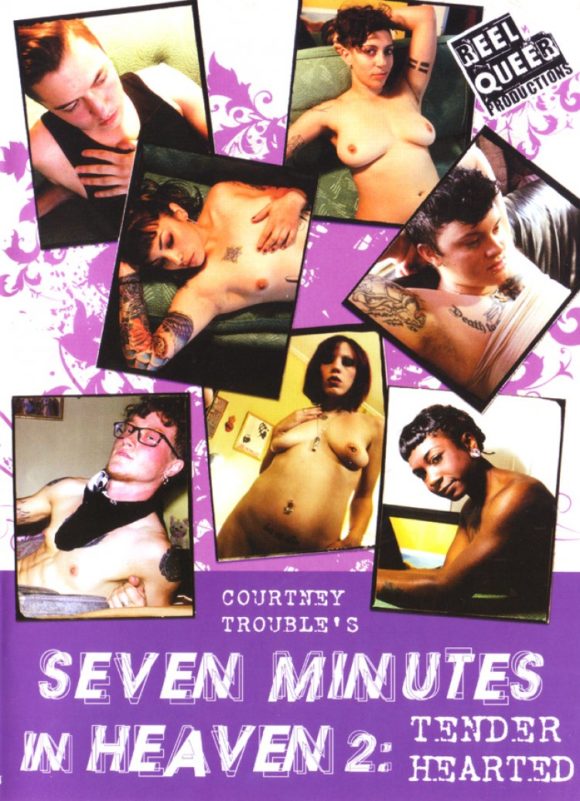 I was really impressed by Seven Minutes in Heaven, so I was practically foaming at the mouth to watch Seven Minutes in Heaven 2. Two of my favorite performers from the first Seven Minutes are in this one — Puck Goodfellow and Sophia (err, her name is Chocolate Chip now) — and everyone else gave me a hard-on during the opening sequence. Especially James Darling.
And I was not disappointed! Seven Minutes 2 is just as hot and exciting as the first, with the same playful atmosphere. To top things off, the lighting issues I noticed in Seven Minutes have been rectified, and many of the scenes are beautifully lit. The music is also even less invasive; it only plays at the beginnings and ends of scenes. Hell yes.
My favorite scenes were Red/Cyd/James (their general playfulness is adorable, and Cyd's orgasms are fantastic), Chocolate Chip/Red (great chemistry, and finally, some oral sex on a lady! With a dental dam, of course), and the gangbang at the end where everyone pitches in to please Red.
I don't really have a least favorite scene, but I was disappointed by Akira and Puck's. It starts well, with Puck going down on Akira, but I quickly tired of Akira's moaning. As you know, my tolerance for repetitive moaning is not very high; and by the end of her scene with Puck, I was cringing and turning the volume way down. Which really made me sad, because she's freaking cute, and Puck is amazing at fucking (example: in his scene with Soma, he rubs her clit as he enters her. Oh yes).
There are several flaws in Seven Minutes in Heaven 2. Mainly, it's only an hour long. This isn't abnormal for most of Courtney's films, but the first Seven Minutes clocked in at two hours. And that last hour definitely made the film feel more comprehensive. Seven Minutes 2 feels rushed, and I'm left dreaming up pairings that didn't get to happen (James Darling and Puck, SERIOUSLY).
Second flaw: Jiz Lee stops by to drop off some latex gloves. AND THAT'S ALL. You don't just do that. Like, have Jiz come in and squirt on someone and leave. SOMETHING, ANYTHING. </rant>
Third flaw: there are some desaturated parts, some jarring cuts in the middle of moans, and the editing in general is a bit sloppy and disjointed. It seems like some of the more awkward, in-between moments were cut out. Not cool.
But it's a testament to the hotness of the scenes that I can overlook all that stuff. I really can; it's actually quite easy, because the people are incredibly sexy, and the sex is chemistry-laden and passionate. Everyone is into it, and better yet — they're joyful about it. Seven Minutes in Heaven is easily Courtney's best series, and I'm yet again foaming at the mouth to see what's next.
Stream Seven Minutes in Heaven 2 now!
Watch more of Courtney's work at PinkLabel.tv.