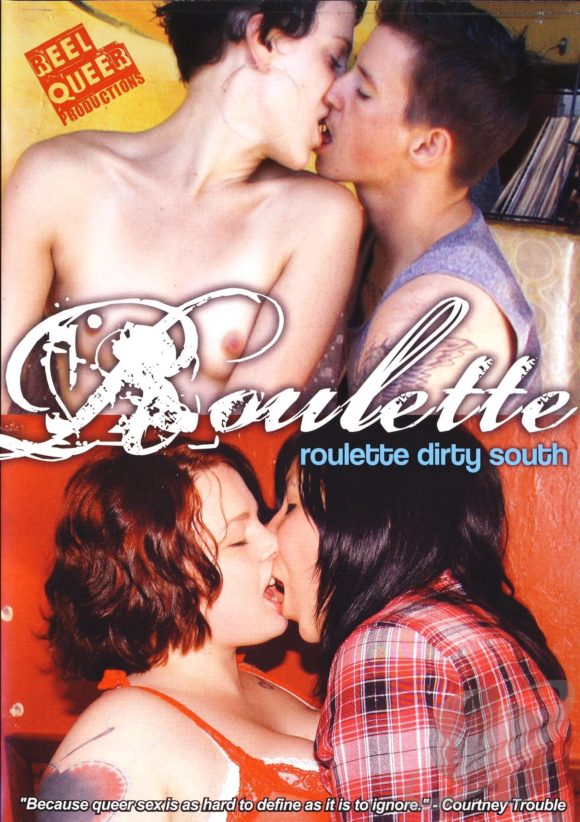 Roulette Dirty South is the second installment in Courtney Trouble's Roulette series, which consists of vignette-style films. Per its name, Roulette Dirty South seeks to evoke a southern atmosphere, where the sun is hot and the queer sex is hotter.
There are two outstanding scenes in Roulette Dirty South — mainly, the scene between Dylan Ryan and Trucker Cash. Holy mother of god! Set in the semi-outdoors, in someone's garage or something, it is bright, sexy, and perfectly captures the sweltering southern heat. Tattered jean shorts and transparent white t-shirts are involved. Dylan and Trucker even pour water on each other. There are some beautiful genital shots in this scene too, which sounds weird, but it's true.
My other favorite scene is the one featuring Trouble and Pepper. Shot by April Flores and Carlos Batts, the scene has a random-hotel-in-the-middle-of-the-night feel. It's red-tinted and passionate, and a little voyeuristic too.
There are two solo scenes, one featuring a cute chick named Cola, one featuring a dude named Basil McNubb (seriously, dude, did you really want to evoke McDonald's and… nubs… with your name? If that's your real last name, I'm really sorry). I was pleased by Basil's sex toy of choice — the Wahl — but I really just don't like solo scenes in general. They give me the yawns.
Then there are two more scenes that are decent, but not quite my cup of tea. Jeff Leppard (har har) and Charlie's scene starts out promisingly, with some cock-sucking and sex in a bedroom, but then Charlie… well, she morphs. Suddenly she's wearing a blonde wig and hipster/mom glasses. She proceeds to go down on Jeff, steaming up the glasses. Eh? Not attractive. Just awkward.
Then there's Triqui and Johnny's scene in front of a brick wall. There's nothing bad about it, but nothing interesting either. Except Triqui's Nintendo underwear.
I think my main disappointment with Roulette Dirty South is that the atmosphere of the film isn't more consistent. After the Dylan/Trucker scene, I was ready for some awesome, heat-infused scenarios… but none of them feel as hot as that one, and most of them are set indoors. Roulette Dirty South also suffers from inconsistent lighting in some of the scenes (as in Speakeasy, a well-balanced shot will be followed by a seemingly untouched shot).
Still, Courtney's filmmaking eye continues to improve, and other viewers will probably not have the same qualms about Roulette Dirty South that I do. Besides, Dylan and Trucker's scene is one I'll be whipping out whenever I want to immerse myself in a summery cocoon, and that scene plus the hotel scene are worth the DVD price.
Stream Roulette Dirty South now!
Watch more of Courtney's work at PinkLabel.tv.