The PVC James Deen dildo was found to be 61% phthalates. Doc Johnson responded with some jibberish.
ANME happened and many new toys were debuted there. Awesomely, the Redhead Bedhead went and took photos for us plebeians. Big thanks to her for the Tantus and OhMiBod photos below!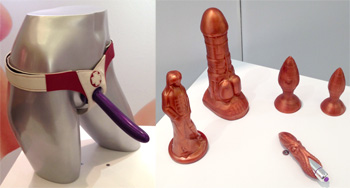 So yes, Tantus is putting out a line of harnesses, as well as a handful of sci-fi toys in collaboration with SheVibe. Neither of these excites me beyond comprehension, but I still heart both companies beyond comprehension.
Pipedream is faux-innovating with new ceramic and aluminum toys. According to the Redhead Bedhead, the reps at Pipedream were "so convinced that they were the first with the idea" to create ceramic toys. Of course they were.
I guess it's cool that the non-vibrating ones have cores you can fill with water. That's as much credit as I'm willing to give.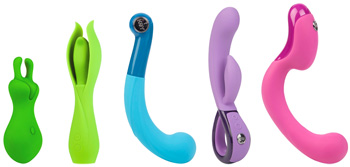 Jopen has a new line called Lust. The toys literally look like horrible bugs.
But to make things better maybe, they're adding to their Key line and coming out with a vibrating version of the Key Comet G Wand. I'm dubious that they'll be able to improve upon perfection, but I look forward to trying it nonetheless. Also, Skye looks… intriguing.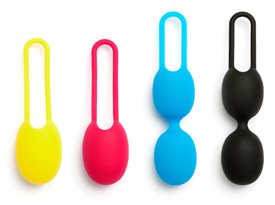 Tickler is coming out with Trainer Toyfriends. They are brightly-colored. They are silicone-coated. They are late to the kegel ball party.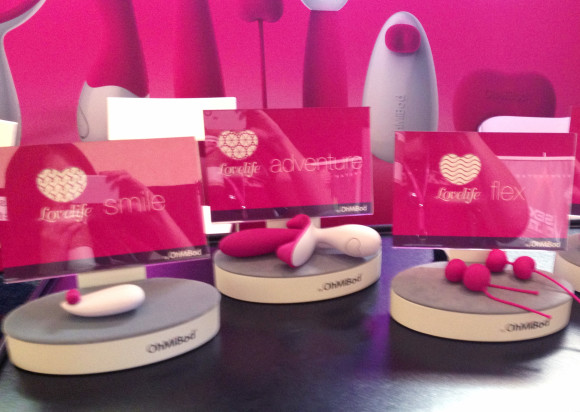 OhMiBod is going hog wild with the new products! They're coming out with a line called Lovelife. These (mostly) vibes, which have heart-shaped buttons, appear to not respond to music? I can't tell. I'm intrigued by the Smile, that one on the left. You can't see, but it has two weird balls there on the tip. I like weird things.
And finally, hipsters rejoice: Screaming O is coming out with a moustache-shaped vibrator.