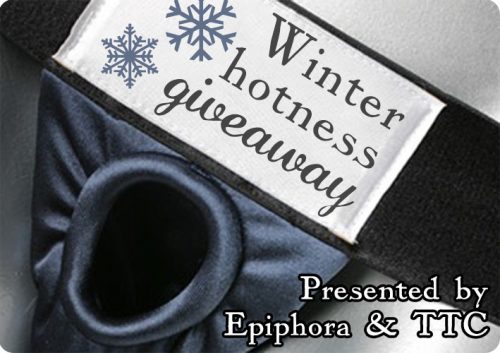 When That Toy Chick asked if I wanted to help her give away two Joque harnesses from Spareparts Hardwear, I was elated. I just reviewed a Joque of my own, and I'm totally in love. Everyone should own this harness. That Toy Chick agrees.
We have two harnesses to give away — one in size A, and one in size B! Both are black with dark blue satin pouches. Perfect for winter, and ridiculously comfortable, too!
There are two ways you can enter to win. Do one or both, for up to two entries:
Leave a comment on That Toy Chick's giveaway post. Be sure to include which size of Joque you'd like!
Fill out the trivia form in this post. If you get all the answers correct, your name will be entered.
To win, you must live in the U.S. The deadline for entries is December 30th, 2009 at 11:59 p.m. PST. We will pick a winner randomly for each harness size.
If you'd like to tweet about this giveaway, try this: Winter hotness giveaway! @Epiphora & @ThatToyChick are giving away two @MySpare Joque harnesses! Enter to win: http://bit.ly/2mDVt5y
You can also blog about this giveaway using the graphic — just don't hotlink.
The giveaway is closed — thanks to all!