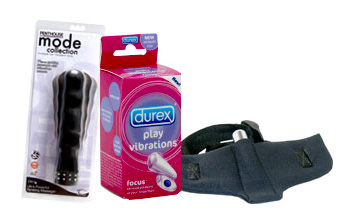 These three items are on their way to me right now, and boy do I have some confusions about them! (Edited to add review links.)
Durex Play Vibrations Focus: I can tell you right now this thing isn't going to cut it. For someone who needs at least 2 AAs powering the thing that I put on my clit… yeah.
Ride the Vibe vibrating sex belt: Okay, at first I thought I would get to be the one looking all James Bond-like in this belt, but apparently the belt is for my dude to wear. And now I am wondering how on earth that bullet is going to hit my clit. And also, is that fabric (neoprene) going to feel like humping a laptop sleeve?
Gyrating Massager: ARE YOU SERIOUS?