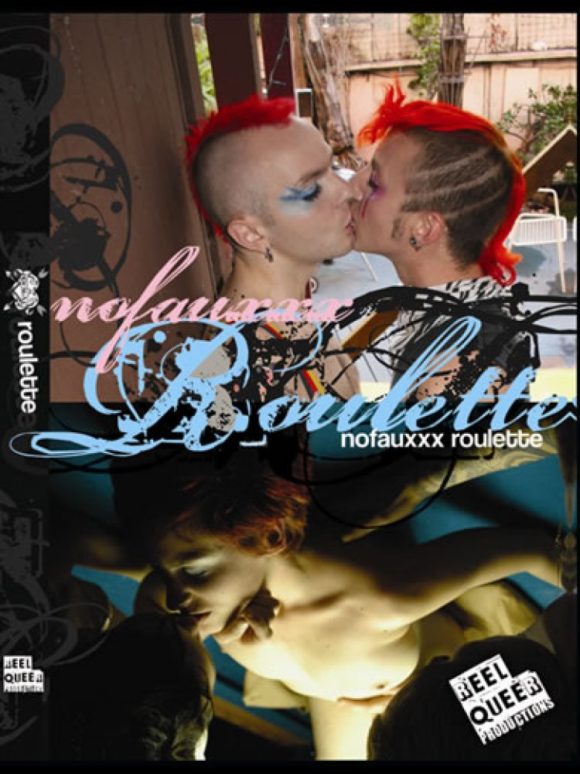 Roulette is Courtney Trouble's first film, so sure — it's clumsy. It's awkward. The production values are lacking. It's shot mostly in full screen with muted, untouched colors. The sound changes between cuts. There is far too much added music.
But there is something about Roulette that is endearing. I must be starved for queer porn, but this stuff is cute. And promising. There are some serious improvements that could be made, but good things are in the future.
Roulette is comprised of vignettes. Wedged between the scenes are… wait for it… music videos. Yeah, I'd say that's one thing I definitely don't want stuck between scenes of people fucking. Yet they're here, in full, credits and all. I don't care how gay or hip you are — you're not naked; you should not be here. I should not have to skip over you. Anyway…
I have a thing for awesome lighting and flawless camera angles, so I had to keep reminding myself that Roulette was not going to look glossy and big budget. Once I got over that, I had another thing to worry about: out-of-place music. It seemed to be everywhere, permeating my brain and causing conflicting emotions. Take the first scene, featuring Ceci and Kenji — it would've felt sexy, if not for the way-too-romantic and loud music.
But please, let me talk about the biggest injustice in the entire film: Walter and Nikolaj's rooftop fucking scene. First, I must say: I HAVE BEEN WAITING FOR THIS. I've been waiting for real fags in porn. But my initial joy was ruined, or at least heavily damaged, by the music. A song in this scene made me imagine a couple breaking up or saying goodbye at the airport. This is an issue. I live for gay dude moans, but alas, they are forced into the background by ill-fitting music. So sad.
Then there's the weirdest scene: Dia's solo kitchen scene. You see, Dia loves milk. She loves pouring milk into her shoe and then holding her shoe like a gravyboat and pouring the milk onto her fishnets. She loves chugging the milk, then burbling it up. She loves pouring the milk on her vulva. All of this makes her moan. A lot. With a lot more milk-pouring than traditional self-pleasuring, my mind just kept wandering. Close the fridge door; you're spoiling the food! I thought, and please take off that burglar hat. There is simply not enough action coupled with the milk to make this scene hot to non-milk-fetishists.
The gangbang scene, featuring Rozen, Syd, Jiz, and Donny in a bar and on a pool table, has the hottest moment of the entire film — Donny fucking Rozen with a bottle — but dissolves all too quickly into loud music.
I know Roulette is trying. I really do. I know the director and performers are into it. And I can thank Roulette for introducing me to one of the most beautiful songs I've ever heard… but the film errs so far on the music side that I can't hear myself jack off.
Stream Roulette now!
Watch more of Courtney's work at PinkLabel.tv.