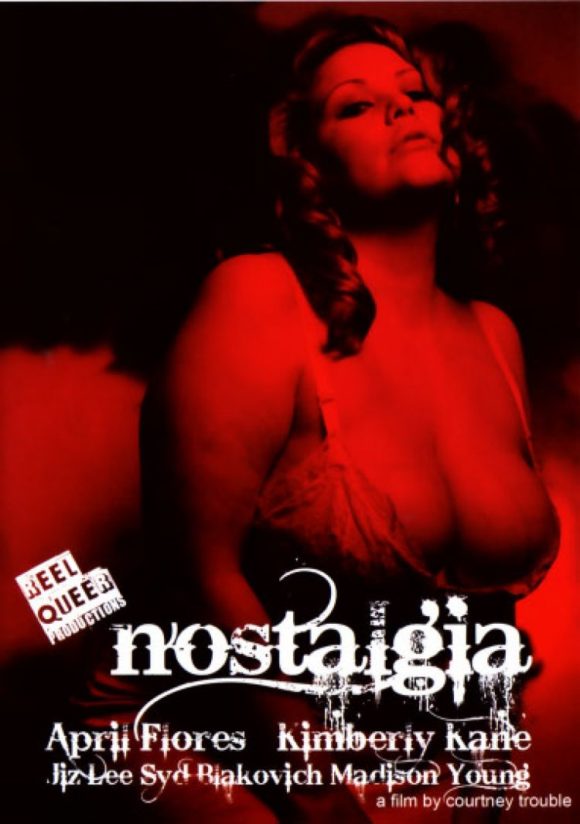 Besides having one of the most kickass porno titles of all time, Nostalgia is porn with purpose: to re-create "Golden Age" porn movies (Behind the Green Door, Deep Throat, The Devil in Miss Jones) and queer them.
Nostalgia is more movie-like than Roulette, and thankfully does not have music videos wedged between the scenes. Footage of Trouble and Pepper Sox ties the film together; they are watching (on a laptop, duh) the porn that we see. In the end, they collide with the porn and become it.
There is a dream-like atmosphere to Nostalgia, and this makes the film both very interesting and very frustrating. Oftentimes, the action has no order to it — one sexual act fades (literally) into another, causing a sense of disjointedness that I do not enjoy. I like to feel like a scene has a beginning and end, and that the action progresses cohesively. That doesn't really happen here, except in the Deep Throat scene.
So you may assume that the Deep Throat scene (in which Syd Blakovich plays a doctor, Jiz Lee plays a nurse, and Madison Young plays Ms. Clit-in-throat) was my favorite. Not so. While I was tickled by how campy it was and by how much Jiz looked like Alice from The L Word, I couldn't get into it. At first it was because of the overabundance of cock-sucking, but then Syd and Jiz moved on to pleasuring Madison with a golf club (covered by a condom, of course) and the Hitachi. This seemed promising, but Madison's moaning was just not varied enough to be interesting. And for the most part, Syd and Jiz just held their instruments silently.
The final scene, featuring Trouble, Pepper Sox, April Flores, and Kimberly Kane, was the only one I really liked. Maybe it was the red tinting. Maybe it was the fact that I love Kimberly Kane. Maybe it was the inclusion of stainless steel dildos. Or maybe it was the fact that they were all fucking on a bed, not in a theatrical location. In any case, it was hot.
The two other scenes are just too marred by music-video-like editing and loud music. The first scene consists of a room full of people watching Selina Raven hold down Kimberlee Cline, who is in turn fucked by a bird-masked and white-fishnetted Jiz Lee (I did really like the squirting at the end of this scene). The other scene is blue-tinted and features Tina Horn, Destiny Prince, and Sealu Sideshow; it's so brief and overrun by music that it feels more like an interlude than a standalone scene.
Nostalgia feels more upscale and more thought-out than Roulette, but the music is still too abundant for me. This time, it isn't as jarring or out-of-place as in Roulette, but it's paired with jarring editing. So ultimately, I found Nostalgia very hard to get into. The red-tinted bedroom scene, however, did steal my heart.
Stream Nostalgia now!
Watch more of Courtney's work at PinkLabel.tv.