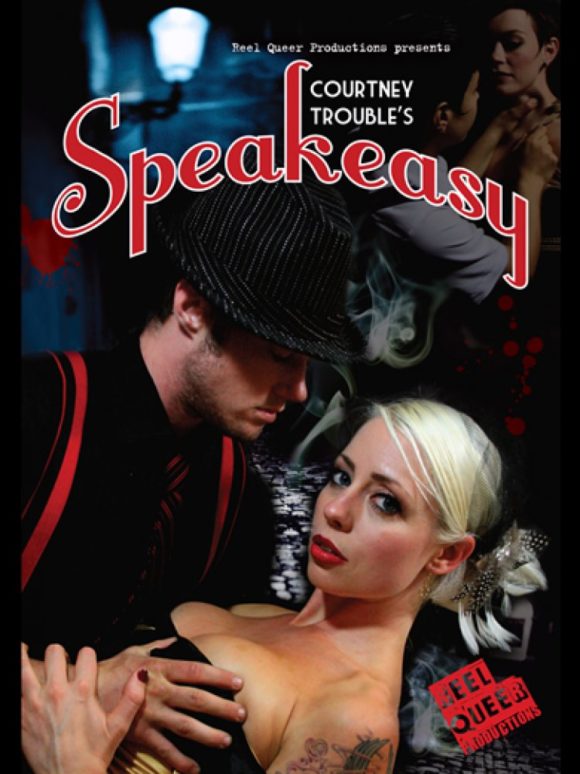 I had high hopes for Speakeasy, Courtney Trouble's third film, because its premise is incredibly hot: a detective discovers an underground queer speakeasy where people do two things — fuck and fight. Mostly fuck. The costumes and music are reminiscent of the 1940s, and there is a loose storyline which doesn't really matter. The score fits the film, bolstering its atmosphere rather than muddling it, which is a definite step up from the confusing musical selection of Roulette.
There were many reasons I should've liked Speakeasy. For one, the music in each scene actually fades out when the action gets hot and heavy — hallelujah! And unlike in Nostalgia, the scenes do not look like music videos, and the action is fluid and makes sense (perhaps too much sense — remind me again why I need to see every knot Dallas ties to create Jiz's rope suspension?). Then there's the cast: a fairly diverse array of performers, many of them quite physically appealing to me.
Sadly, several of the performers in Speakeasy suffer from what I call "cruise control moaning": monotonous and repetitive sounds that don't fluctuate and don't provide me much of an indication of how they're feeling. Lorelei Lee is the worst offender, and effectively ruins the promising first scene with her frenetic and overly-dramatic moaning. Did someone forget to tell her that she was shooting for Speakeasy, not I Can't Believe I Took the Whole Thing 11? It's a shame, because her co-star Tomcat is an excellent dirty talker and intense finger-fucker, and the scene would be very hot if Lorelei's moaning was cut in half.
So Lorelei's later scene with Billy Castro is unexciting as well, despite Billy's hotness and Lorelei's squirting. And the scene between Malone and Cyd, which begins with such passionate making out, dissolves into a sea of non-specific grunts. The lack of genital shots doesn't help, either; I felt like I was essentially getting off to two guys in t-shirts in a suggestive position.
The rope suspension scene, featuring Dallas Fivestar and Jiz Lee, is decent. But alarmingly, the lighting and saturation vary widely from shot to shot, switching often from a beautiful and bright version of reality to a subdued and lackluster version. I am very distracted by things like this, which is perhaps why I wasn't turned on by this scene, as much as I felt I should've been (Dallas and Jiz are both smokin', as they say).
But that's the problem I had with Speakeasy — it amounted to a great collection of "should've"s. This doesn't mean it's a bad film, and it's a definite improvement over Roulette and Nostalgia with its more thoughtful music and scene pacing, but in the end, I can't get off to monotonous moans.
Watch more of Courtney's work at PinkLabel.tv.