The "big" news this time is yet another crowdfunding project, for a vibrator called Limon. It's made by Minna, makers of the Ola. My (sarcastic) fave part is how there are "no cumbersome speed settings." My actual fave part is when they SHOW IT WIGGLING AGAINST SOME JELL-O.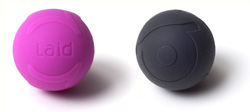 Laid, makers of cock rings mostly, are coming out with magnetic kegel balls. Right now there's a flash intro on their site which asks "can you form a straight line… with your vagina?" I approve, at least, of that.
30 years too late, Hitachi has decided they maybe don't want to be associated with a legendary orgasm-inducing product. Good luck getting people to call it "the Magic Wand."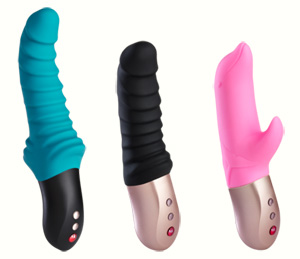 The third toy in Fun Factory's Stronic line has been unveiled. The Drei is a textured toy highly reminiscent of Fun Factory's Tiger vibe. According to Fun Factory, "for women it's like a gallop on a true stallion. For men the first ride on a new Harley." Ooookay. They also announced two more small rechargeables: Semilino and Dolly Bi.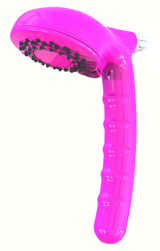 I don't know what's in the water lately, but I've been alerted to two shower head products recently: the WowerShower (pictured) and the Private Jet. I love how the WowerShower forces a dildo upon (into?) you. The Private Jet actually seems somewhat promising, but my shower situation won't allow me to find out. Shit.
My usually-amigos at Sliquid have concocted a slew of products (that sound suspiciously like products they already make) for the official Fifty Shades of Grey Pleasure Collection. I guess if it had to happen, I'm glad it's Sliquid?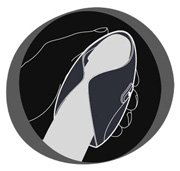 And here's some toy for the penis called Pulse. I tried to talk my boyfriend into trying it, but he just grimaced. So sad I won't be able to grind on top of him with a weird piece of winged, oscillating silicone between us.
LELO and We-Vibe sure don't like each other, do they? First it was We-Vibe suing LELO, now LELO's filing a lawsuit claiming We-Vibe has infringed on its inductive charging technology.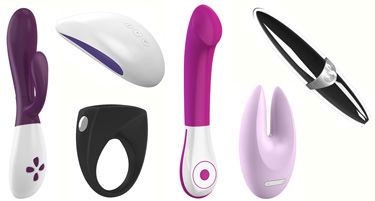 I can't seem to muster any excitement about new German sex toy manufacturer Ovo, whose modus operandi appears to be ripping off classic sex toy designs. Cool story, bro. [I reviewed the kegel balls, and OH BOY was it an experience.]

Vixen Creations' newest toy is a set of anal beads that retails for $90+. The design is useful, but with $35 sets of silicone beads on the market, I don't know how well this will work out for them.