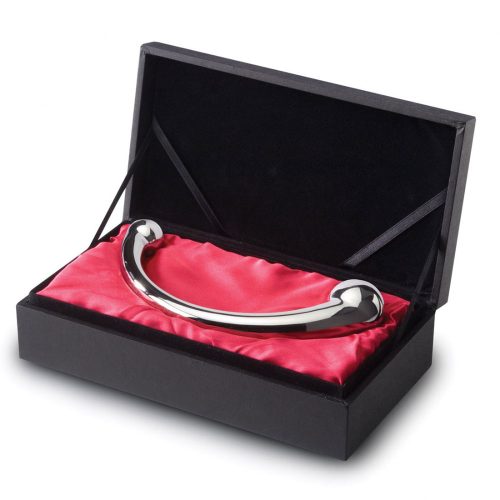 Ten inches of stainless steel. Two spheres of extreme G-spot stimulation. One and a half pounds. The sex toy, the legend. Yes, the folks of Play Passions are letting me give away an effing Njoy Pure Wand.
I can think of no dildo more worthy of a crazy contest. So this is going to be crazy, nuts, and insane. It will also have several parts to it, spread out over several weeks. Are you ready? Here is what I ask of you first: submit a written entry in the form below answering the question what would you do for a Pure Wand?
But it has to be something you would actually do. Because once the deadline passes, I will choose 5-10 of the entries that most excite me and ask those people to do what they promised (and provide proof of it) within two weeks. And finally, I will post each entry (photo, video, text, etc.) on this blog and hold an anonymous vote to determine the winner.
I will be looking for creativity and extreme craziness, and perhaps a hint of thoughtfulness. Your entry does not have to be Pure Wand or Hey Epiphora related, but bonus points if it is. Also, I am not big on written erotica, so you won't woo me if you propose a steamy story featuring me and the Pure Wand. Here are some ideas to get your brain going:
Write and record a song about your lust for the Pure Wand. Make a music video?!
Photoshop the Pure Wand into a hilarious situation. Bonus points for including cats.
Hold an I love heyepiphora.com sign by a busy freeway, or get heyepiphora.com tattooed on your forehead. Totally worth it, I know.
Those are just examples, so go wild. I mean it. Wild.
Deadline for written submissions: August 20th, 2009 at 11:59 PDT. After that, I will choose my favorite entries, give the entrants two weeks to accomplish their tasks, and present the finished entries in a new post here for anonymous vote. Only entrants from the U.S. or Canada, please. Enter below (do not post your idea as a comment on this entry):
Disclaimer: I will not bail you out of jail, pay your medical bills, or be held responsible for any of your actions prompted by this contest.
Note: It may be up to 7 days before the prize ships after the winner is determined.