Content note
: this post contains mentions of James Deen. I no longer support 
him or his work
.
The New Romantix is one of the most frustrating porn films I've ever seen.
From the description of it, I thought I'd love it. It features some performers I really love — James Deen, Lexi Belle, Joanna Angel — and is endorsed by one of the best sex shops around, Babeland. The back of the DVD case explains that The New Romantix "profiles 6 beautiful, intelligent, funny, and amazing women on their passionate quest for sexual liberation and empowerment." Great! Empowerment! I'm all for it!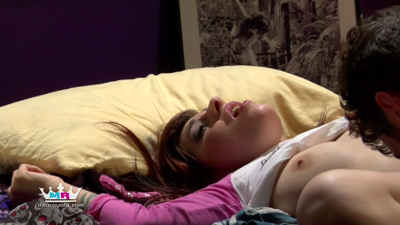 But holy shit. One by one, the scenes are ruined. Not by lack of ability in the performers, but by music. Yes, the so-called "exceptional" soundtrack is so pervasive, so loud, that the moaning is drowned out and my soul is crushed.
The New Romantix features seven scenes, although one of them is a 6-minute blowjob scene. Most of the scenes begin with an interview profiling one of the female stars. These interviews are adorable, informative and well-edited, with shots of the woman gallivanting around town interspersed with the interview footage. However, I failed to see the connection between the interviews and scenes. I thought I was going to see the women on their quests for empowerment, but apparently not. Most of the sex scenes bear no relation to these interviews. Avy Lee Roth is a rock-and-roll chick, so she gets to fuck a long-haired creeper dude in leather pants. Ryan Keely mentions being a loner and learning about the G-spot, so she has a solo scene. The rest? I see no particularly empowering reason Joanna Angel gets fucked by James Deen in a cute bedroom, Riley Mason sexes it up with some dude (not even credited, so I don't know his name) on a pool table, or Lexi Belle and Lexi Bardot tumble around with Tommy Pistol in a bouncy castle.
But I would be willing to overlook the absence of evidence of empowerment if the music wasn't so ridiculous. Scene after scene, I was in awe of the inappropriate audio mixing. It was the worst on the Lexi Belle/Lexi Bardot/Tommy Pistol scene, which was aurally massacred by a mixture of extremely loud music and quiet, disconnected moaning that seemed plopped into the scene willy-nilly, and never matched up with the action. What good is moaning if it's not even indicative of the current fucking? Needless to say, my excitement over them fucking in a bouncy castle quickly deflated.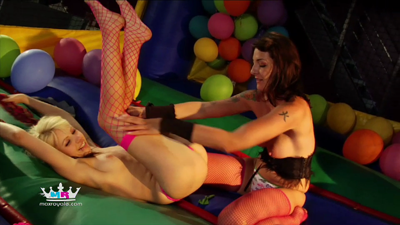 The pinnacle of my frustration came when I watched the last scene, which is between Lexi Bardot and James Deen. The scene was shot in the near infrared spectrum in a pitch black room — brilliant, yes? Everything is glowing red. Lexi and James go at each other like animals. There is the hottest shot of a penis sliding into a vagina that I've ever seen. And guess what? All of this hotness is slathered in music. Jolly music. It doesn't even fucking fit the tone of the scene.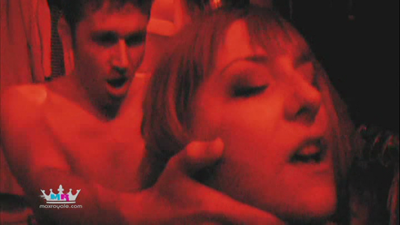 One high point of The New Romantix was Joanna Angel and James Deen's scene. I love both Joanna and James, it's true, but the scene was also not drowned in music, and their chemistry is palpable (by the way, aren't they dating? Why was that never even mentioned in the interview?).
Besides the music, other things that weakened The New Romantix:
Not enough attention paid to female orgasms. There were more here than in the average porno (seeing Joanna Angel squirt was fucking amazing, in fact, as was watching Ryan Keely bring herself to several gushing orgasms), but when you promise empowerment, you sure as hell better follow through on that via something, the obvious thing being orgasms. I noticed this issue most in the Lexi Bardot and James Deen scene, which finishes with James coming (duh), then Lexi putting her fingers in her vagina. Then? It ends.
No lesbian scenes. Not that I expected them, but… it wouldn't be that hard to set something up.
The Max Royale logo in the bottom left made me feel like I was watching content from a website.
On my disc, there were several instances of pixelation and skipping.
But really, it's the music that killed it. I cannot handle overpowering music, especially when it covers up one of my porn must-haves: moaning. I do not think my affinity for moaning is abnormal, either. The music is not completely to blame, but it is mostly to blame, for my irritation with The New Romantix. And there is nothing worse than knowing a porn film could be good, if only it had been edited differently.