Wolf Hudson looks like the kind of guy who owns more than a few sets of brass knuckles, but in actuality, he is a sweetheart with killer dance moves who hangs out with cats and tweets mouthwatering pictures of his mom's Dominican food. I first laid eyes on him in Shifting Gears, and I've considered him a BAMF ever since his scene in My Own Master, so when he asked me to review his newly-launched paysite, I had to say yes. I have never reviewed a website before, but DON'T WORRY I AM VERY CRITICAL OF THEM TOO.
Wolf Hudson Is Bad is still in its infancy — it doesn't even have a favicon yet! The site design is simple, with no crazy flash or overabundance of information. Everything is easy to locate, although the readability of white on black is questionable (as always). But, you know, how else to get across badness if not a black background?!
There are just 21 videos available on the site currently, which is good for my neurosis about seeing ALL THE THINGS before making a judgment, just in case there is something exceptionally hot/horrific to be had. There are several solo scenes, then there are pairings of Wolf with legendary hotties such as Bobbi Starr, Jiz Lee, Dylan Ryan, Lily LaBeau, and other performers I'd never heard of, such as Paris Kennedy, Alison Tyler, and Penny Barber. According to Wolf, the focus of the site will be straight and solo scenes, with the occasional strap-on, BBG, or fetish scene. A new scene is posted each week.
Almost all the scenes are .mp4 files, with a couple .movs thrown in for nostalgia's sake. A few have an aspect ratio of 16:9, but most are, unfortunately, 4:3. File sizes range from 47 MB to 484 MB. The solo scenes are 3-12 minutes long, and the partnered scenes are, on average, 25 minutes long. Sometimes Wolf has hair, sometimes not. I thought that was an important detail to note.
There is quite the mix of video sizes and qualities. Sometimes the lighting and post-production are iffy, resulting in a little too much… um… skin truthfulness. Pubic hair bumps and skin creases ahoy! It also seems that some of the videos have not been properly deinterlaced, which, when watching on a computer monitor, results in distracting, jagged lines during movement: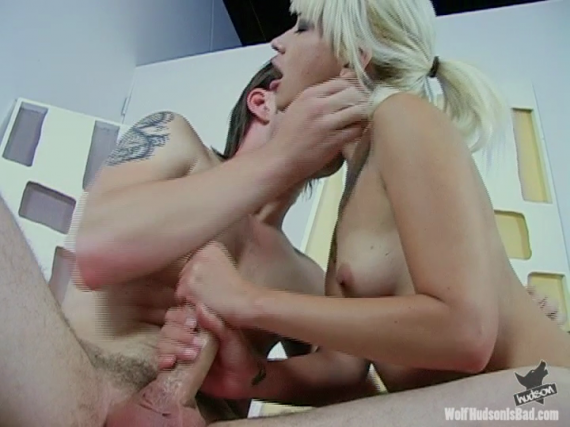 Example of interlacing. Click to see the full "glory."
In general, the videos on Wolf Hudson Is Bad are not up to my high aesthetic standards. Most of them lack the clarity, focus, and interesting depth-of-field that I prefer. There are a couple exceptions, though — one of them being Wolf's scene with the flawless Lily LaBeau.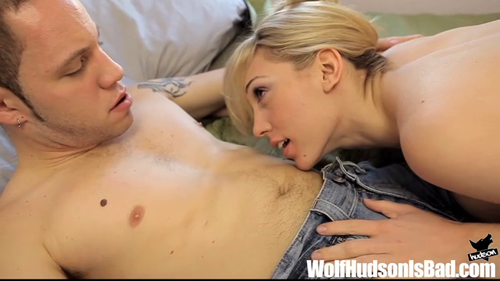 This is an example of how I would like every porn scene I ever watch to look. Lighting like this just makes humans look their best. I know real life has stretch marks and pimples and shit, but I prefer my porn to seem perfect because damnit it's 2012 and I can be demanding like that. Despite being basically a blowjob scene, this was easily one of my favorites… which says a lot about the production values.
I didn't love everything I downloaded from Wolf's site — only about a fourth of the scenes, to be honest. But Wolf, as a performer, brings some great and rare things to the table. In his scenes, there is always kissing, consistent cunnilingus, nipple play, and often rimming (of him and others). There's almost never music — halleloo. The scenes are shot by Aiden Starr, who clearly understands the importance of showing both performers' full bodies, not just a disembodied male torso. Plus, Wolf's cock looks really sexy sliding in and out of a pussy.
The scenes I loved are pretty awesome, too, and certainly worth nabbing under a monthly subscription. I had little doubt that Wolf's "Justify My Jiz" scene with Jiz Lee would be a stand-out. It is. It's a fierce, fishnetted, fuck-me-booted, blue-tinted genderbending carnival of hotness.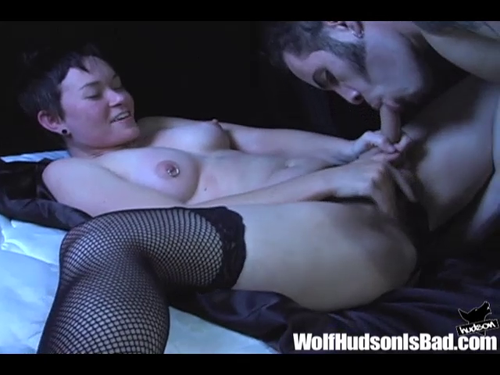 Throughout, the chemistry is palpable. Wolf alternates between licking Jiz's vulva and sucking Jiz's cock. I love Jiz's blowjob style — licking and teasing, not just scarfing it down. Each one fucks the other. Jiz even sucks him off while fucking him. The boots and fishnets stay on. All is right with the world. [Get this scene here or at PinkLabel.TV.]
Speaking of pegging, Wolf's scene with Francesca Le is also fantastic. This is an example of the sex being so good that I can overlook the production values. Francesca is a fucking BEAST. Ever since I saw her dominate Christian in Rough Sex, I've liked her gumption. I mean, look at that face: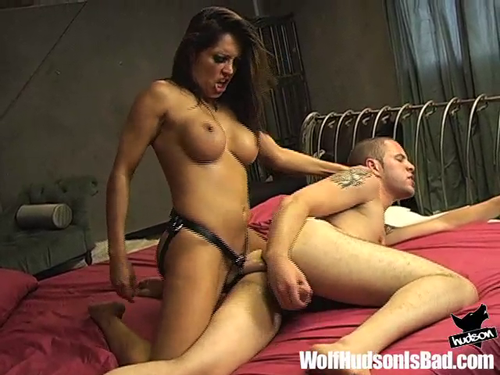 There's also a part where both Francesca and Wolf are licking Wolf's cock. So… yeah.
And finally, I want to give a slow clap to this horrifyingly morbid moment in Wolf's scene with his "stepmother" Zoey Holloway. "I've not been intimate with anyone since your dad," says Zoey as they start making out, as stepmothers and stepsons often do.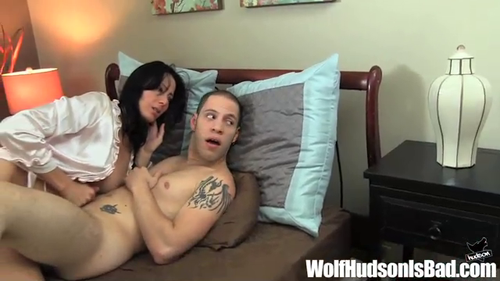 "Isn't that dad right there?" Wolf asks.
Zoey nods somberly. "I have to have him close to me."
ONLY IN PORN, YOU GUYS, ONLY IN PORN. ONLY IN PORN IS THERE A CUCKOLDED URN.
I've decided that Wolf is at his best when he's talking, smiling, and erring on the side of kinky and queer (seriously, have you seen his scene with Kimberly Kane and Danny Wylde, or his scene with James Darling?). Unfortunately, these elements are sparse on his site right now, so my hope is that he pushes himself to talk dirty more often, do more scenes that are not super vanilla (come on, a slap on the cheek here and there can't hurt) — and ups his production values along the way.
You can join Wolf Hudson Is Bad for $13.95 for 30 days or $29.95 for 90 days recurring, with the option of cancelling at any time. If you want to buy scenes a la carte, they are available on Clips4Sale, but some cost just as much as a month's membership. Aside from the videos, there is no other exclusive content, but each morning and evening Monday through Friday, Wolf puts on a cam show. Members watch morning shows for free, but the shows are PG-13 unless you pay for a private show — at which point he'll do anything for you.
And I mean anything, because I'll bet you Wolf Hudson Is Bad is the only site on the internet where you can watch a dude make sweet, sweet love to a ladder.