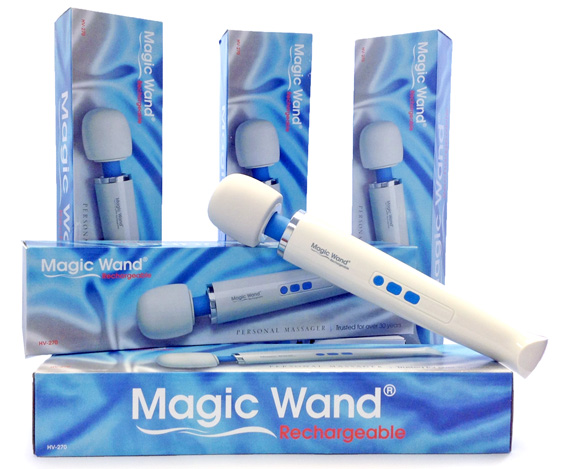 This is the 600th post on this blog. I got all sentimental when I hit 500 posts, so this time I'm going to put the champagne down, hold back my tears, and give you something better: orgasms.
Some may doubt that I can give away orgasms. Orgasms aren't for sale and don't come in a box… usually. But the recently-released Hitachi Magic Wand Rechargeable is an exception. I feel confident that most people who touch this vibrator to their genitals will have an orgasm. It is a beast of epic vibrational proportions, so good that when I hang out with sex blogger friends who have yet to experience it, I try to wheedle them into using mine.
Each time, they have fallen in love.
You need one too. This powerful vibrator is a vast improvement over its legendary, and also awesome, predecessor. Great for quick orgasms, as a finisher during a long session, or any time you are feeling lazy — the Magic Wand Rechargeable will have your back. Especially considering it lasts 4.5 hours on a charge.
Because I'm me, I couldn't just give away one Magic Wand Rechargeable. Oh no. So I reached out to Good Vibrations and they generously agreed to donate FIVE. Yes, five lucky winners will get orgasms delivered straight to their doors! Act now!!!
This will be a simple giveaway, as straightforward as the orgasms you'll get with this toy. Subscribe to my blog to unlock other modes of entry, such as commenting on this post (which household object do you wish would go cordless and rechargeable?) and following me on various social media.
Enter below or visit the giveaway's landing page. Thanks again to Good Vibes for donating!
This giveaway is open to entrants in the U.S. and Canada only.
Giveaway ends at 11:59 p.m. PST on Tuesday, August 18th, 2015.