Content note
: this post contains mentions of James Deen. I no longer support
him or his work
.
February 11, 2015
META JACK-OFF JOURNAL. After spending all day finishing Jack-off Journal #18, I gave it to Kynan to read in the other room and thrust myself into my office for two quick orgasms with the Hitachi, which I desperately needed after a day of nonchalantly skipping through porn files and editing screenshots.
February 28, 2015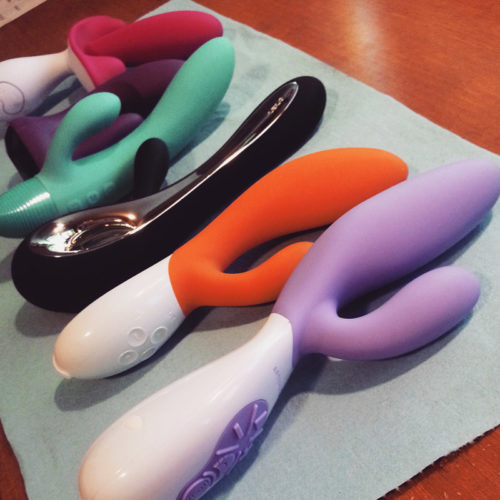 Please, god, let this be the last time my vagina experiences the Afterglow and its laser light "technology." Let this rabbit-infested masturbation nightmare end.
Determined to definitively disprove the veracity of the "PulseWave O" program (an 8-minute "journey designed to enhance arousal and help you achieve better and more frequent orgasms"), I endured it three times and paid special attention to my arousal and orgasm quality. Neither were better than I'd experience with any other disappointing rabbit vibe, as I then verified by testing the rest of the ones I own.
P.S. I HATE RABBITS. I kept cheating and pressing the Ina 2 against my clit like it was a Mona.
P.P.S. I got blood all over everything, but that is what the Afterglow deserves.
March 2015
Various attempts this month at testing the astoundingly unpleasurable Vibratex Princessa. Watched James Deen lick a girl's eyeball. Had one of the worst orgasms of my life but published one of the greatest tweets of my life. I guess it evens out.
April 10, 2015
As part of an elite group of early testers for the Crave Flex and Duet Flex, I was given access to an online interface to adjust each setting on the vibes. NERD STATUS COMMENCE. I enjoyed making the vibes do my bidding, programming the steady mode to begin at 55% power (as it should be), eliminating all the space between pulses (FINALLY), and making the waves move faster and get increasingly stronger.

Putting my customizations on the vibe entailed downloading a VIBES.pat file, plugging the toy into my computer, and replacing the existing VIBES.pat. It took many, many adjustments before I found the winning combination, which I then uploaded for Crave so they could use the data to determine the final settings on the finished products.
April 23, 2015
On this day, I whined on Twitter about being cold and not wanting to take off my pants to masturbate. A common problem for me, but the internet could not resist presenting me with ideas for rectifying my (not at all a) problem.
Seriously, I can see the vag gunk splattered all over the blanket now.
April 30, 2015
Queued up Cock Happy 3 because I wanted my Belladonna fix and laid out a thousand glass dildos for an afternoon masturbation session to solidify my thoughts on the Joyful Pleasure dildos. Is anyone else perturbed by how badly dudes in straight porn kiss? Seriously, their tongues are like snakes. I still love her scene with Sean Michaels, though. She rubs her vulva on his boots.
I had six orgasms or so. Not exaggerating. I had to work my way through all the dildos, like Jack in Titanic making his way through each piece of silverware around his plate.
May 1, 2015
Do you ever find a part of a porno so hot that you rewind and re-watch it until you come? That was me with this today. The moment was a mere 40 seconds long, which was problematic, but I love when dudes can't control themselves and leave their pants on.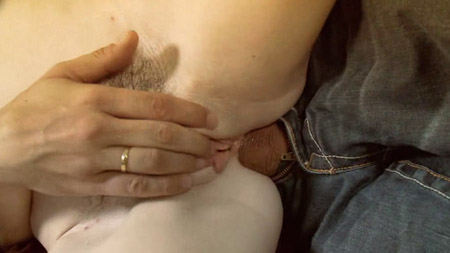 May 19, 2015
It began simply enough, as a quest to test the vibration longevity of the Magic Wand Rechargeable. I turned the toy on high and propped it up on a chair in my office like a strange puppet. But… the sound of it buzzing was kind of arousing. My clit has developed a Pavlovian response to the sound of a vibrator.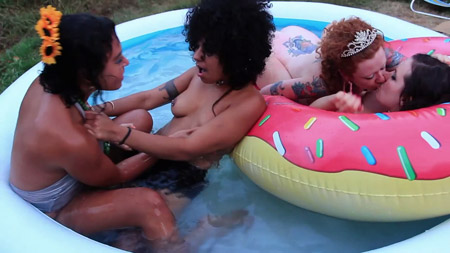 So I opened Queen Bee Empire. Yes, that is a donut pool floaty. This porno is so twee, so quaint, so queer, so hipster that it makes me feel less cool by the minute. But that's okay; I appreciate attention to detail, and the people are hot.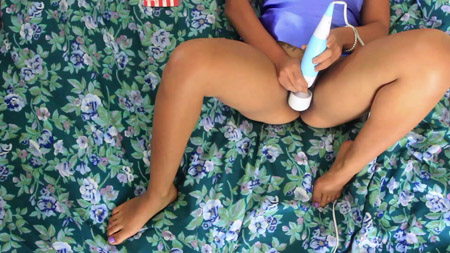 I was really into this solo scene because it was cut with shots of the subject's fantasies, which included people skateboarding, squirting, buzzing their hair off, and licking popsicles. Also, THAT FRAMING.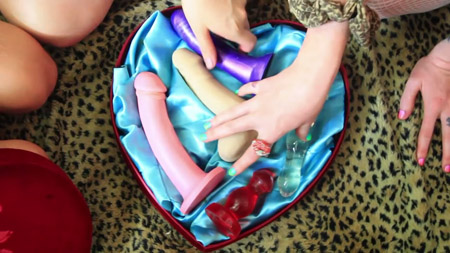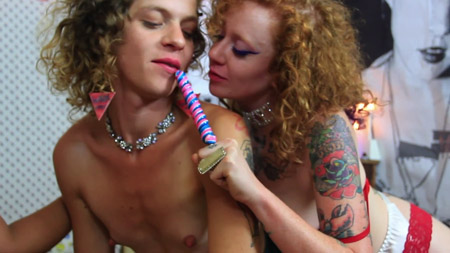 If, like me, you feel great concern over the eventual location of that lollipop, you will be happy to know that a condom was rolled over it before someone used it in another person's ass.
At this point I'd had two orgasms and I knew the Magic Wand Rechargeable had to be nearing the end of its lifespan, but I tempted fate and kept masturbating anyway. Its light started blinking red at me. That can't be good, I thought absent-mindedly. About three minutes later as I started to come, NO JOKE, AT EXACTLY THAT MOMENT, the battery died and the toy abruptly stopped vibrating.
I definitely whimpered and whined like a wounded puppy.
June 7, 2015
On vacation with sex blogger friends, we scattered like cockroaches to masturbate in our respective rooms… and continued to chat on the internet the entire time. My Crash Pad stream was buffering really slowly, so I instant messaged them and they graciously closed their porn tabs. True friends!
I was equipped with Penny's Svakom Siime vibrator, better known as the vagcam because it has a camera on the end of it, and a speculum to help me take a halfway-decent video of the inside of my vagina. I also had Girly Juice's Womanizer, a toy that's supposed to mimic sucking on your clit.
Trying all these weirdo things at once was probably a bad idea, plus the mid-day light from the window was coming in RIGHT INTO MY EYE and reflecting off my laptop screen back so I couldn't see the porn, and the Womanizer sounded like a robotic vacuum, and the speculum felt like a speculum, and the vagcam had to be held still and pointed correctly…
Perhaps needless to say, my orgasm wasn't very good. And thus, the resulting vagcam video is uninspiring — you can barely see any contractions at all.
June 16, 2015
While masturbating sitting up at my desk, I went to type something and the glass dildo started slipping out of my vag. I caught it quickly between my thighs. Nice save, me.
July 13, 2015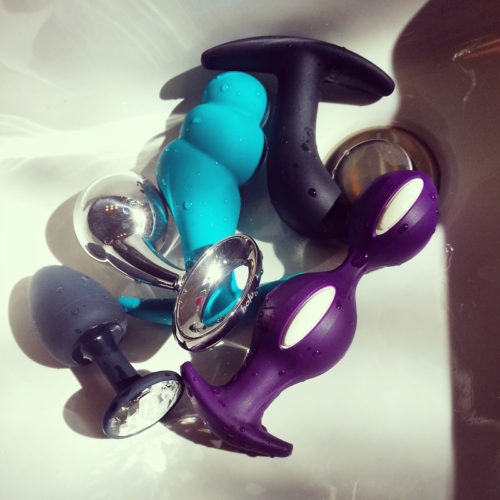 Spent hours with the Fun Factory B Balls in my ass, watching some hot forced cunnilingus in James Deen's 7 Sins: Envy and testing the Revel Body SOL.
A couple orgasms later, I had a ridiculous idea: to stuff my vagina full of kegel balls, filling both my genital cavities with balls.
I felt so jiggly. Like a horse at Christmas time.
There were people over when I went to empty my orifices, and I had visions of someone walking in on me as I pulled the vag-juice-dripping balls out of my body, so I locked my bathroom door for potentially the first time ever.
Afterward, I felt so blissfully empty.