April 6th, 2010
Wow, most frustrating masturbation session in a long time. I watched, but not really, Fashionistas, which wasn't doing it for me at all (o hai, latex). I tried out the Form 6, but got irritated with the buttons being on the shaft, which is fully insertable. The straw that broke the camel's back was trying to get off clitorally with the Form 2, which was behaving very, very badly, sputtering and whining and failing miserably.
I eventually got to "fuckin' thing SUCKS!" territory — which, as evidenced by Bill O'Reilly, is never a good place to be:
After throwing my pen down and cursing a lot, I used the Fairy Mini Mini to get off.
April 10th, 2010
I know I promised myself I wouldn't masturbate while drunk again, but… the Maverick was here. So I watched a very baseball-themed and anal-oriented porno scene (my excuse: it had hotties in it, like Sean Michaels). But um, can fake baseballs NOT be put up asses in front of my eyes, please? I imagine horrible journeys for them and… yeah.
I used the Form 6 again. Again, not pleasurable. Then I went to straight to the 2″ thick Maverick; apparently I am a (drunken) champ. I used the Wahl on my clit — always a good choice when sensation in my body is diminished — and squirted a bit when I came.
April 11th, 2010
Early in the evening (okay, 10 p.m.), I watched Cock Happy 3 and experienced the Maverick while sober. Oh man, so good. So squishy and wonderful. Mostly I just watched the first scene of the porno, which involved Belladonna and Justice Young going through a drive-thru, and Belladonna giving an in-car blowjob. Normally I don't care about blowjobs, but… Belladonna.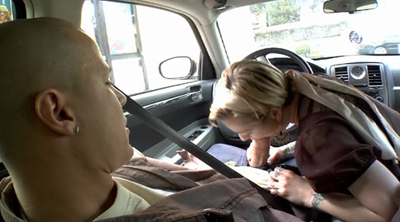 Belladonna's reward for the blowjob? STRAWBERRY MILKSHAKE. HELLS YES. SO WORTH IT.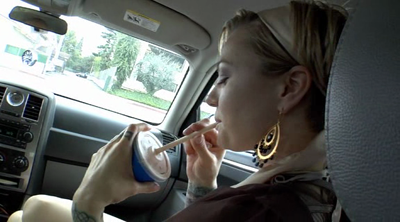 I eventually had a dual orgasm, gushing a lot as I quickly pulled Maverick out of my vagina. I was so wet from the squirting that I had my boyfriend wipe my butt for me. I am the very definition of class.
April 16th, 2010
Before really wanting to jack off, I watched a bit of Cock Happy (a trend? Yes). The scene featured Kurt Lockwood as a mattress delivery man, and Belladonna as a freakishly under-dressed and masturbation-prone mattress orderer. But the main thing about this scene was that they fucked on LIME GREEN BED. How often does this happen in porn?! A: Not enough.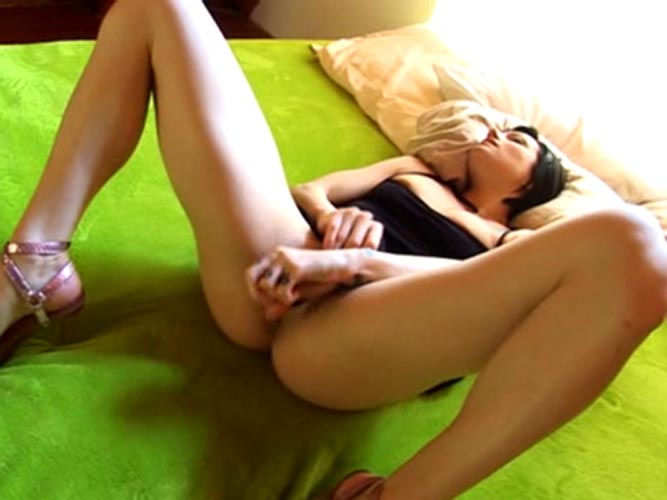 I finished the scene off later that night, using the Wahl and Form 6. My orgasm was intense and made me want to push the Form 6 out, but it didn't work (too big/hard). Kinda strange.
April 27th, 2010
Chicken ramen was on the stove, so I had to be quick. In retaliation to this blasphemous article in The Daily Princetonian, I watched a gangbang scene featuring Amber Rayne. Fuck you, Princeton bitches. I like to see women being "degraded" — and enjoying it themselves.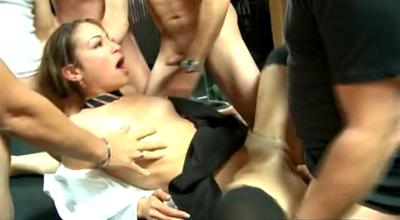 I used the Signature internally, and the Form 6 on my clit. My orgasm was long, but not terribly satisfying. And there was no hint of squirting, which is rare for me these days. Obviously, this means the Form 6 is deficient as a clitoral stimulator. Half kidding.
April 30th, 2010
You know, I love it in porn when people say hilarious shit pertaining to the fake scenario they are acting out. I don't even care how ridiculous it is. I watched a scene where a black dude came to Amber Rayne's door selling chocolates. Inevitably, this lead to his cock being called a "chocolate bar." And him calling a blowjob "superb." And Amber saying maybe she'll give some money to his "charitable organization." If you never thought those words could be used in porn, you thought wrong.