Content note
: this post contains mentions of James Deen. I no longer support
him or his work
.
May 8th, 2010
Eight days into May and I haven't jacked off yet. I need to work on life.
I saw pictures of this cute pornstar named Gracie Glam (oh god alliteration), so I got my hands on a scene of hers with James Deen, because he brings out the best in everyone. I thought I'd use the Sqweel again, mainly because I'd been rearranging my toy collection and the Sqweel was hanging out on my desk. I also realized it still had its original batteries in it, and they still had juice. Impressive.
Of course, I had to hold my labia open a LOT to use the Sqweel, and got tons and tons of lube on my fingers, but it felt pretty good. I also attempted using a dildo (the Jollet), but the Sqweel prevented such folly. I came after about 7 minutes; I was obviously hor-nay.
Then, foolishly, I brought out the Pure Wand. Oh my god, do not use the Pure Wand on an empty stomach. For real. I was, like, crying. I wanted to squirt more, but my stomach was saying, ARE YOU AWARE THAT THERE IS NOTHING IN ME AND THIS CANNOT GO ON? So then I gave into it and stopped.
Oh, and Gracie? All I really noticed was her telling James, "fuck me as hard as you can" — not imaginative, but it was nice to see him POUND AWAY.
May 11th, 2010
Why do my friend Carnivalesq and I put ourselves in these situations? We knew this porno was going to irk us, yet still we watched it. Actually, we were only able to slog through the first scene because it was so obnoxious. I present to you, Eyelashes by Eon McKai, porn that takes cameraman creepiness to a whole new level…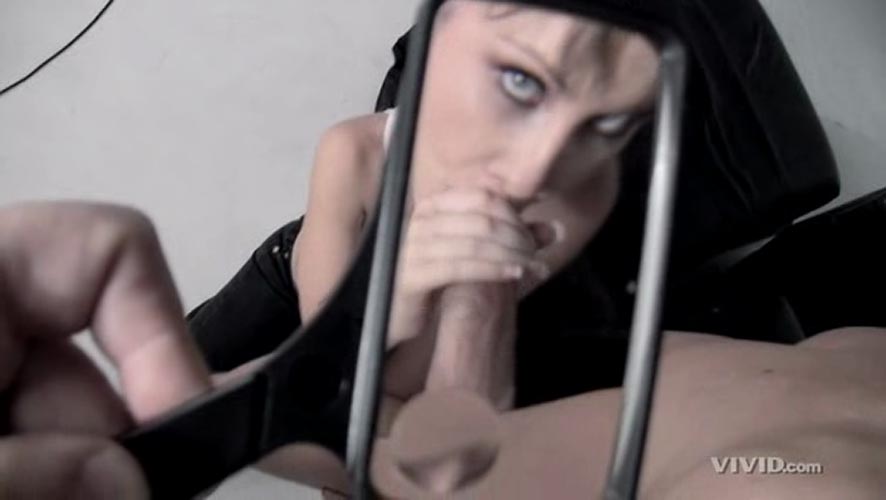 Carnivalesq: If I was dude
Carnivalesq: I'd be like, get your reading goggle away from my cawwwwwwwwwwwwwk
Epiphora: lol. ok i want to see this cock
Carnivalesq: YOU MEAN WITHOUT BLUR?
Epiphora: yes
Carnivalesq: SORRY NO
Epiphora: i feel weirdly disconnected from what is happening
Carnivalesq: wtf is he saying?
Epiphora: no clue
Carnivalesq: He played all the LOST whispers.
Carnivalesq: Did you know? The whispers on LOST all say, "Want me to cum in your fucking pussy?"
Epiphora: LOLOLOLOLOLOLOL
Carnivalesq: Here, have a blurjob.
No, the magnifying glass is not a fluke. It follows the action everywhere. It blurs and reflects. It causes dry mouth and unstoppable rage in the viewer. I'm sorry, but this is where I can no longer support the efforts of alt porn — when it gets TOO ALT.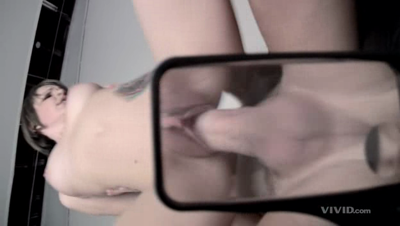 Oh, and I used the LELO Ina for the first time, which was quite terrifying. MOST PRESSURE EVER EXERTED ON MY CLIT, EVER.
May 17th, 2010
One man telling another man, "you look like a Greek god"? Um, yeah, I'm down with all of that. Oh yes, guys, snuggle for me…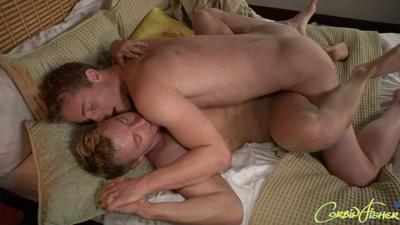 I used Ina again, which was still awkward but sort-of good? Well, my orgasm was good. Maybe I can get used to the insane pressure on my clit. Maybe.
May 22nd, 2010
More gay porn, but this time something entitled "Mikey Abuses Kyler." It was okay at first, with one dude calling the other a "dirty little tramp" and a "mess," but once the fucking began, it was painfully mediocre and lame. No weird name-calling, no more roughness, just plain old cock in ass. Excuse me, but I wanted abuse.
I tried the Form 6 yet again, though I didn't want to. Put it on my clit while I used the Vixen Johnny. I barely noticed the balls!
My first orgasm, with the Form 6 on my clit, was weak and made me sad. So I pulled out the Wahl, continued fucking myself into oblivion, and eventually squirted hard. I feel so triumphant when I can have a badass second orgasm.
May 28th, 2010
I didn't squirt tonight — I sloshed.
Seriously, my vag made a sloshing sound as the ejaculate poured out. Oh lord.