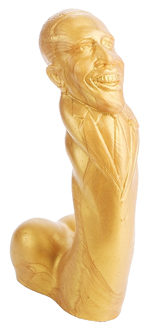 I'm normally not big on politics, but this election year has been very exciting to follow. The debates, especially, have been great events to watch and eat pizza during. Today, however, I came across something I never wanted to know existed: a Barack Obama dildo.
There are just so many things wrong with it… first of all, it's a horrendous "golden" color. It's 2 inches in diameter (my vagina hurts just thinking about it). And, oh yeah, it looks nothing like Barack Obama. Do they actually think people will be attracted to this thing? The real Barack Obama is far more attractive.
Rest assured, however, that it is phthalate free!
I've also been wondering how sales have been going for Babeland's "Maverick" masturbation sleeve. I don't know about you, but every time I hear the word "maverick" now, I throw up. Involuntarily.
Anyway. I was reading some of my favorite pornstars' blogs last night, and was excited to see several mentions of the upcoming election. Belladonna's MySpace page, for instance, urges everyone to register to vote. Dana DeArmond's #3 friend on MySpace is Barack Obama, winning out over even Belladonna. Gasp!
Joanna Angel wrote about the Palin/Biden debate on her blog:
Seriously, it really was spectacular. Anyone who didn't see them really should go on You Tube and watch them. Sarah Palin is out of this world. She turned the debate into a big spectacle- and poor Joe Biden actually took the thing seriously and is just getting attacked for it.

First of all, I think she is completely psychotic. Like I think if McCain wins (which would really really be an awful tragedy) I think she might kill him in her sleep so she could be the president. I actually don't think she is as dumb as everyone says she is- but I do think she would be the most god awful president in the history of time. I think we can all agree on this- or at least I hope we can.

However- she really should have a reality TV show, or something. I could actually see her hosting America's Next Top Model. I think she would make a spectacular Tyra… quite frankly, I am getting sick of Tyra. Palin could easily do her job . . . I also think Sarah Palin should try to be the next Vivid contract girl. She TOTALLY seems like the type. Most of the Vivid contract girls are really good at talking about Vivid to the public, they carry themselves well, they dress nicely, they're pretty, and they're terrible in bed. I could see her doing that very well. Or maybe she should be on one of those Pro-Active commercials. Yeah. She would rock that ad.
Kurt Lockwood is much more somber on his MySpace blog:
the GOP knows that every election they can trot out their "Greatist Hits" compilation of Gay Marriage and abortion, they can swift-boat Obama with mistruths about his religion, background and beliefs and you know what? It works every time . . . We are NOT one country and I am through waiting for reason with gay hating, women hating Bible thumping redneck capitalist red state jerks.
It's easy to fall into a deep depression thinking about the election and what the outcome could mean for us, so I try to keep my thoughts on meaningless things, like the upcoming Who's Nailin' Paylin porn extravaganza from Hustler (Jada Fire as Condoleezza? Psh, Jada's much hotter) and this glorious news reel from The Onion.