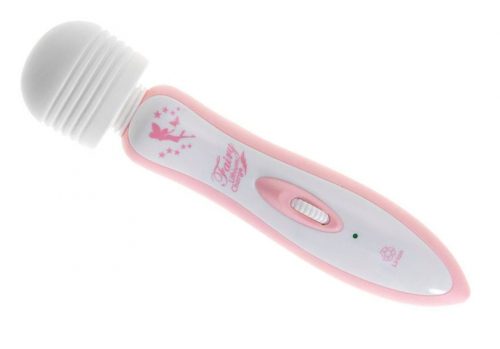 It's been a little while since I crowned the Fairy Mini Mini better than the Hitachi in almost every way, but there's a new Fairy in town — the Fairy Mini Wireless. It's smallish, rechargeable, and has that same awesome variable speed dial.
Too bad it can't hold a charge to save its life.
The Fairy comes with a nice drawstring bag (pink, of course!) and not much else. The two charging cables (USB and AC) come in separate boxes. There is no manual, and very little English on the Japanese-riddled box. I did find these tidbits: Play over 20-30min with charging for 60min; Over charging protection circuit added; It is so compact to conceal in your bag (no, not really). I was also sent the Chaos attachment. Don't click that unless you want a disturbing image burned in your brain.
At 7 3/4″ long with a head diameter of 1 3/4″, the Fairy isn't big. But compared to the Mini Mini, it's not small either — it's similar in size to the Acuvibe Mini. Like all the other Fairies, it's made of plastic and PVC, and has a flexible neck. The shaft has a little slit where the charging cord plugs in; unfortunately, this slit is covered by a tiny white plug that is not attached to the toy in any way. It's nearly inevitable that you will lose this piece. Good luck.
When the Fairy is charging, a green light on the shaft illuminates. Sometimes, after hours, the light turns off. Sometimes, it never turns off. I was never sure how long to charge the Fairy, so I did a multitude of tests. The amount of time that the Fairy lasted on each charge varied widely.
1 hour 15 minutes via power cord: 29 minutes, immediately after charging
8 hours via power cord: 27 minutes, immediately after charging
5 hours via USB cord: 20 minutes, immediately after charging
4 hours via USB cord: 14 minutes, later that night
1 hour 15 minutes via USB cord: 9 minutes, immediately after charging
1 hour 15 minutes via USB cord: 1 minute, several days later
I could've kept testing, but I got really sick of it. Bottom line is, you have 1-29 minutes to orgasm. You do not know how long you have. It may or may not be dependent on which cord is used to charge. It most likely depends on how soon after charging you are using it. Ready, set, GO!
Um, yeah. This is not cool. This is, in fact, horrifically bad. Because this toy seems not at all built to hold its charge for any amount of time — and that makes its rechargeability a liability rather than an asset. The day that I turned it on and it lasted a whopping one minute, I was done. This toy sucks.
The vibrations are pretty strong, yes, and I can easily get off with them — if they last. However, the vibration intensity doesn't hold a candle to the Fairy Mini Mini's. This tends to be the case with rechargeable vs. AC-powered toys, and it's very striking. The Fairy Mini Wireless can't compete with the Hitachi's power, whereas the Fairy Mini Mini eclipses the Hitachi.
Oh yeah, and I should probably address that terrible Chaos attachment, huh? Well, it feels exactly how you would assume — prickly and incredibly awkward. However, it did inspire me to dig out my Little Shop Of Horrors soundtrack, which was quite enjoyable. Here he is, folks, the leader of the plaque!
So if you want a small version of the Hitachi, and you want something that won't die on you right before you come, I would suggest any of the wired Fairies. I love my Fairy Mini Mini, even with its short power cord, because that power cord ensures that it will last as long as I need. The Mini Mini isn't rechargeable, of course, but it's stronger, smaller, far more reliable, and even cheaper by 13 bucks. That I can stand behind; I can't stand behind quickly-draining charges and sudden death.