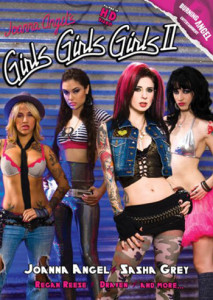 Girls Girls Girls II is an '80s-inspired porno directed by the fabulous Joanna Angel. There is no plotline, just discrete scenes, and luckily, it doesn't take the '80s theme too far. Actually, Kimberly Kane's crimped hair and Sasha Grey's iridescent spandex are pretty damn hot.
Penny Flame's scene with Allister and Cadence St. John is, by far, the best on the disc. Penny jaunts back and forth between two rooms, licking Cadence's pussy, then Allister's. Nothing else goes on. Just pussy licking (well, there's a smidgen of a plot, but whatever). Allister and Cadence don't reciprocate — Penny just ravages them, and it's mesmerizingly hot. Penny has some serious skills.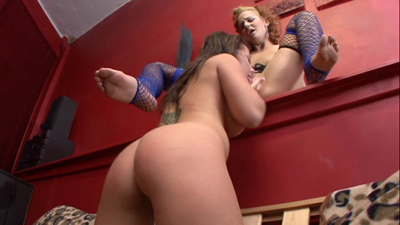 The other stand-out scene is, unsurprisingly, the one between Sasha Grey and Joanna Angel. While at first I was dismayed by the lack of dirty talk and the random clamoring of the smoke machine in the background, the subtle but hot sex made up for it. Each woman gives the other a good pussy-licking, and Sasha eases a pink leopard-print plastic vibrator into Joanna's ass. Both have hot orgasms by the end of it. Sasha and Joanna really seem to lose themselves in the scene, and this is verified by their post-scene euphoria in the Behind the Scenes.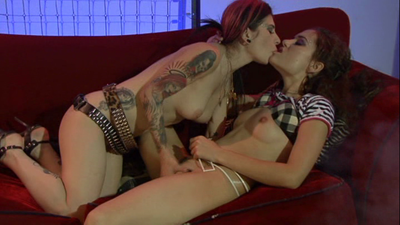 The other three scenes are less stellar. Draven and Regan Reese's scene is decent, made more interesting by the outdoor setting (albeit noisy), but very tame and unsurprising on the whole. I did very much enjoy Draven's hot pink tutu, and the girls' enthusiasm for each other.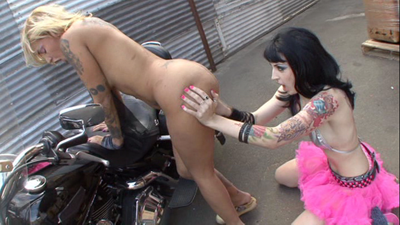 Kimberly Kane and Asphyxia's scene is not as amazing as I hoped it would be. Kimberly fucking Asphyxia with her palms pressed together is pretty hot, but the rest is a bit bland. Of course, 'bland' for a Kimberly Kane scene is not the same level of 'bland' as a blonde bimbo scene, so it's still enjoyable to watch — just not the best thing I've seen from her.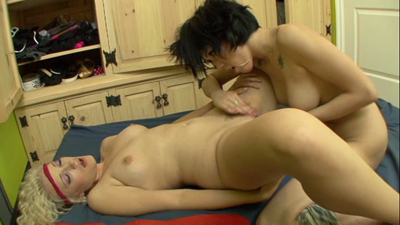 Alexis Texas and Misti Dawn's scene doesn't do anything for me in the least. They seem to be having a good time, but there is too much ass jiggling for me. Both of them seem to be in porno girl mode most of the time, too conscious of making "hot" faces and putting on a show. Not my thing.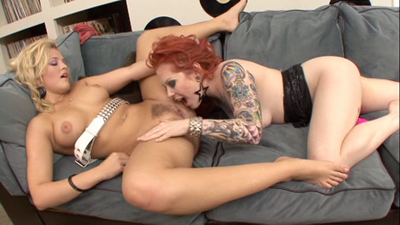 The nearly hour-long Behind the Scenes was refreshing. It gave me a good feel for how the people of Burning Angel shoot porn (read: with humor and fun), and it provided insight into the personalities of the ladies. It was a much more thorough Behind the Scenes than most DVDs offer, so I was quite pleased, even if there are no other notable extras.
I liked Girls Girls Girls II for its cute costumes, interesting pairings, and solid action. It definitely wasn't boring, but most of the scenes weren't amazingly hot, either. I was hoping the girls would be more rough with each other. The lighting/colors in Sasha and Joanna's and Kimberly and Asphyxia's scenes could have been better, too. Still a pretty good girl-girl porno, and completely worth seeing for Penny's scene alone.
Stream Girls Girls Girls II here or get a subscription to Burning Angel for more tattooed hotness.