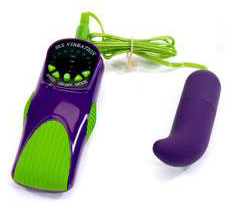 TabuToys has taken notice of my ridiculous and unhealthy obsession with my Xtreme Pack G-spot Bullet, and they presented me with an offer I could not refuse: the chance to give one away to one of my readers!
My love affair with my Xtreme Pack G-spot bullet began in January of 2008, and it has been going strong since then. I have tried many a clitoral stimulator, and few come close to this one. Not one masturbation session goes by in which I do not use this bullet.
In case you have not heard of this glorious toy, let me quickly list the reasons it rocks:
It uses two AAs, and it definitely uses every drop of juice it can get from them.
The shape of the bullet is perfect for pinpoint clitoral stimulation.
Five levels of straight vibration, and five very nice vibration patterns.
Mine is still alive, and I've had it for a year and two months!
It's lime green and purple, and the battery pack gives you a light show for every function.
The bullet unplugs from the battery pack, so if you want even more power, you can use a different battery pack.
Have you been wooed? Leave a comment on this entry stating what intrigues you about this toy, and I will enter your name into a hat drawing. You must live in the continental U.S. or Hawaii and be willing to fork over your address.
Deadline: Friday, April 10th. Go!