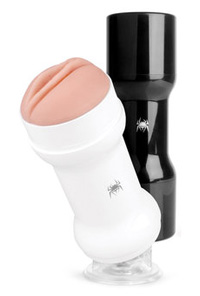 It's been a long-ass time since my boyfriend was interested in a new toy for himself. But when he saw the Spider, he was giddy. This thing really is interesting: a masturbation sleeve with a suction cup that can be adjusted to any angle. I was intrigued, too, because the Spider serves a similar function as the Liberator mounts, but without being a huge-ass chunk of foam that takes up space in the closet. Plus, the sleeve can be removed and replaced with a Fleshlight sleeve. Can you say "deciding factor"?
Made by a Korean company called Morriskim, the Spider (not the most sensual or appealing name, but it does describe the product, I guess) comes in a huge, white cardboard tube. The hulking toy, which looks like a strange barbell, has one cap on each end. Remove one cap to reveal the transparent, heavy-duty suction cup; remove the other to find the sleeve, which comes sealed in plastic and powdered with something that reeks of fake strawberries.
The sleeve is made of a "real feel" material, much like Fleshlights, and features a vulva that looks disturbingly akin to the Fleshlight "Lady" entrance. The big plastic container resembles the Fleshlight, too, making me wonder if this product's life could be cut short by a lawsuit. Just sayin'… Fleshlight has been really intense about this in the past.
The Spider pivots 120 degrees and has a couple adjustment points, so many, many angles are possible, and it will suction to most smooth surfaces, such as desks and shower walls. However, any bit of texture will stop it, so our lightly-textured walls were a no-go.
There are three issues with the Spider: suction, suction, and semen. Suction problem #1: there is no air-release cap on this toy, so it's basically a suction vacuum. The boyfriend reported that the insert felt too tight and that it was difficult to thrust into, even with a bunch of lube. If you've used a Fleshlight before, he said the sensation is similar to the leaving the Fleshlight's end cap fully screwed on.
Suction problem #2 happens when you get too vigorous: the suction cup slides a bit. It's still secure, but it shifts. Now, I had my boyfriend demonstrate how fast he thrusts into this thing (hilarious, by the way), and it was not very fast. So if you are one who humps things into oblivion — sorry, man, I don't think the Spider is for you.
Then there's the lack of a semen reservoir. The Spider has to be washed out (water only, I assume) in its massive entirety. When you're used to the Fleshlight's end cap, which can easily be unscrewed to clean the cum out, the Spider doesn't seem very handy.
Fleshlight sleeves, yes, fit into the Spider after some shoving, but the suction-tunnel-of-death persists.
And sure, the Spider's sleeve can be used outside of its case. The inner texture is pleasant, the boyfriend says, but it's still too tight. It feels like the sleeve is trying to push him out.
So neither component of the Spider works very well separately, and together they're worse. It's a real shame. We thought about jerry-rigging it by drilling a hole somewhere to let air out, but we don't own a drill and I'm not about to ask my dad to borrow his. And anyway, sex toys should not require power tool customization to perform well.
Overall, my boyfriend says the Spider is "okay," but I think he's being generous. Yes, it's hands-free (I think that's the main thing wooing him) and the suction cup is not a huge failure. Yes, you can put Fleshlight sleeves in it. But with its steep price of $140 (£90), I would not recommend the Spider unless you love intense suction and yet your thrusting style could be described as "leisurely." Does such a person even exist?
See all my favorite toys at Lovehoney and get 15% off your order!