Since falling for the Fleshlight, my boyfriend has had a distinct distaste for strokers that feel — as he puts it — too much like extensions of his hand. He likes the heft and hardness of the Fleshlight case; he feels it provides a more realistic, sex-like experience than most strokers. Unfortunately, this puts regular ol' strokers, like the Vixen Creations Grip, at an automatic disadvantage.
But my boyfriend is also wondering why he must always face widely-spaced ridges on the inside of sleeves. They are not his friends. Not at all.
I must stress, this is all personal preference. The Grip is a great masturbation sleeve, mainly because it is made of plush, super soft and squishy VixSkin silicone. So it is both completely nonporous and sterilizable, and it's softer than most regular formulations of silicone. It's stickier than, say, CyberSkin,1 but similar in squish factor. It can be stretched, folded, and rolled up into a ball — that's how pliable this silicone is. This is a definite improvement over most masturbation sleeves on the market today, which are made of terrifying jelly and other unmentionable materials.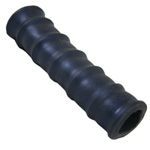 The Grip is 6 1/2″ long, 1 3/4″ in diameter, and has five ridges on the inside. The two ends of the Grip have different-sized openings — one side is a little over an inch in diameter, the other is a little less than an inch. The Grip gets its name from the textured area circling its outer middle, which feels very much like a bike's handlebar grip. The boyfriend appreciated this texture, but also said it wouldn't be a huge problem if it wasn't there.
The Grip is not uncomfortable to use, my boyfriend says — it's just not very pleasurable. The material is nice, as is the thickness of material between his hand and his penis, but "the ridges ruin it." The ridges are too intense, don't feel good, and make the jacking off motion less smooth. The ridges aren't severe or hard enough to catch on the head of his cock — like the ridges of the Tantus Stroker did — which is definitely a relief. All in all, the Grip has the same problems as the Stroker, but to a lesser degree.
Cleaning this sucker is pretty easy, since both ends are open. Soap and water are fine. Don't don't don't turn the Grip inside out! My boyfriend did this, and ended up tearing the silicone in two places, and denting it in others.
Compared to similar strokers of the past, the boyfriend said the Grip rates higher than the Tantus Stroker (as the ridges are softer) but not as high as the Maven (which is thicker and has bumps inside). Compared to the Fleshlight, there's no contest — the Fleshlight is a shoo-in.
I'm starting to think my boyfriend is just against texture, as evidenced by his unenthusiastic reaction to the Tera Patrick Fleshlight, his issues with the Succu Dry, and now this. The original Fleshlight, with no texture whatsoever, remains his all-time favorite masturbator.
The Grip would probably be an awesome choice for someone who loves ridges, although it's a bit pricey at around $50. You certainly can't get a squishy VixSkin sleeve anywhere else. Hooray for innovation, and for soft sleeves that aren't made of jelly!
The Grip is no longer in production, but check out the Vibratex Maven or SheVibe's selection of sleeves.