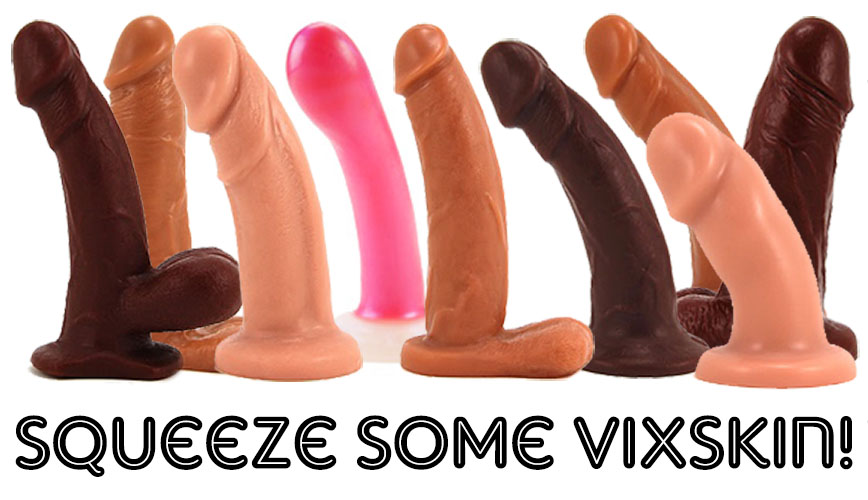 It's no secret I adore VixSkin, the soft-on-the-outside and hard-on-the-inside silicone invented by Vixen Creations. Right now, I'm still on a high from my latest VixSkin dildo, Maverick. Awesomely, this high is going to translate into a dildo for one of you!
Some very generous folks decided to help me out with this one. Together we will be giving one lucky winner their dream VixSkin dildo! And there's a LOT to choose from…
Is your head spinning from the awesomeness yet?
How to enter
Comment here with answers to my perverse questions! Answer as many or as few as you'd like. Each answer earns you one entry, for up to 3 entries.
Describe a squishy experience you've had (sexual or not, terrible or glorious).
What attracts you to realistic dildos?
What do you like to squeeze — or even just touch — for tactile pleasure alone? Human body parts don't count! Get your mind out of the gutter!
You can get more entries by doing these things:
Subscribe to my RSS feed or subscribe to email updates. Comment here letting me know.
Comment on my reviews of Maverick, Randy, and/or Raquel, for up to 3 entries. Something more substantial than "nice review!", please.
Share/like this on Facebook with the button below this post. Comment letting me know.
Deadline: May 13th, 2010 at 11:59 p.m. PST.
Fine print: To win, you must live in the U.S., UK, or one of the Commonwealth countries (Canada, Australia, NZ, HK, etc). I will choose a winner randomly from the entries and email the winner with a list of available dildos to choose from.
A big thanks to Vibrator.com for sponsoring!