Dude, Tantus has gone nuts with the new things this month! Not only did they re-design their website (eradicating most of the pink, YES!), but they released two new sets of toys: tri-colored space toys and new plugs with excellent bases! I dunno about you, but I gotta have that Twist Plug.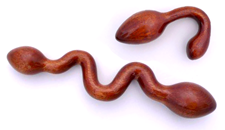 GASP, new toys from NobEssence! These are the Dare and Mesmerize. Not to point fingers, but does someone at NobEssence have baby fever or something?
Fun Factory is coming out with a line of "thrusting" toys. I discuss their potential to be either really awesome or an utter failure on el blog.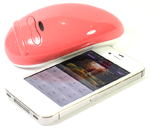 Just 2 weeks left to preorder yet another vibe controlled by a smartphone! And its name, Vibease, sounds like a brand of petroleum jelly, so that's pleasant. Really, I'm just including this for the hilarious video. Go to 54 seconds in. I dare you.
My favorite powerful beast, the Wahl, has been pulled from sex toy distributors because the makers don't want it to be known as the scandalous device it really is. It now can only be found on innocuous stores like Amazon, for the low low price of $15.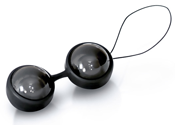 Jumping on the Fifty Shades bandwagon, LELO has released their Luna Beads Mini in a "noir" edition, and Fun Factory is re-releasing their original Smartballs.
Love to Love, makers of banana- and popsicle-shaped toys, have come out with 3 sex toys not inspired by food. They're boring.

I don't think this vibe has enough bling, guys.
Pipedream has released yet another celebrity sex doll, this time modeled after Justin Bieber. Unsurprisingly, two seconds after submitting their usual press release, they were publishing another about all the "mainstream attention" the doll is getting. I love how they pat themselves on the back: "nobody creates products with mainstream crossover appeal like Pipedream." Yeah, because other companies have class.