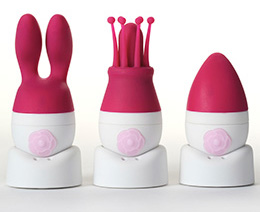 Vibratex has released a series of rechargeable mini vibes called The Girls. Princessa looks just freakish enough for me to try, but that rose-shaped button is silly, and they each only have three vibration strengths and three patterns.
I thought Nomi Tang was dying, but I guess not since they have a new dual vibe called the Infiniti. Don't get excited; it's basically a LELO Soraya. Actual quote from Nomi Tang in this press release: "once you pop you cannot stop." What.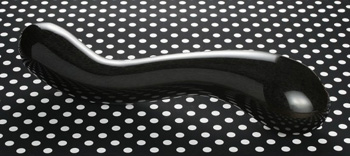 Courtney Trouble teamed up with Fucking Sculptures to create the behemoth that is the Double Trouble. Probably the closest a glass dildo will come to being a fist.
Know what's missing from your life? Bubbles wafting gently over your clitoris. Yes, friends, it's a a hand-held hydro jet. And you can "add a Dilly for more enjoyment." I kind of want one — if only to reminisce about my faucet masturbation days. [Update: tried it!]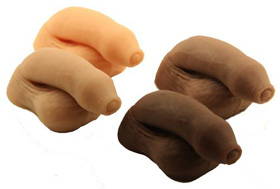 New York Toy Collective is now making packers! Some are uncircumcised! All are awesome!
Pipedream's parent company has acquired Jimmyjane. Never one to stop being who they are, Pipedream is adding things to their Icicles line, including a glass dildo shaped like a wand vibrator. Uhhh.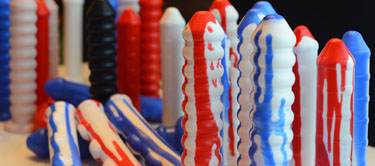 Not sure how new this company is, but Kalisi Toys is making silicone dildos, plugs, and cock rings in interesting shapes and colors. One line is called "Candy Drippers," which is the most promising. Their realistic options are a wee bit terrifying.
There's also a new company named Zolo making "pleasure cups." They definitely look like cans of Mountain Dew.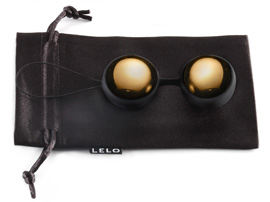 Although the announcement came mere days after April 1st, this is not a joke: LELO has released 20-karat gold Luna Beads. You have an extra $3,090 lying around, right?