You've all been waiting with baited breath, I'm sure, to find out who won my Stronic Eins giveaway. So I will torture you no further. The winner is Natty!
Only a few entrants took my challenge to make a GIF or Vine of themselves using a household object to imitate the movement of the Stronic Eins, but they all amused me greatly. I mean, look at the resemblance between the Stronic Eins and this GIF from Sexxxay: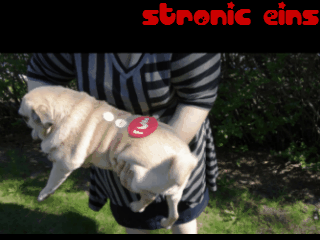 Of course, I was hoping for a cat, but if it had to be a canine dog, a pug is a good choice. I love the attention to detail, with the Fun Factory logo and plus and minus buttons. Very nice.
Much thanks again to SheVibe for furnishing the toy for this giveaway. If you find my argument about the Stronic Eins compelling, definitely buy your Stronic from them. They're the shit.
And as always, I'm open to other giveaway ideas. What do you want to win next, peeps?