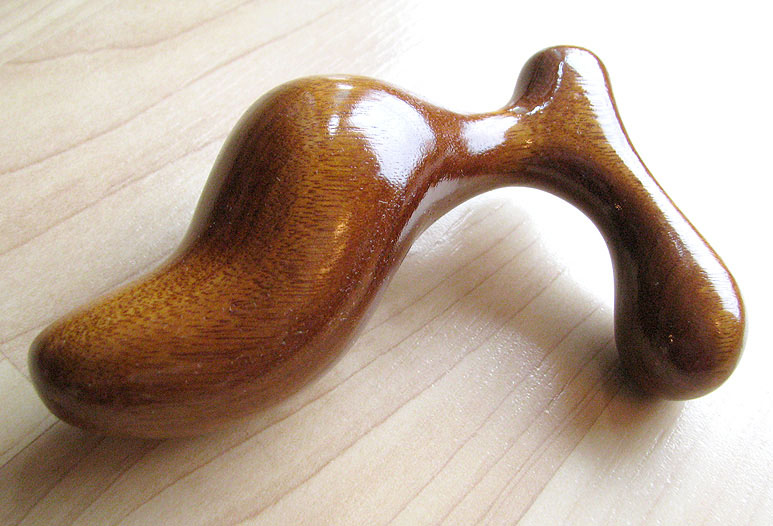 The year is 2010. It's a new decade, and you're ready for a change. Your butt plug collection is paltry, consisting of just a few uninspired shapes, perhaps some made of ominously transparent materials. You're still on the hunt for the butt plug of your dreams.
And you're in luck, because I have a butt plug that will last you well into the next decade, and probably forever. The butt plug that I called "the best thing that's been in my ass" — the NobEssence Romp. Just try not to want this beautiful piece of wood in one of your orifices:
NobEssence sent this Romp straight to me, clearly to taunt me and test my self-control. It's made of Mora wood, and is a gorgeous deep caramel color. This butt plug is going to make one of you very, very happy.
I know many of you really lust after the Romp due to my freakish love for it, so this is going to be a giveaway in which your desire to win can help your chances. I've concocted many ways you can acquire entries — you can do them all, or you can pick and choose.
Ways to enter!
[5 entries] Put one of my banners on your website. It needs to stay there at least the duration of this giveaway.
[5 entries] Write a blog post about this giveaway. You can use the photo I took; just don't hotlink.
[1-5 entries] Tweet about this giveaway and follow me. You may tweet up to five times, and I will give you one entry for each tweet. Sample tweet: It's a new decade, and I need a new butt toy! RT and follow @Epiphora to win a wooden Romp plug. More ways to enter: http://bit.ly/rompplug
[3 entries] Subscribe to my RSS feed. If you prefer, subscribe via email.
[2 entries] Comment here telling me why you need a butt plug upgrade. You can take that however you want, pervs.
[2 entries] Comment here telling me why wood intrigues you as a sex toy material. Your reasoning can be either serious or humorous.
Deadline: January 16th, 2009 at 11:59 p.m. PST. I will be choosing a winner randomly. You must live in the U.S. to win.
Now go! Spread the gospel of the Romp!